Scotland is blooming
2017 was the 51st year for Beautiful Scotland with a theme of birds, bees and trees.
The top award – the Rosebowl –  the overall winner across all categories was won by North Berwick in Bloom, for the second year in a row.
There are many other award winners across Scotland – from large cities to wee villages. Follow the links to see them all.  All of the participants in Beautiful Scotland undertake work within their communities to help deliver environmental improvements and help make Scotland beautiful.
Entrants are judged by a team of expert volunteer judges on the entrants year-round achievements. Awards are presented to a range of local authorities, businesses and communities which have achieved the highest scores in their categories, with Discretionary Awards given to those who demonstrate excellence in their commitment to the campaign.
The Caley presents a discretionary  award  to the entrant or local authority that demonstrates the highest quality of horticultural standards in public open spaces.  This year this prestigious award was given Aberdeen City Council.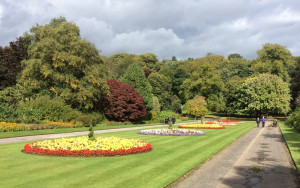 Look at their portfolio and you will see some of the effort they put into achieving this award.  Well deserved.