A well deserved presentation in a beautiful garden
Last week David Knott SHM, Honorary President of The Caley, was delighted to be able to present Richard Baines, Curator of Logan Botanic Garden with his Scottish Horticultural Medal and certificate.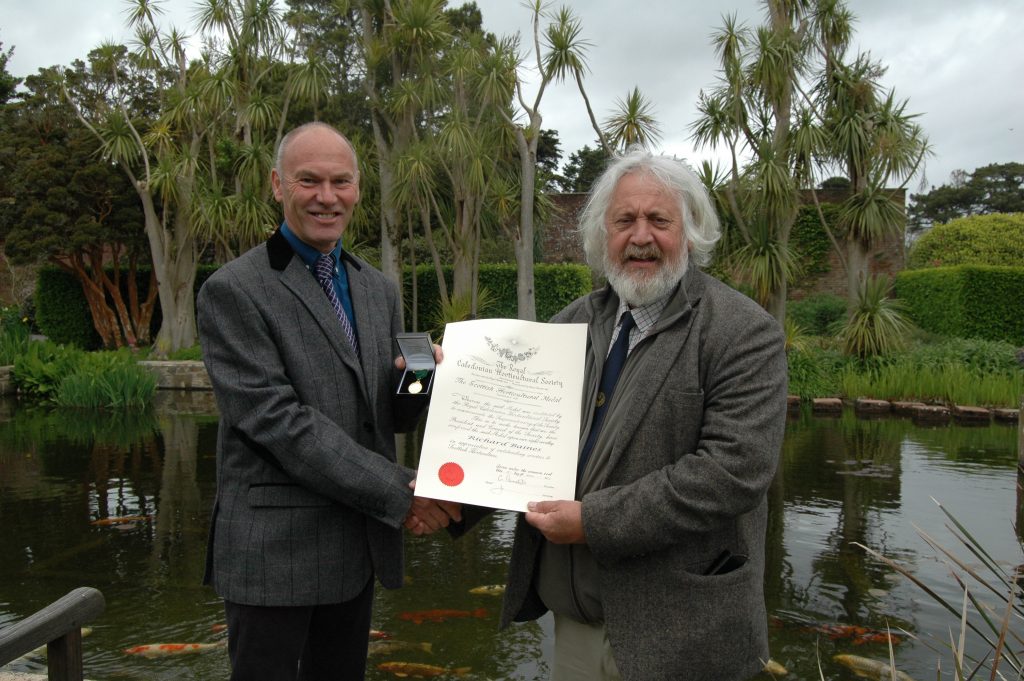 Richard has been responsible for managing and developing Logan Botanic Garden over the last 14 years, considerably enhancing its national and international reputation. Recent developments have included improving the plantings in the Walled Garden, expanding and relocating the service area and glasshouses away from the middle of the garden and in its place constructing a new Conservatory which is open to visitors, the development of new areas of the garden in the southern and western woodland garden with new wild collected plant material particularly from Chile and Vietnam several trips on which Richard participated.  These developments have been partly achieved through offering practical horticultural work placements for UK and international horticultural students. Richard has also developed Logan events programme and expanded its education activities including an annual schools week.
Sustainability has been integral to many of these developments with the Conservatory being the first 'all green' public conservatory in the U.K heated by renewable energy and among the first garden in Scotland to install electric vehicle charging points. All these initiatives have helped Logan become the first garden in Scotland to gain a gold Green Business Tourism award.
Richard's hard work has been reflected in increasing the annual visitor numbers from 18,000 10 years ago to over 30,000 in 2021 with Logan being awarded 5 star status as a Visitor attraction by Visit Scotland, the 'Best Family Venue' by the Scottish Hospitality Awards in 2018, 'Tourism Champion 2017' by Dumfries & Galloway Life' and being voted 'Best Garden in the U.K. 2021' by Which.
Prior to becoming Curator at Logan Richard was Section Head – Forestry, Horticulture, Environment & Schools at the Barony College, Dumfries and with this interest and knowledge of horticultural education he has developed an intern programme at Logan which has provided invaluable practical 'hands on' experience to a large number of horticultural students both from the UK and Europe to the wider benefit of horticulture in Scotland, the UK and Europe and has helped raise the profile of horticulture in Scotland.
A well deserved award.