Caley School show is underway and has welcomed new entrants.
It has been a very difficult early spring for spring bulb growers. Crocuses and Snowdrops are still very much in evidence although a  few daffodils are now appearing in some more sheltered spots.  (This time last year was a very different story).  Nevertheless the Caley school show received  pots from from Edinburgh, East Lothian, Mid-Lothian and Fife.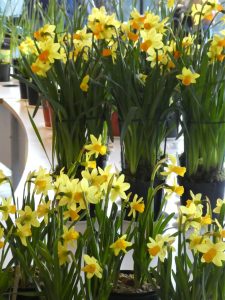 WELL DONE TO EVERYONE.
This year we also welcomed a Cub and Beaver pack into the mix.  The 48th Fife Cub Pack will soon be receiving the Daily Express Trophy.
But 'The Caley',  (Scotland's National Horticultural and Gardening Society) is not simply interested in a display at a show.  We want to encourage more and more people (young and 'older') to be interested in gardening and horticulture in Scotland.  You do not even need to have a garden!   So it isn't any surprise that our main focus today was planting seeds and seedlings!
But it is even better when you see your own school pots on display.
This year's brave participants of the  show were /are on display at the Royal Botanic Garden Edinburgh, John Hope Gateway.  Children can plant seeds, seedlings or make growing grass seed heads, as well as other plant related activities.
We are there again on Sunday (25th).  (Including the facepainter!)