Holyrood Park Wildflower Walk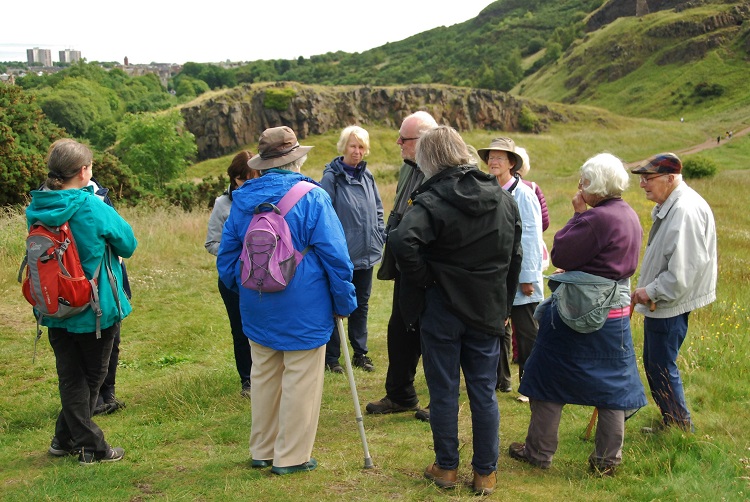 Thirteen Caley members and friends joined Stan da Prato at Holyrood Park on Sunday 7th July to explore this ancient landscape in the centre of Edinburgh. Despite the day starting rather cold and damp we had the pleasure of watching and listening to a pair of peregrine falcons circling the cliff face before we set off.
From the big car park we crossed over the road and looked at every plant variety from the path (which is the start of the route towards the summit of Arthur's Seat). There were many common wild flowers and tall grasses including Holcus lanatus (the wonderfully named Yorkshire Fog) and Cirsium arvense, the creeping thistle.
We soon diverted off the path to the interestingly named Haggis Knowe, an outcrop of ancient lava with a clear view around the park and down to St Margaret's Loch where we saw Astragalus danicus (purple milk vetch) and Campanula rotundifolia, the Scottish bluebell (also known as the harebell).
Our next destination was the flat grassland in the direction of Hunter's Bog. We walked single file along narrow grassy pathways as the sun warmed up, spotting many Dactylorhiza fuchsii (common spotted orchid) and Dactylorhiza purpurella (Northern marsh orchid) and Tragopogon pratensis (Goat's beard).
Claire Ross and Emma Smith recorded almost 60 varieties of wild flowers, grasses and trees between them. As well as the rich floral landscape we saw swifts, a pair of swallows, song thrush and common whitethroat; we chased ringlet butterflies, a yellow shell moth and got very close to two cinnabar moth caterpillars feasting on Senecio jacobaea (Ragwort).
We may not have seen the rock rose, sticky catchfly or adder's tongue which Stan had hoped to show us, but we weren't disappointed, having spent almost 2 hours appreciating many of the wildflowers and wildlife Holyrood Park has to offer, hearing about the history and folklore of the plants and the environment and finishing the walk in glorious sunshine.
Our sincere thanks to Stan for sharing his time and knowledge with us on another fascinating and enjoyable exploration of our local flora and fauna.
Rona McDowall