Paperwhite update and reminder from George
In George's last blog he had brought his pots of Paperwhites inside to encourage them a little, whilst Pam's were already flowering.  So with only a few days to go until the mini competition how have things progressed.
Pam's are still flowering – and are in the equivalent space to Georges's cold glasshouse, although they are drawn (too tall)  due to the lack of light.  As for George, whilst he had moved his pots out to the cold greenhouse after a couple of days in the warmth, he returned them to the cold of the cool glasshouse.  But has now brought the pots back into the heat of the kitchen and sat them at the French windows.  The flower buds are starting to open and show colour, so it is just volume and timing now.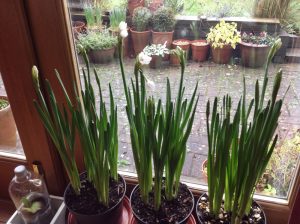 Remember to bring your pots to The Caley meeting next Tuesday.
Good Luck.
George and Pam 
(Note: Even if Pam's are over their best she will bring them).