Redcroft Garden News 23rd February 2015
We are almost at the moment when the garden emerges from the dull browns of winter to the prettiness of early Spring. Most of the colour is found very close to the ground. Sadly many of the purples crocuses have been decapitated by the pigeons, at least I think it is them, but other flowers have fared better.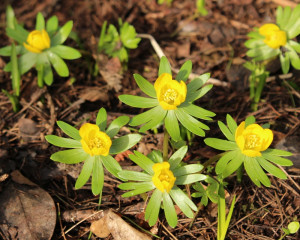 I have struggled for years to get a small handful of aconites, given to me from an East Lothian garden where they grew in profusion, to spread over a large area. Photographing them has made me realise how much happier they are when they can open their faces to the sun. So perhaps I will direct my efforts, spreading the seed and occasionally the roots, to this area against our north wall, instead of the shady area where most of them are.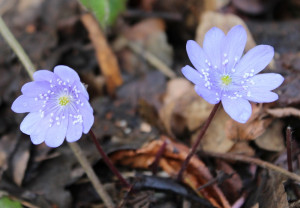 This Hepatica, which I think is transylvannica, was growing in several places when we moved here 30 years ago. It doesn't flower in profusion but the beautiful blue is quite unusual, reminiscent of plumbago. It is a good plant to use as edging for a bed, it moves easily and the leaves are attractive.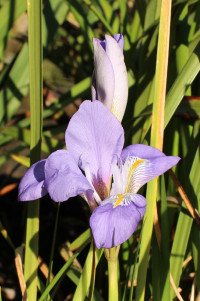 A clump of Iris unguicularis was also given to me ages ago, and having hardly flowered for the last few years, it seems we now have the right conditions for them, as this has been a bumper year. A large hebe which must have been shading them was removed last year and they now have the dry, open position they like, and the always untidy leaves seem a small price to pay for the succession of beautiful purple flowers.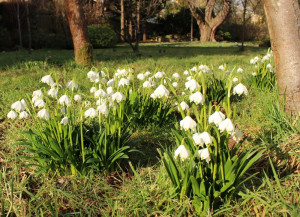 Snowflakes, Leucojum verna, as opposed to snowdrops, seem quite coarse in comparison, but in the rough grass of our orchard where they surround some of the fruit trees, they stand out.
Anna