Tales from the Garden – Autumn at Redcroft
Anna has sent us this latest update from her beautiful Edinburgh garden – Redcroft.  Anna had hoped to be able to open her garden by appointment this Autumn, but it seems very unlikely that this will be possible. She hopes to be able to have a proper opening in May 2021. Certainly something to look forward to.
Autumn at Redcroft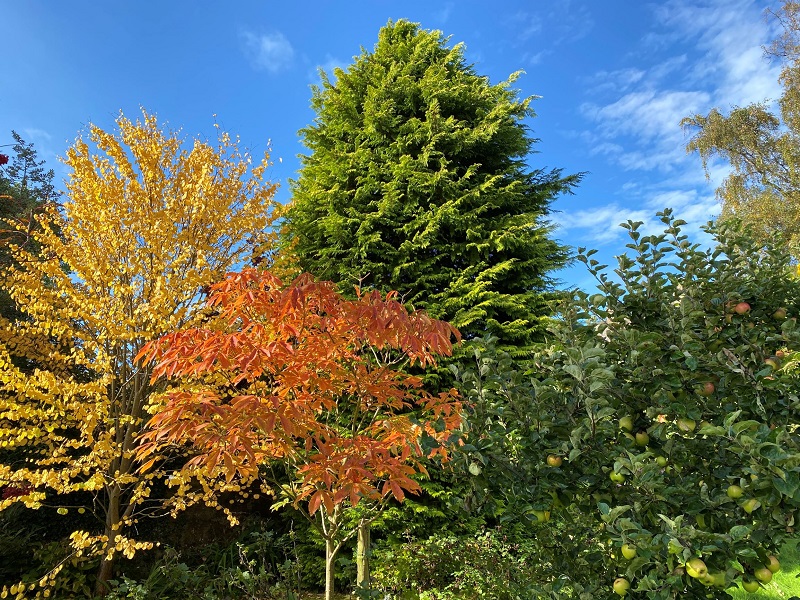 With a couple of night frosts and some heavy rain, the colours of autumn are gradually suffusing the whole garden. For once our Cercidiphyllum magnificum has retained its beautiful yellow leaves for more than a couple of days as, luckily, we haven't yet had much wind.  It is seen here with Aesculus neglecta 'Autumn Fire', which as its name indicates, is a close relation of the horse chestnut. It keeps its horse chestnut like leaves over quite a long period and gradually goes this golden colour. On the right is a very prolific apple tree, Lane's Prince Albert, more of a cooker than an eater.  We have had a very good crop of apples this year and many of them have already been picked to make juice for the Portobello Apple charity, a non-profiting-making network linking local producers with local consumers.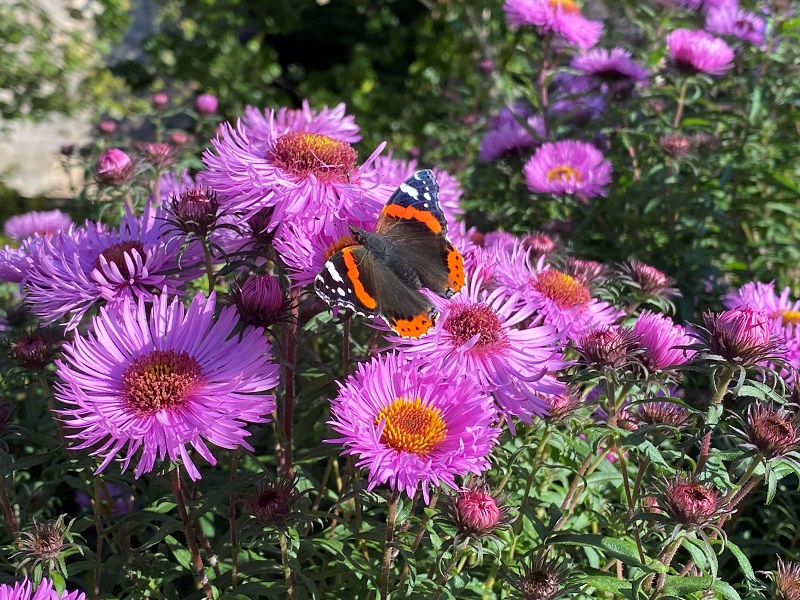 The herbaceous border comes into its own again at this time of year. This purple Aster which may now be called a Eurybia, always does well. It has been here as long as we have, and although I thought it was a novae-angliae as it never gets mildew, no expert has pronounced on its new name.  It is seen here with a red admiral butterfly, one of disappointingly few this year.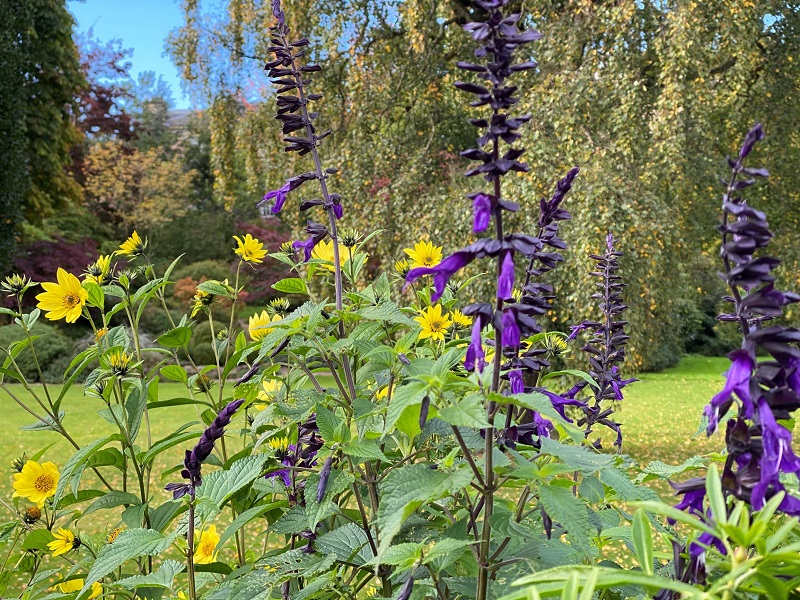 Also in the herbaceous border is this Helianthus 'Lemon Queen', a very good plant for later in the year if you have the space for it, as it flowers over quite a long period  and is a good shade of yellow. Here it combines with tall, dark Salvia 'Amistad', a Sarah Raven favourite.  The Salvia is not completely hardy but apparently it is more likely to survive if you don't cut it back too much.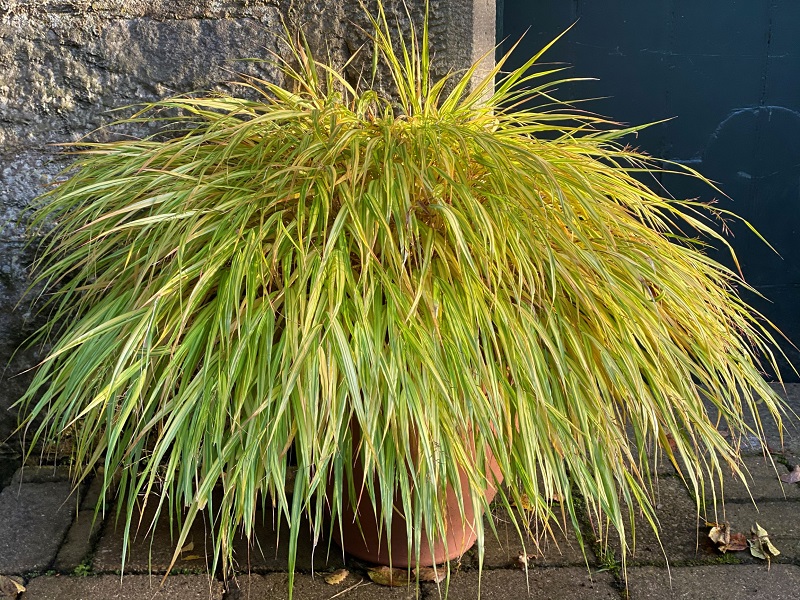 I have been dividing and increasing the pots of this grass, Hakonechloa macra 'Aureola' since I saw a spectacular urn of it at Hilliers' stand at the Chelsea Flower Show many years ago. Now there are 6 similar, but not quite matching, pots. Its role is to succeed the tulips, brightening our very grey yard, a role which it fulfils well, putting on this good display in the autumn and fading slowly as winter approaches.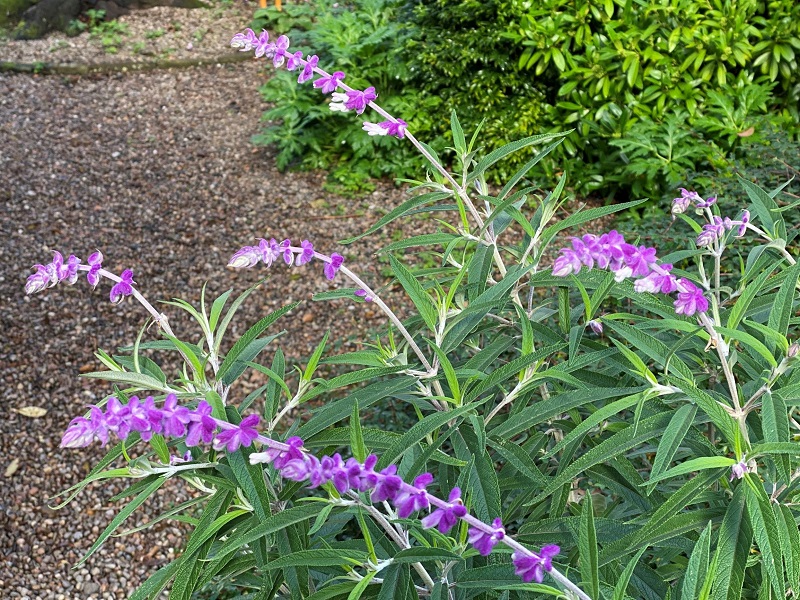 Also in a pot is this clump of Salvia leucantha which at this time produces these brightly coloured flowers with a texture like an old fashioned pipe cleaner. Several times it has fallen victim to an early frost which completely ruins it, but with such disappointment I have grown more careful and now house it in the shelter of our porch.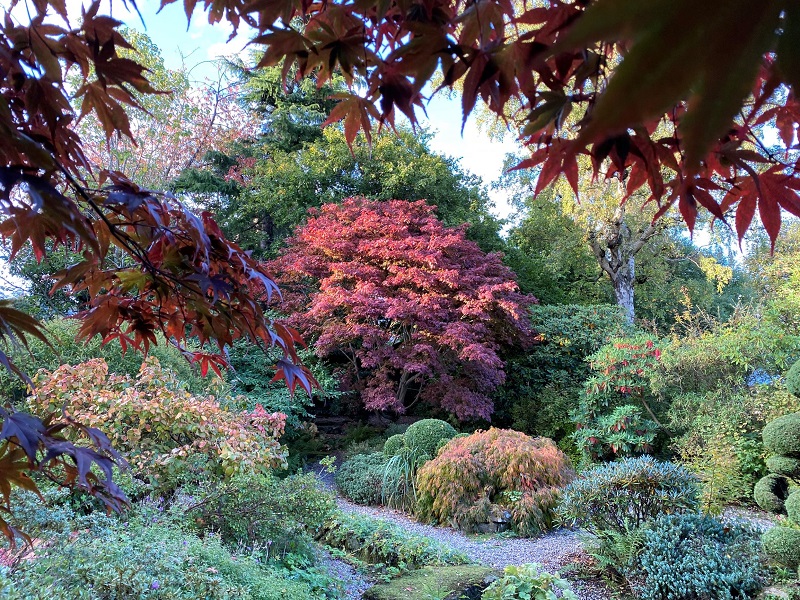 Japanese Acers are amongst the best trees for autumn colours. This view across the rockery shows something of their wide variety, the tall and the low growing.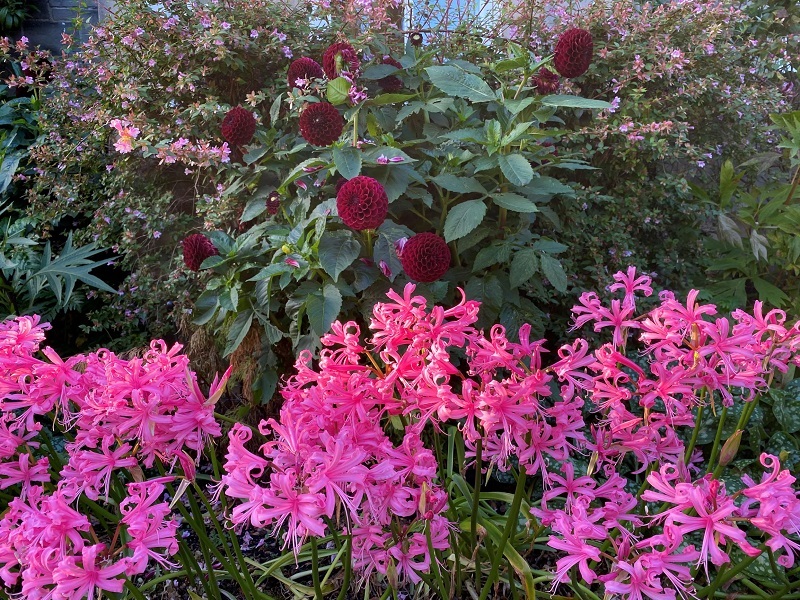 Shades of pink greet you when you approach the house from the yard. A mass of pink Nerines provides perhaps the most dramatic colour in the garden at the moment. Behind them is the pompom Dahlia 'Jowey Mirella' and at the back is Abelia shumannii which we try to restrict to under the window. It is rather too vigorous for that situation but luckily it responds well to being cut back and it flowers for a long period.
The virus is still threatening us but for gardeners Autumn is a wonderful time, with beautiful colours on view everywhere.  With greater restrictions on what we can do likely, we may not be able to have visitors to the garden, but we have to hope that we will be able to have a proper opening next May.
Anna Buxton
7th October 2020
All photos taken recently at Redcroft