The Allotment Team are back.
Good to be back on the allotment after the Christmas break, even on a dull January day with a chilly wind.
Everything is still in good order and the netting is still in place. We caught up with the weeding and then spread the manure round the fruit trees and the bare beds, leaving it for the worms to pull into the soil.
The autumn raspberries had spread over the whole bed popping up amongst the saskatoon and honeyberries so these strays were dug up. The saskatoon has spread and some of the runners were dug up and replanted along the north edge where a living hedge is planned to replace the hazel windbreak.
The remainder of the rooted runners in the strawberry bed were lifted and the best were replanted to extend the two existing rows.
One of the jobs for today was to give the fruit its winter wash to kill overwintering bugs, but the wind was too strong so that job will be waiting for a still day.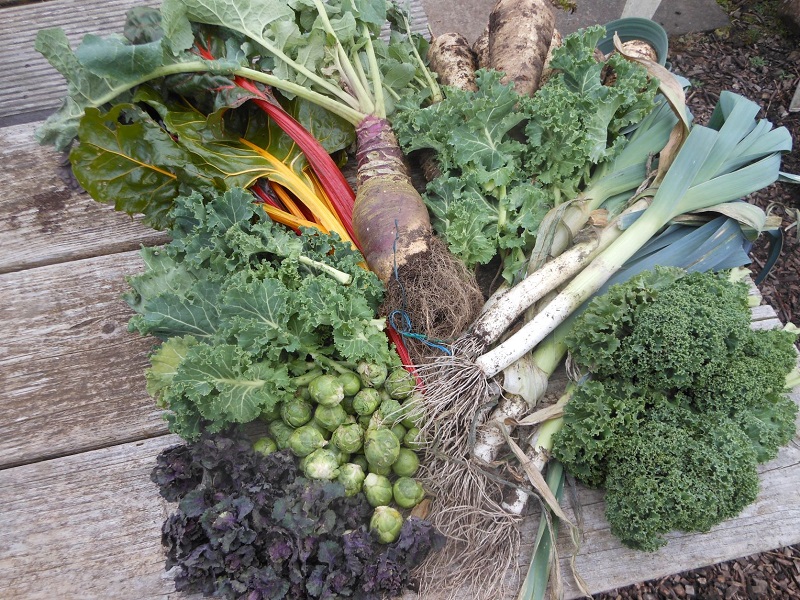 The oca were dug up but it was a poor crop this year with only a handful of a decent size compared to last year. Perhaps they should have had fleece over them at the start of winter to give some protection. However, there were still good pickings of fresh vegetables, digging up the last of the parsnips and swedes and now enjoying that sturdy reliable vegetable – winter kale.
The wooden boards on some of the raised beds are in a poor state, rotting away so measurements were taken for replacement wood, and some of the labels on the fruit are needing renewed.
Jobs for next week
Finish the weeding
Net the strawberry bed
Winter wash on the fruit trees
Continue taking back the grass edges