Get Growing!
Gardening is a great way to get children outdoors and to develop an interest in nature and the environment. Growing and picking their own fruit and veg is a great way to encourage children to eat more of them. If you have the space in your garden, why not give them a small patch of their own to look after?  Even if you only have a windowbox, you can still encourage children to grow and look after some herbs or salad crops.
Caley Activities
The Caley has number of activities focusing on gardening with children.  This is something we hope to develop more of when we move into our base at Saughton Park.
The Caley offers a CD ROM called Plant and Grow. This CD provides a year long programme of gardening activities for children. It can be used both in schools and at home, and has a range of growing and crafting activities.  For further information, contact Administrator.
Junior Groups Bulb Competition
We have a special bulb growing competition that is aimed at schools, community groups and youth groups.  This competition is fun and light-hearted and the children all enjoy taking part.  As well as pots of daffodils, the groups can also enter a competition for their artwork.
If you would like your school or group to enter the 2022 competition, please contact schoolspringshow@rchs.co.uk.
Young Gardeners at The Caley
Here at The Caley, we are keen to encourage young gardeners to get involved. If you child would prefer to enter a competition working on their own, we have a junior section in our main Spring Bulb Show. The only stipulations are that they should be under that age of 13 on the date of the show and that they should have grown the bulbs on their own.  This is a great way to get your kids (or grandkids) involved in gardening.  For many, it becomes a lifelong interest. For further details, see the 'Spring Bulb Show' page of the website or contact springshow@rchs.co.uk.
Plant & Grow
Plant and Grow contains a range of gardening activities for young people and beginners of all ages, to promote the practice and enjoyment of gardening. The practical activities are easy to follow, fun to do and give a good introduction to growing plants, gardening, and other garden related skills. It is not necessary to have a large garden as many of the activities can be done in a variety of locations and plants can be grown in containers.
Many older children will be capable of working through the activities by themselves, but in the interests of safety and to achieve the best learning results, gardening as a family or a group is recommended, with direct mentoring and encouragement from a responsible adult.
September
We now think about the coming of autumn. Already the evenings are starting to draw in and they are noticeably cooler although the days can still be sunny and hot with high temperatures.
Now is the time to go gathering the free fruits of the countryside; brambles (blackberries) are easy to find in hedgerows and they make delicious pie fillings and bramble jelly. Apples will also be ready for picking; watch out for wasps as they too like the taste of a ripe apple, particularly those on the ground.
Frost can occur early in September and put paid to some tender summer plants if they are not protected. In some years, the first frost can be late, and the growing season is extended by an 'Indian Summer', a term used by gardeners when good weather continues well into the autumn.
Any dead plants can be consigned to the compost heap and there will be bare patches in the vegetable plot after crops have been harvested. Now is the time to sow some over-wintering vegetables, perhaps spring cabbage, winter lettuce or early broad beans.
As plants die, collect some of their seeds in an envelope; make sure that the seed is dry and that the name of the plant is written on the envelope. Next Spring, you will be able to sow these seeds and produce new plants; you could be surprised by the results.
Make Chunky Soup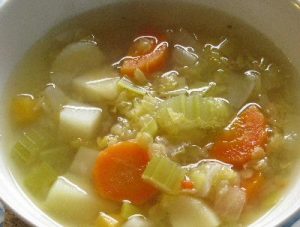 Make a mini compost heap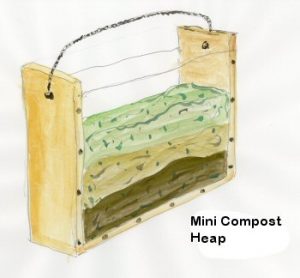 Grass Heads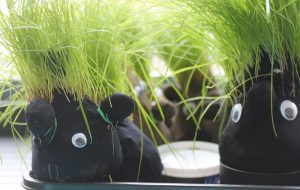 Get involved or get further information!