Get Growing!
Gardening is a great way to get children outdoors and to develop an interest in nature and the environment. Growing and picking their own fruit and veg is a great way to encourage children to eat more of them. If you have the space in your garden, why not give them a small patch of their own to look after?  Even if you only have a windowbox, you can still encourage children to grow and look after some herbs or salad crops.
Junior Groups Bulb Competition
As part of our Spring Bulb Show,  have a special bulb growing competition that is aimed at  primary schools, community groups and youth groups.  This competition is fun and light-hearted and the children all enjoy taking part.
If you would like your school or group to enter the 2024 competition, please contact springshow@rchs.co.uk.
Young Gardeners at The Caley
Here at The Caley, we are keen to encourage young gardeners to get involved. If your child would prefer to enter a competition working on their own, we have a junior section in our main Spring Bulb Show. The only stipulations are that they should be under that age of 13 on the date of the show and that they should have grown the bulbs on their own.  This is a great way to get your kids (or grandkids) involved in gardening.  For many, it becomes a lifelong interest. For further details, see the 'Spring Bulb Show' page of the website or contact springshow@rchs.co.uk.
Plant & Grow
The Caley has an excellent resource for young people and beginners of all ages who want to start gardening called Plant & Grow. We are currently revamping the programme so, to get you started, we will be sharing a few projects each month on this page.  The practical activities are easy to follow, fun to do and give a good introduction to growing plants, gardening, and other garden related skills. It is not necessary to have a large garden as many of the activities can be done in a variety of locations and plants can be grown in containers.
Many older children will be capable of working through the activities by themselves, but in the interests of safety and to achieve the best learning results, gardening as a family or a group is recommended, with direct mentoring and encouragement from a responsible adult.
November
When the clocks change and the daylight hours shorten and cold, wet weather sets-in, the garden can look drab and untidy, so pull out all those annual bedding plants that have finished flowering and cut back other dead plant material. Put them all on the compost heap along with the leaves that you have been sweeping from the lawn and pathways. If there are some interesting looking seedheads on the plants, leave them to give something interesting to look at over the winter.
This is also the time to start preparing ground for next year's plantings. Digging is good exercise and will keep you warm. All the ground with nothing growing in it can be turned-over and left to 'break down' by the action of the weather over winter. Next spring the soil will be easy to work and will quickly form a seedbed. Although nothing appears to be growing at this time, the garden is still a fascinating place. There may be some winter-flowers appearing on certain shrubs, the striking colours of various berries that attract birds and the patterns that nature works on a frosty morning all bring interest and enjoyment.
Make a bird table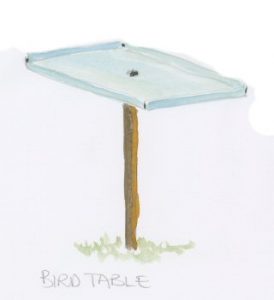 Make Christmas Decorations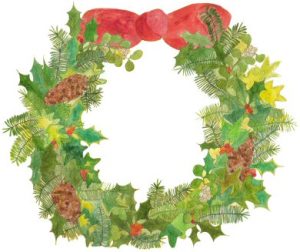 Watching Plants Grow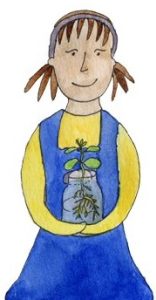 Get involved or get further information!