Get Growing!
Gardening is a great way to get children outdoors and to develop an interest in nature and the environment. Growing and picking their own fruit and veg is a great way to encourage children to eat more of them. If you have the space in your garden, why not give them a small patch of their own to look after?  Even if you only have a windowbox, you can still encourage children to grow and look after some herbs or salad crops.
Family Workshops
The Caley has number of activities focusing on gardening with children.  This spring, we are launching our Family Vegetable Growing Workshops.
From April to September we will be running small, family-oriented workshops to teach the practice of vegetable growing.
No prior experience or knowledge needed. We will provide all tools and equipment for attendees. We can't guarantee you will remain clean but you will have fun!
To find out more, contact familyworkshops@rchs.co.uk or download our information sheet here.
Junior Groups Bulb Competition
We have a special bulb growing competition that is aimed at schools, community groups and youth groups.  This competition is fun and light-hearted and the children all enjoy taking part.  As well as pots of daffodils, the groups can also enter a competition for their artwork.
If you would like your school or group to enter the 2022 competition, please contact schoolspringshow@rchs.co.uk.
Young Gardeners at The Caley
Here at The Caley, we are keen to encourage young gardeners to get involved. If you child would prefer to enter a competition working on their own, we have a junior section in our main Spring Bulb Show. The only stipulations are that they should be under that age of 13 on the date of the show and that they should have grown the bulbs on their own.  This is a great way to get your kids (or grandkids) involved in gardening.  For many, it becomes a lifelong interest. For further details, see the 'Spring Bulb Show' page of the website or contact springshow@rchs.co.uk.
Plant & Grow
The Caley has an excellent resource for young people and beginners of all ages who want to start gardening called Plant & Grow. We are currently revamping the programme so, to get you started, we will be sharing a few projects each month on this page.  The practical activities are easy to follow, fun to do and give a good introduction to growing plants, gardening, and other garden related skills. It is not necessary to have a large garden as many of the activities can be done in a variety of locations and plants can be grown in containers.
Many older children will be capable of working through the activities by themselves, but in the interests of safety and to achieve the best learning results, gardening as a family or a group is recommended, with direct mentoring and encouragement from a responsible adult.
May
May is a flowery month, full of blossoms and blooms. The flowers on many plants will bring soft, pastel colours and wonderful scents to the garden for the first time in the new season. Particularly impressive at this time are Rhododendrons and Azaleas that burst into magnificent flower hiding their drab evergreen foliage. Look at the underside of rhododendron leaves, they are very interesting.
We are now into a very busy gardening period and most gardeners do not have enough time to do all that they want to! Plan your jobs well in advance and stick to them. The weather in May is generally gentle and reliable but if there are prolonged periods of rain don't let this interrupt your plans – there will be many jobs you can do under cover in the garden shed or greenhouse. In particular the cleaning and tidying jobs that are important for plant health and help prevent disease spread. Don't try to work on the garden if it's too wet, you will make a horrible mess and you can damage the soil structure. Remember that frost can still occur at this time of year so listen to the weather forecast and remember to cover any tender plants with horticultural fleece if there is to be a frost.
Make a bird table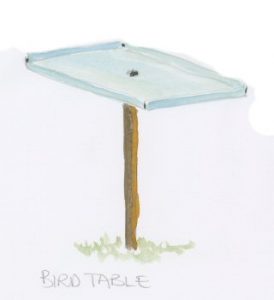 Container Planting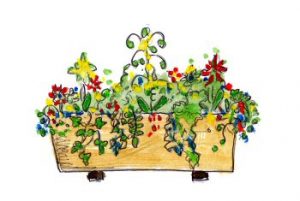 Grow Giant Sunflowers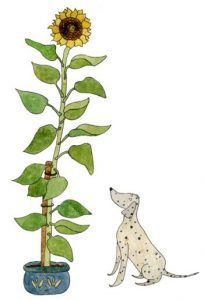 Get involved or get further information!