Publications
The Caledonian Gardener is the Society's annual journal.  It is full of interesting articles on horticulture and gardening from around Scotland. Members receive the journal early in the year.  Follow the link below to see a summary copy of an earlier edition.
The Caley issues a printed newsletter, Preview, twice a year, in March and September,  filled with information on Caley activities including trips and lectures. 
You can keep up to date with all the Caley news on our website which provides up to date information on all our activities as well as a resource about gardening and horticultural issues in Scotland.
We keep you in touch with topics of interest via our Facebook page, https://www.facebook.com/TheCaley/.
A monthly e-newsletter gives short updates on Society events to all members who have subscribed. If you would like to subscribe to the newsletter, contact the Caley Administrator at administrator@rchs.co.uk.
The Annual Report, prepared for the Annual General Meeting in March each year, is the official record of the Society's affairs, finances and activities.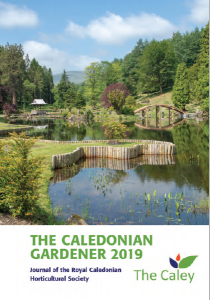 2019 copy of The Caledonian Gardener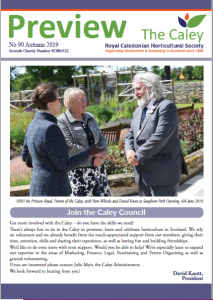 Autumn 2019 copy of Preview
Caley members can view the most recent copies of our publications along with a copy of the Scottish Gardeners Forum newsletter in the Members Area of our website (login required).
Submit content request
We're always keen to learn from our fellow gardeners and horticulturalists, both amateur and professional alike. If you would like to submit an article or topic of interest for consideration for any of our publications please do so using the form below.