Caley Lecture – October 1st 2019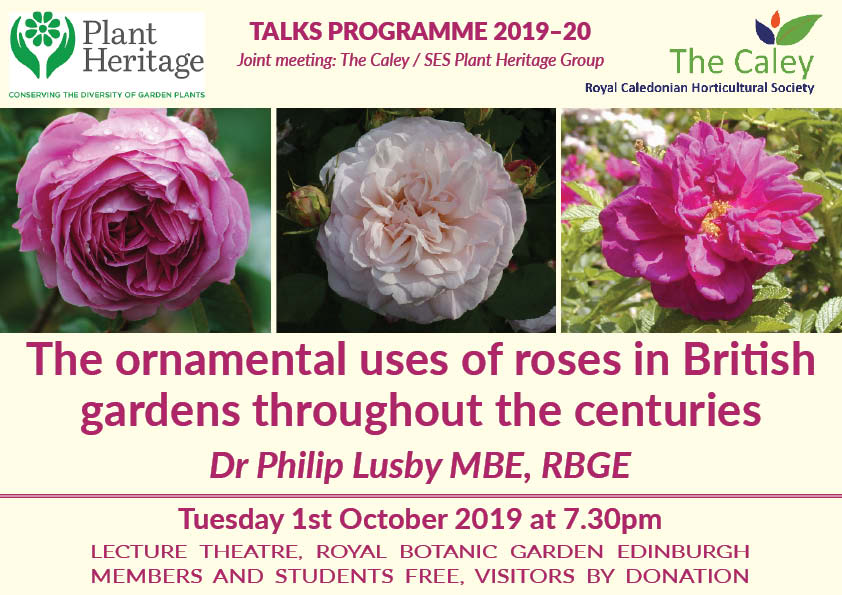 Dr Philip Lusby MBE, RBGE: The Ornamental use of Roses in British Gardens throughout the Centuries.
Philip Lusby is Course Director and Senior Lecturer in Horticulture and Botany at the Royal Botanic Garden Edinburgh. He has a particular interest in garden history. In conjunction with Plant Heritage he teaches a course on Roses, which covers their diversity, botany, history and cultivation and uses the National Plant Collection at Carolside, Earlston. He was awarded an MBE in 2015 for services to UK Plant Conservation and Botanical and Horticultural Education.
For many who own and appreciate gardens, the rose is an essential ornamental plant and it is said to be the favourite flower of gardeners and garden visitors worldwide. The talk will illustrate some of its less well-known historical aspects and give an insight into the popularity of the genus.
Joint Lecture with South East of Scotland Plant Heritage Group.