Gardens To Visit – Recommended By Members Of The Society
Click on the highlighted text for links to each garden's website. Please ensure you check the individual websites for opening times.  Not all gardens are open all year round.
Aberdeenshire
Crathes Castle: A National Trust for Scotland castle with extensive grounds and a stunning walled garden.
Clackmannanshire
Cowden Castle – Japanese Garden: Enjoy the historic Japanese Garden and newly restored woodland walks, which once connected Ella Christie's home, Cowden Castle, to Sha Raku En (the place of pleasure and delight). After exploring the Japanese Garden and Woodland Walks, enjoy lunch and delicious home baking in the Tea Room.
Dumfries & Galloway
Cally Gardens, Castle Douglas: Cally Gardens and Specialist Plant Centre is a treasure trove of exotic and rare hardy plants gathered from around the globe.
Logan Botanic Garden, Near Stranraer: One of the Royal Botanic Garden Edinburgh's four gardens.  Billed as Scotland's most exotic garden, it houses many plants rarely seen outdoors in the UK.
Broughton House, Kirkcudbright: A National Trust for Scotland House with stunning garden. Once the home of 'Glasgow Boy' artist, E A Hornel, the house is a real treat for art lovers and as a beautiful, japanese-inspired garden.
Dundee
Edinburgh
The Royal Botanic Garden Edinburgh:  Set over 70 acres, the garden always has something for the visitor to enjoy throughout the year. If the weather is miserable, enjoy the spectacular glasshouses which are home to over 3000 plants from around the world.
Little Sparta: Little Sparta is a garden at Dunsyre in the Pentland Hills near Edinburgh, created by artist and poet Ian Hamilton Finlay and his wife Sue Finlay. Note: the walk from Little Sparta's car park to the garden is uphill and approximately 700m long via a stony farm track. Sheep and cattle my be present in the adjacent unfenced fields all year round. This walk is not suitable for those with breathing or walking difficulties
Fife
Perthshire
Scottish Borders
Dawyck Botanic Garden: One of the 4 gardens of the  Royal Botanic Garden Edinburgh, it is home to one of Scotland's finest tree collections and features plants from the mountainous regions of Europe, China, Nepal, Japan and North America.  Open February to end of November
Wester Ross
Attadale Gardens:  Attadale Gardens is a unique 20 acre garden on the south side of Loch Carron.
Nurseries, Growers and Garden Centres Recommended By Members Of The Society
Click on the highlighted text to be redirected to the website of the business.
Aberdeenshire
Angus
Ayrshire
Dumfries and Galloway
East Lothian
Edinburgh
Fife
Highlands
Lanarkshire
Midlothian
Perthshire
Glendoick: Garden Centre. World famous for Rhododendrons and Azaleas
BennyBeg Plant Centre, Crieff: Endeavour to ensure they only stock plants known to be suitable for Scotland.
Scottish Borders
Quercus Garden Plants: A small Scottish nursery growing a range of perenials that can cope with challenging conditions – ie on the shaded side of a hill at 850 feet.
West Lothian
Binny Plants:   Specialist plant nursery (not a garden centre). Main focus is on unusual hardy perennials and peonies. (Also mail order)
The Mill Garden Centre: Central belt garden centre that offers a selection of plants suited to the local micro-climate which is colder and wetter than either Edinburgh or Glasgow being approximately 185m above sea level.
New Hopetoun Garden Centre:  A well-stocked garden centre that seeks to focus on variety, choice and quality.
Scottish Gardenplant Award
When Ken Cox and Raoul Curtis-Machin started the research for their book 'Garden Plants for Scotland' they realised that the Royal Horticultural Society's (RHS) Award of Garden Merit (AGM) was of little use to Scottish gardeners as it was too south-of-England orientated.  Scotland has a very varied climate that suits a huge variety of plants. There are many plants that struggle in Scotland, due to lack of heat, the winter wet or other factors. On the other hand, there are many that perform better in Scotland (e.g. Meconopsis, Trilliums and Tropaeolum speciosum.)
The most serious flaw in the system, from a Scottish perspective, was the then standard RHS H4, defined as "hardy throughout the British Isles", but in reality, many plants were not reliably hardy in colder/inland gardens even in parts of England, and many more were tender in Scotland.  To help gardeners in Scotland they assembled an impressive group of Scottish horticultural expertise, to consider which plants should receive a Scottish Gardenplant award. Sometimes there was agreement, sometimes not. 500 plants were awarded the Scottish Gardenplant Award. It is not a definitive list (and there will be new varieties that should be considered) but it is a useful list to point you in the direction of the most reliable, tried and tested garden plants that are the best of their type for Scottish gardens.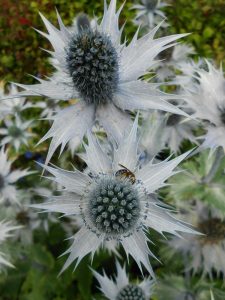 List of plants awarded a Scottish Gardenplant award
Recommended For Scottish Gardens
Most primulas are tough, easy to grow perennials. So called candelabra primulas are named as such because they flower in whorls (circles) of flowers on a strong stem:
Primula pulverulenta is a vigorous example with a preference for moist, even boggy soil. (Grows to approximately 60cm (24″).
Similarly Primula japonica – there are numerous named hybrids of varying colours, for example Primula japonica Appleblossom, Primula japonica Miller's Crimson, Primula japonica Postford White – all have a preference for a moist shady places but are easy to grow.
Other examples of Primulas include:
Primula beesiana (candelabra type)
Primula bulleyana (candelabra type)
Primula denticulata (drumstick type)
Primula vialii (distinctive flower heads – do not like hot dry gardens!)
Primula pulverulenta
Primula japonica
Primula pseudodenticulata
Primula vialli