Gardens To Visit – Recommended By Members Of The Society
Aberdeenshire
Crathes Castle: A National Trust for Scotland castle with extensive grounds and a stunning walled garden.
Dundee
Edinburgh
Fife
Perthshire
Cluny House Garden: A wonderful, woodland garden near Aberfeldy complete with red squirrels.  You can still visit over the winter months as there is always something to see.  Open all year, from 10 am.
Explorers Garden, Pitlochry: In the footsteps of notable plant hunters and explorers (Open 1 April to 30 November)
Scottish Borders
Dumfries & Galloway
Logan Botanic Garden, Near Stranraer: One of the Royal Botanic Garden Edinburgh's four gardens
Broughton House, Kirkcudbright: A National Trust for Scotland House with stunning garden. (February to October)
Nurseries And Garden Centres Recommended By Members Of The Society
Aberdeenshire
Angus
Ashbrook Nursery: Offers a comprehensive range of plants, many of which they grow  'hard' with minimal heat so that they are well prepared for the rigours of life in a Scottish garden.
Dumfries and Galloway
Elmlea plants: A small family run nursery in Newton Stewart, SW Scotland specialising in herbaceous perennials and grasses. (Also mail order)
Elizabeth Macgregor Nursery: Delightful nursery and garden with many special herbaceous perennials.  Open from April to October. (Also mail order.  Orders can be placed at any time although are only dispatched in spring.)
East Lothian
Edinburgh
Highlands
Abriachan Nursery: Nursery on the banks of Loch Ness. Selling some favourites, as well interesting and unusual plants. Notable collection of Auriculas. (Also mail order)
Perthshire
Glendoick: Garden Centre. World famous for Rhododendrons and Azaleas
BennyBeg Plant Centre, Crieff: Endeavour to ensure they only stock plants known to be suitable for Scotland.
Scottish Borders
Quercus Garden Plants: A small Scottish nursery growing a range of perenials that can cope with challenging conditions – ie on the shaded side of a hill at 850 feet.
West Lothian
New Hopetoun Garden Centre:  A well-stocked garden centre that seeks to focus on variety, choice and quality.
Binny Plants:   Specialist plant nursery (not a garden centre). Main focus is on unusual hardy perennials and peonies. (Also mail order)
The Mill Garden Centre: Central belt garden centre that aims to offer a selection of plants suited to the local micro-climate which is colder and wetter than either Edinburgh or Glasgow being approximately 185m above sea level.
Scottish Gardenplant Award
When Ken Cox and Raoul Curtis-Machin started the research for their book 'Garden Plants for Scotland' they realised that the Royal Horticultural Society's (RHS) Award of Garden Merit (AGM) was of little use to Scottish gardeners as it was too south-of-England orientated.  Scotland has a very varied climate that suits a huge variety of plants. There are many plants that struggle in Scotland, due to lack of heat, the winter wet or other factors. On the other hand, there are many that perform better in Scotland (e.g. Meconopsis, Trilliums and Tropaeolum speciosum.)
The most serious flaw in the system, from a Scottish perspective, was the then standard RHS H4, defined as "hardy throughout the British Isles", but in reality, many plants were not reliably hardy in colder/inland gardens even in parts of England, and many more were tender in Scotland.  To help gardeners in Scotland they assembled an impressive group of Scottish horticultural expertise, to consider which plants should receive a Scottish Gardenplant award. Sometimes there was agreement, sometimes not. 500 plants were awarded the Scottish Gardenplant Award. It is not a definitive list (and there will be new varieties that should be considered) but it is a useful list to point you in the direction of the most reliable, tried and tested garden plants that are the best of their type for Scottish gardens.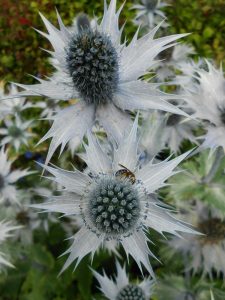 List of plants awarded a Scottish Gardenplant award
Recommended For Scottish Gardens
Most primulas are tough, easy to grow perennials. So called candelabra primulas are named as such because they flower in whorls (circles) of flowers on a strong stem:
Primula pulverulenta is a vigorous example with a preference for moist, even boggy soil. (Grows to approximately 60cm (24″).
Similarly Primula japonica – there are numerous named hybrids of varying colours, for example Primula japonica Appleblossom, Primula japonica Miller's Crimson, Primula japonica Postford White – all have a preference for a moist shady places but are easy to grow.
Other examples of Primulas include:
Primula beesiana (candelabra type)
Primula bulleyana (candelabra type)
Primula denticulata (drumstick type)
Primula vialii (distinctive flower heads – do not like hot dry gardens!)
Primula pulverulenta
Primula japonica
Primula pseudodenticulata
Primula vialli