Tales from the Garden – April Frost and Flowers
Anna has sent us the latest update on her lovely Edinburgh garden, Redcroft.  How does it compare to your plantings? Are they further along or behind?  Please read on to the end of the blog for details on Anna's open garden in May.
~~~~~~~~~~~~~~~~~~~~~~~~~~~~~~~~~~~~~~~~~~~~~~~~~~~~~~~~~~~~~~~~~~~~~~~~~~~~~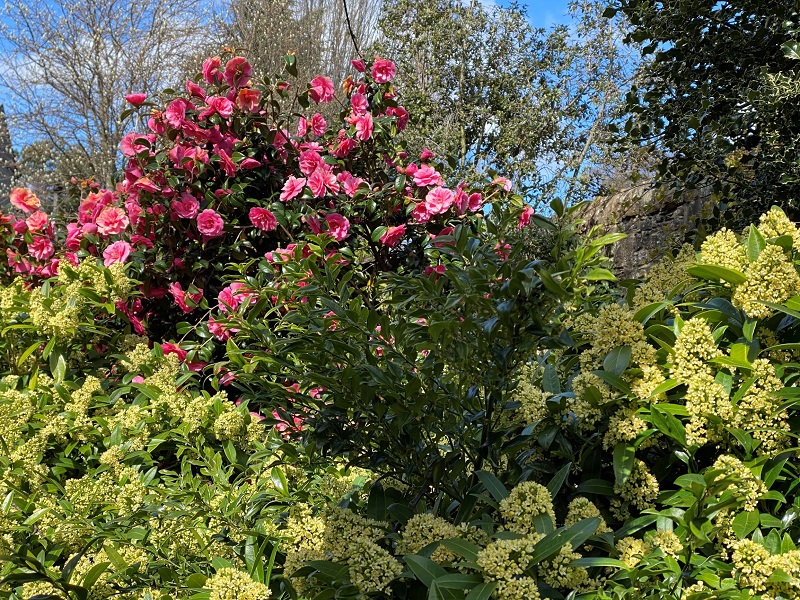 We have had frosty nights for over a week now and they have taken a heavy toll on the rhododendrons. This Camellia williamsii 'Donation', photographed on 11th April, shows a little browning but has survived surprisingly well.  It has flowered profusely this year and forms the apex of a mound of evergreen shrubs near the back door.  Here it is surrounded by Skimmia 'Kew Green' which is a very useful workhorse round this garden, often filling in awkward spaces. It is an undramatic shrub but here in full flower, we get the benefit of its lovely scent.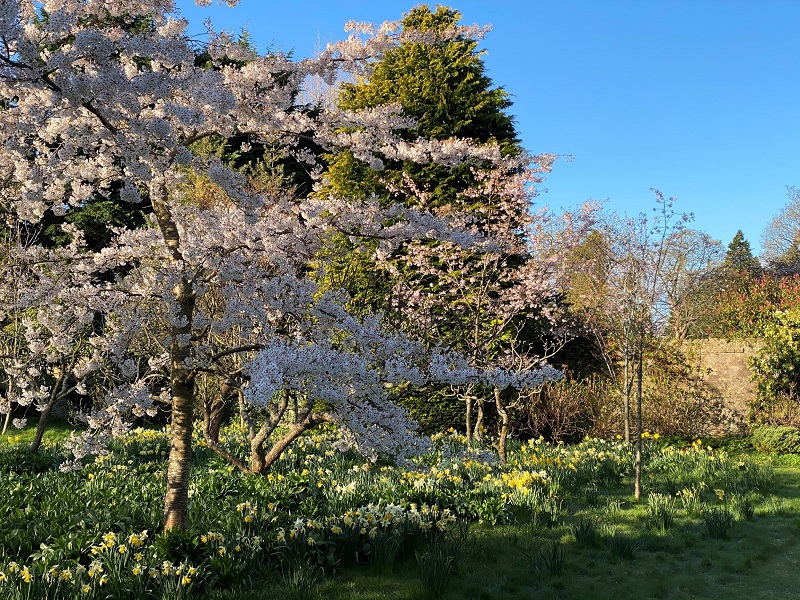 For several weeks now we have enjoyed the spectacular flowering of the cherry trees in the orchard which combine with the daffodils to create a Spring picture.  Prunus yedoensis on the left has an unbelievable amount of flowers which are pink when they first emerge, and get gradually whiter. Now, as a result of the frost, with some petals browned, a further colour change is afoot introducing a coppery note.  Beyond is Prunus accolade, with pretty pink, frilly flowers, which never seems to quite flourish as it should, and has been slow to become a substantial tree.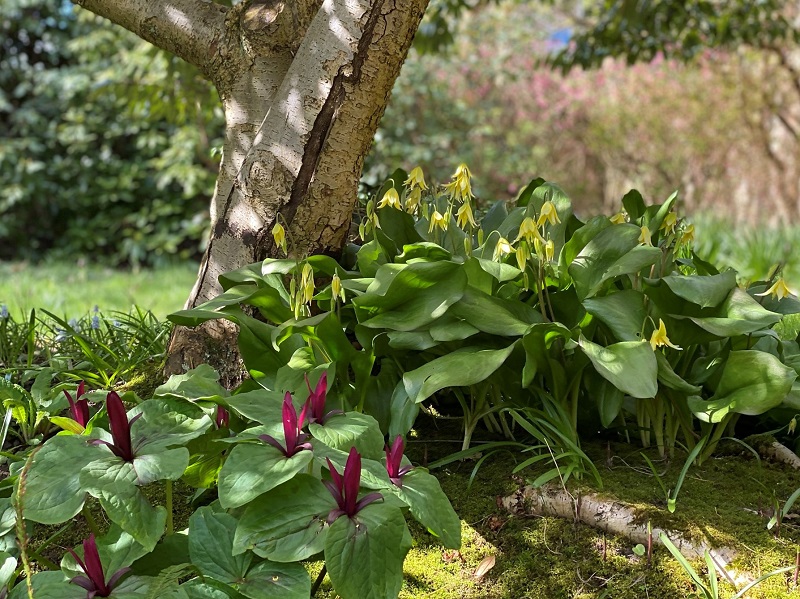 There are some nice scenes in the rockery where many anemones flourish, providing much of the colour at this time. This is Erythronium 'Pagoda' which has formed a healthy clump in several places and flowers impeccably every year.  Flowering at the same time is maroon Trillium sessile which also crops up in different places and is a very reliable performer.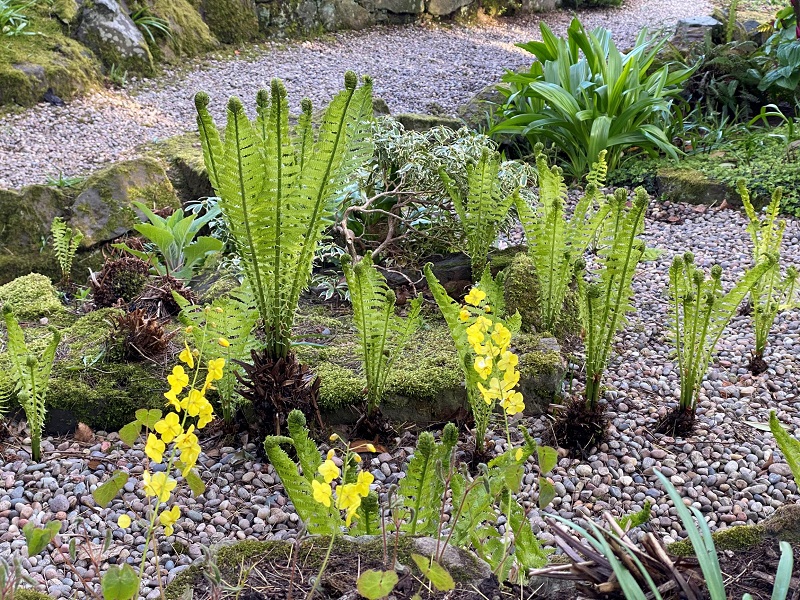 Several epimediums flourish in this area and they make excellent ground cover with their tightly packed leaves. Most of them have very subtle flowers which are barely noticeable, but these yellow ones which I think are from E. perralderianum are more substantial than most. They are seen here with the unfurling fronds of the shuttlecock fern which spreads on runners and has colonised this part of the gravel.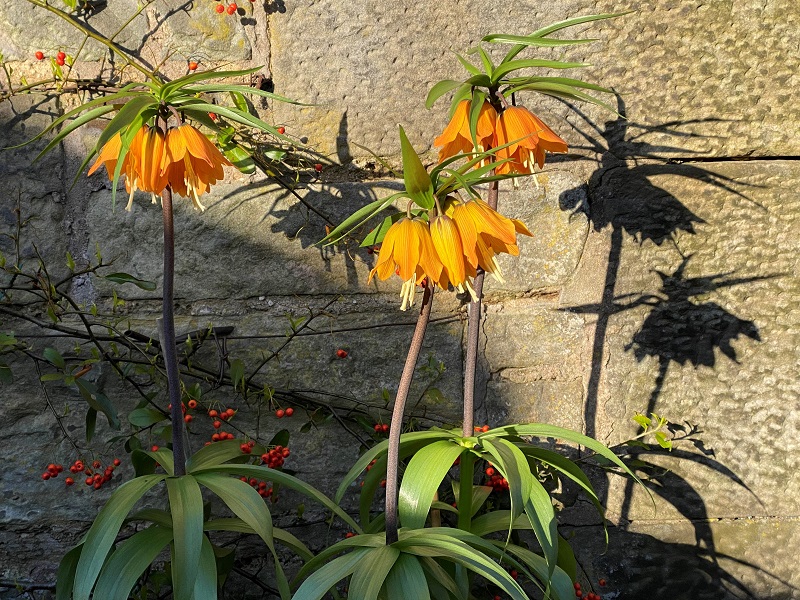 There are many interesting fritillaries and these three that are flowering now show how different they are.  I have had no success in getting crown imperials or Fritillaria imperialis to flower when planted in the garden. But they make very good pot displays, usually flowering together, and they last a surprisingly long time. There seem to be new varieties every year and this, from Sarah Raven, is called 'Brahms'.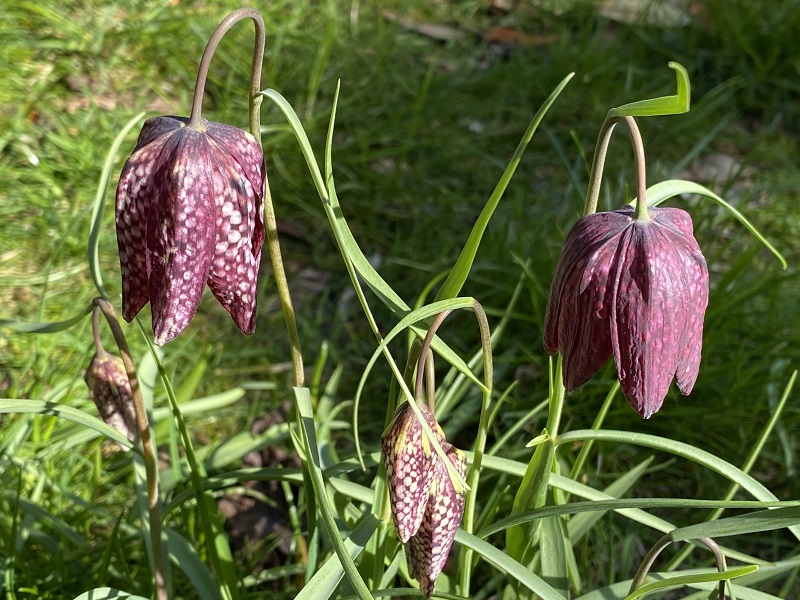 Snakeshead fritillaries are the most fascinating of flowers and I love photographing them.  This year we seem to have a good number with the help of the 150 new bulbs we planted last autumn.  Although I am always hopeful that they are successfully multiplying on their own, most years we give them a helping hand.  It is vital not to cut the grass before the fritillaries seed and this area, which was once lawn, becomes long grass, allowing the rattle which also grows here time to flower and seed as well.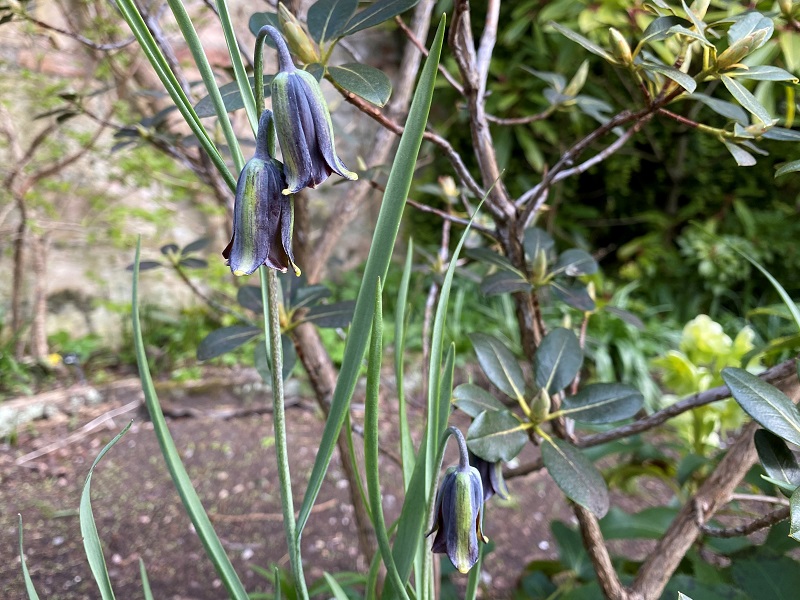 In Anna Pavord's book "Bulb" there is a very good description of this Fritillaria elwesii. As she says, 'This is a light limbed, minimal plant, intensely vertical with narrow leaves' and she adds 'it is an engaging thing, but easy to miss in a garden setting'. Not easy to photograph either but something of a hidden treasure.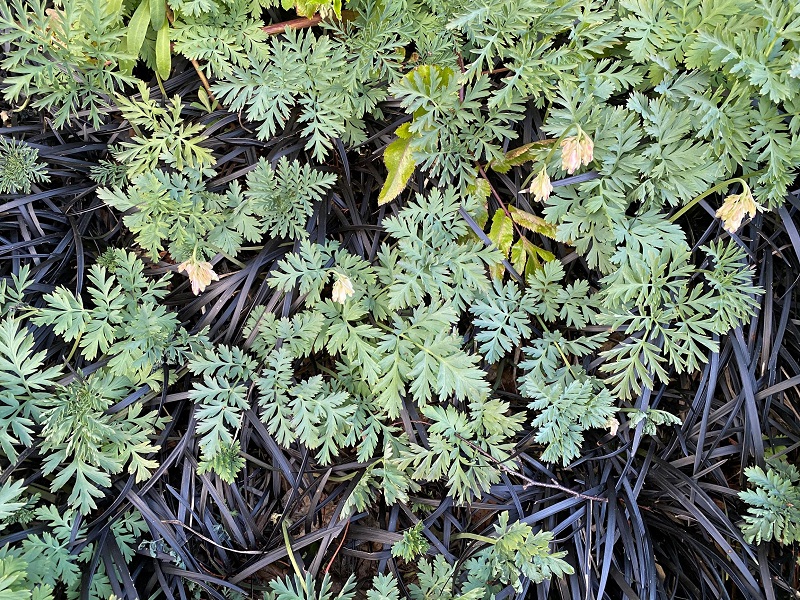 A friend of mine who is very artistic pointed out what a good combination this black grass, Ophiopogon 'Nigrescens', and the lacy leaves of the grey Dicentra 'Langtrees' make. One of the benefits of having visitors (almost absent for a whole year) is the fact that they often notice things that I have missed, or they make helpful suggestions or criticisms.
Yes, our garden opening is going ahead, and we much look forward to seeing Caley members. We are not having tea or coffee (a relief to the organiser), but do bring your own and there will be seats around the place. We are planning a very good plant sale organised by Caroline Pearson and Vicki Reid-Thomas and we hope there will be some plants from Macplants. You will be able to pay by card. The process of tidying up has begun, not long to go now.
Details are: Redcroft, 23 Murrayfield Road, Edinburgh EH12 6EP. Open Saturday 15th and Sunday 16th May 11am – 5pm.  Entrance £5, children free and very welcome. Dogs on leads. Further information is on the Scotland's Gardens Scheme website, where any last-minute changes will be posted.
Anna Buxton April 2021
All photographs taken recently at Redcroft