Allotment News
Apologies to  Moira and her team at the Allotment.  Due to a few technical difficulties we were unable to post last weeks Allotment Blog to the website.  Here it is now.  You will get another very soon as the Allotment team are once again hard at work.  Luckily, they don't rely on technology to grow fruit and veggies on their plot!!
A busy day in the sunshine, sowing, planting, feeding, weeding, watering and grass cutting.
The frame was put up for the runner and climbing beans and the first runners were sown hoping they will germinate and not be eaten first but if not, there is plenty of time for a re-sowing.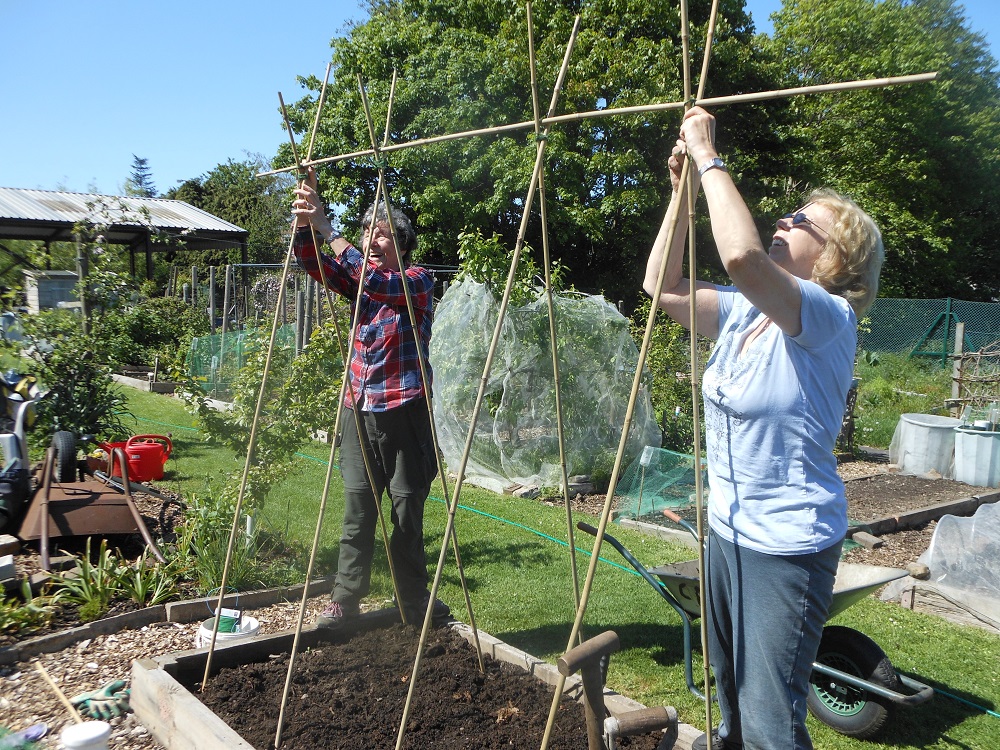 Succession rows of beetroot, carrots, peas and little turnips were sown, young kale seedlings were planted out in the nursery bed – the seed packet bought had three varieties, but they were not packeted separately so hoping with a little growth, we can see some differences emerging.
The fruit is fed every six weeks or so with fish blood and bone and time for that this week.
The gooseberry bushes have a good crop of leaf-curling aphids at the moment but also a fleet of ladybirds hard at work. They have very little fruit this year, but the cordon gooseberries are doing well as usual. There has also been little new growth on the Tayberry and the blossom on the Discovery apple is less than usual, probably a result of last summer's heat, though there is excellent blossom on the other apples.
Meanwhile everything is doing well. The potatoes are growing well and were earthed up again. The garlic planted in the autumn from bulbs grown in Nairn is looking good, the onions are all coming away and the first strawberries are not far off!
Jobs for next week
Weeding
Add compost etc to remaining beds