Apple Day
On Saturday The Caley held its annual Apple Day celebration – thankfully this year we were able to hold it in  person. Part of The Caley's & the Friends of Saughton Park "Halloween & Apple Day" event, we were very grateful to the National Trust for Scotland (in particular, Colin Wren) for bringing an abundance of apples for us to put on display. With around 80 varieties from NTS properties around the country, many of which were old Scottish varieties, it was certainly a sight worth seeing.  As an added bonus, the smell was delicious. With some restrictions still in place, we had to limit the number of folk in the room at any one time but Colin Wren and Colin Ainsworth were on hand to answer all apple related questions.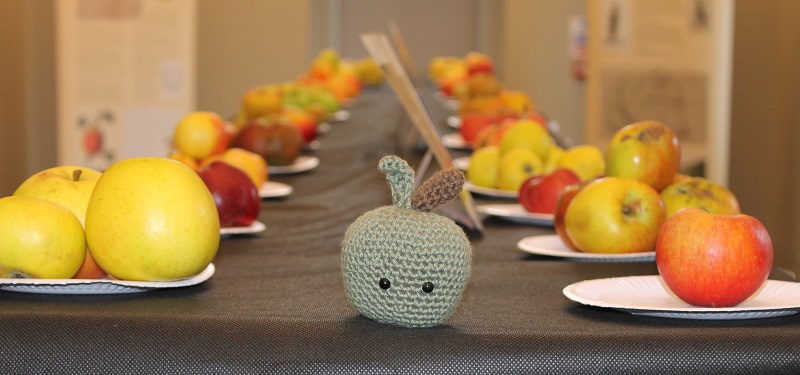 We couldn't do the apple tasting in the usual way, but Max came up with a plan that let folk taste some of the apples that were on display, serving them from his own "apple window" It was much appreciated by everyone.
The Caley also had a few other activities on the go.  The tombola was very popular, so a big thank you to everyone who donated prizes for it.  Some people were very lucky, others not so much but those who didn't win a prize got a consolation prize of a daffodil bulb, so most folk went away happy. We had a nature treasure hunt for the kids (thankfully we had a lovely afternoon for it), a plant sale and a preloved book stall, all of which generated a lot of interest.  Thanks to Charlotte, Holly, Kristyna, Sally, Barbara and Kathryn for all of their help in manning the stalls.  The tombola stall in particular was quite fraught at times!
Pam was on hand to do what she does best – chat to folk about The Caley.  One kind person even gave her a donation for the Caley Glasshouse Fund which was much appreciated.
One added attraction was the scarecrow display organised by the Scottish Gardeners Forum.  The scarecrows from Oatridge Gardening Club, Pathways Day Centre & Penicuik Horticultural Society were a big hit with all of the kids that stopped by, many getting their photos taken with their favourite one.
With the Friends also very busy with all of the activities they had going on, a great day was had by all.
Many thanks to everyone who came along to support us.