Busy day on the Allotment
A pleasant day and we had the pleasure of seeing the peacock butterflies on the teasel flowers. What wasn't so good were the wasps determined to reach the white currants we had picked.
A lot of weeding done but no watering needed after all the recent rains. The last of the broad beans were picked and the bed cleared to the compost heap. An excellent crop on the peas this year – 'Hurst Greenshaft' and 'Sugar Snap'.  The shallots were dug up and hung up for drying but unfortunately a number of the onions – especially the red ones – have gone to seed so they came out for immediate using.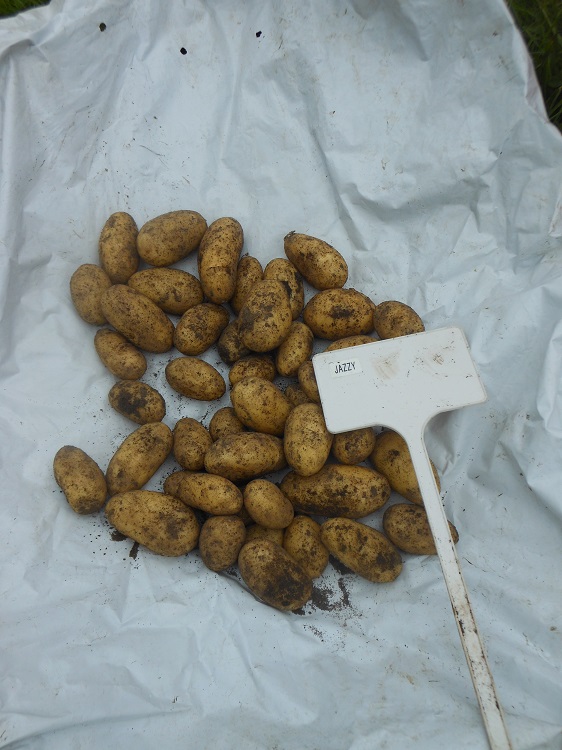 Sadly, not everything does well. We planted six tubers of the potato variety 'Jazzy' for the first time, described as early salad potato and very productive. Well, not for us this year as you can see in the photograph! The soil quality in that bed needs some work and it is also too close to the roots of the hazels so that is probably the reason. We had a better result from the second early potato.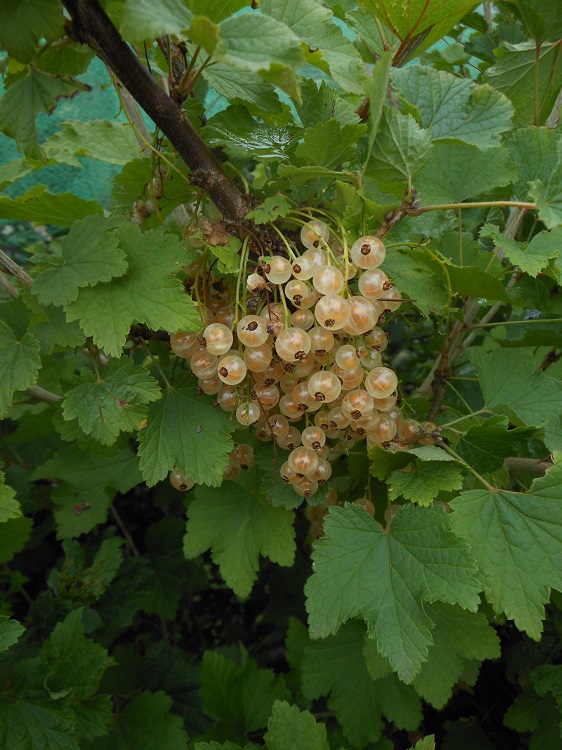 On the fruit side, the apples were thinned. All our apples are on dwarfing rootstock so can't support a large crop and better to thin and have a crop of good-sized apples rather than a large crop of very small ones. The apples should also not be growing touching each other at the stem. If you leave them like that, then the slaters make a home in the space between and cause a lot of damage. The last of the white currants were picked. The huge crop of redcurrants is still on the bushes, but they can be left well into the autumn, growing sweeter all the time. The blueberry crop is the best and the largest ever.
The squashes are a huge success this year – literally – at almost 90cm tall. The variety is 'Patty Pan'.  The courgettes are doing well with little sign of the usual mildew.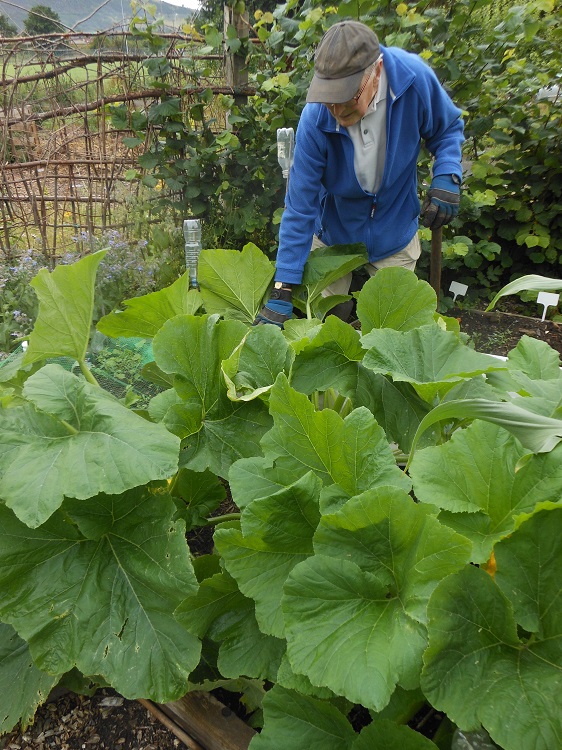 Date for the Diary
Open Day on Sunday 25 August 2.30-4.30 with our ever popular workshop on summer pruning of fruit. The workshop can be very busy so contact rchsallotment@gmail.com to book your place.
Teas this year will be in the Bridgend Farmhouse cafe but we shall have lots of lovely produce for you from the allotment.
Jobs for next week
Cut back the strawberries and feed with fish blood and bone
Thin and feed the carrots
More slug pellets on the dwarf French beans
Sow green manure on the broad bean bed
Weeding especially along the willow windbreak border
Attempt to tie up the autumn raspberries