Some signs of spring in George's garden?
There are some obvious signs of spring in the garden with Iris reticulata 'Katherine Hodgkin' showing some good promise of early colour.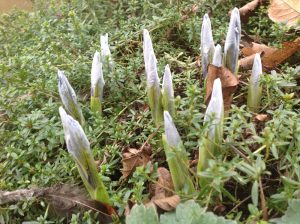 Meanwhile in the cold glasshouse where the temperatures was as high as 31 C and as low -3 degrees C in one day, there has been little movement with the pots of Daffodils and Hyacinths.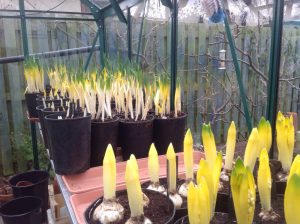 In the meantime the pots have been cleaned up by removing some of the excess compost to allow space for watering. George has not watered his pots of bulbs in the past week and indeed may not apply any water this week either.
A mouse or rat had set up house in the bulb plunge and was a bit upset by the sharp points of one of the pots of hyacinths disturbing its cosy wee nest of dried leaves so nibbled the shoots level, little blighter.