Tales from the Garden – July at Redcroft
Read on for the latest update from Anna's lovely Edinburgh garden, Redcroft. Anna had a few IT challenges this week (we all know how frustrating that can be!), so we are grateful she stuck with it and managed to send us this update.
There is also an opportunity for you to be able to visit Redcroft in September and October – details are at the bottom of the page.
——————————————————————–
July at Redcroft
About half our Edinburgh garden is taken up with grass of one sort or another. Over the years we have reduced the amount of closely shaven lawn in favour of longer grass of various textures. This photo shows an area we have allowed to grow long for the first time this year. The grass here is nice and delicate and this is a new path through it. Maisie, our puppy, favours the path over the coarser long grass which scratches her tummy, that is when she is not totally immersed in one of the shrubberies. We leave the grass in the orchard for as long as we can but it by now it looks rather messy and it needs to be cut before the end of July as the Colchicums, which provide a good display in the autumn, start coming through in early August.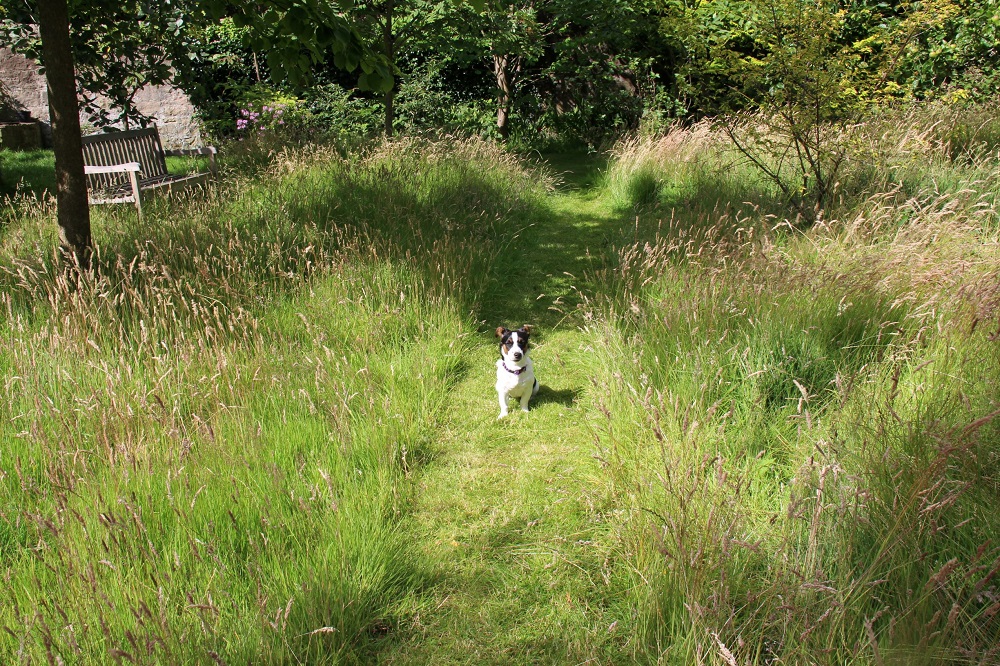 This view of the rockery shows Watsonia pillansia flowering unusually well this year, against the recently trimmed cloud-pruned conifer. I enjoy pruning the conifer although it does take several sessions. It is an important feature, and although it doesn't look like at all Japanese, it does display two themes of that type of pruning, asymmetry and transparency.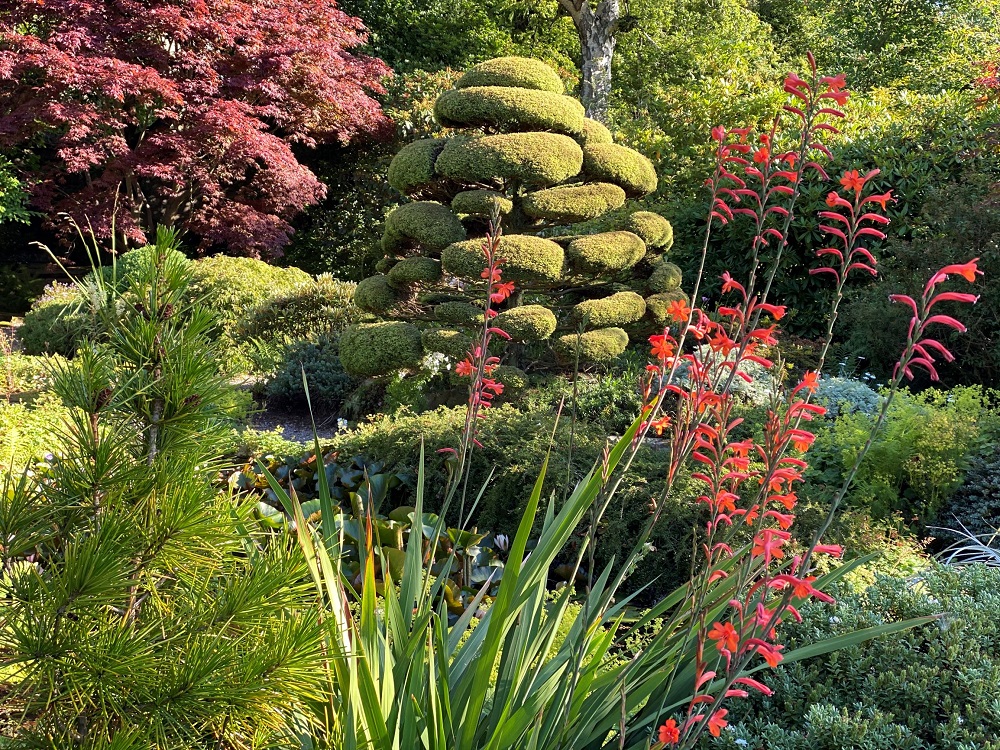 We have this bright green/yellow Fuchsia in several places, and it is useful for lighting up dark corners. Not showy on its own, here it has combined happily with Allium sphaerocephalon. This allium looks delicate with its tall, thin stem, and it flowers later than most alliums. It sometimes spreads well in gardens, although not here, and is found wild in Europe, very occasionally in Britain.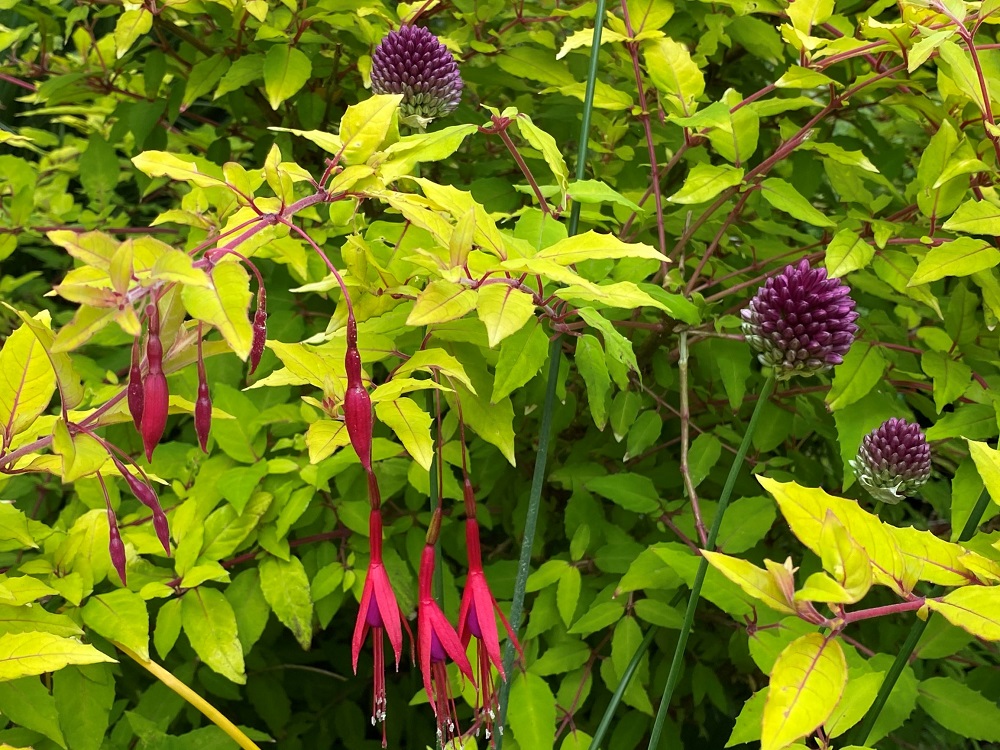 Hosta sieboldii 'Elegans' needs no company as it grows thickly and has sufficient drama on its own. Surprisingly it does not succumb to slug and snail damage in the way most hostas do. Perhaps its leaves are too thick or are not to the taste of those voracious creatures, for there are certainly plenty of them around. It also has these attractive flowers, and I like the way the rain sits on those grey pleated leaves.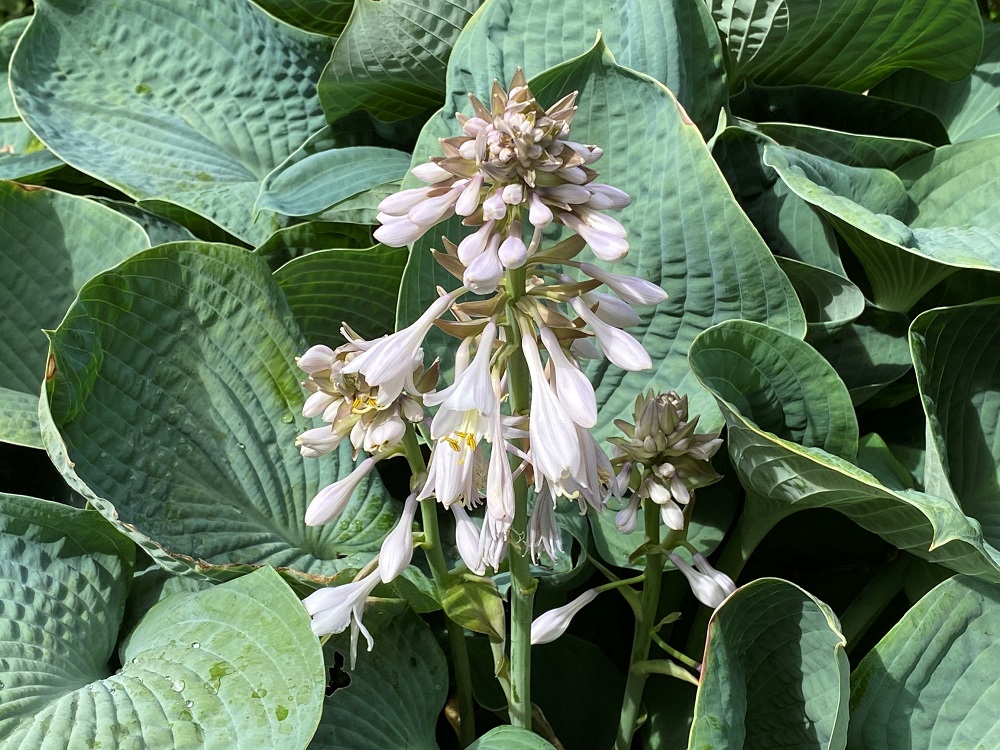 It is a good time for the herbaceous border as there is plenty of colour and still much to look forward to with few areas that are over to spoil the picture.  Here the tall Euphorbias dilute the perhaps unhappy combination of the bright pink Phlox and the orange tint of Helenium 'Sahin's Early Flowerer'. In the distance the weeping birch, Betula 'Youngii', has just been pruned, showing that clarity of shape which we try and achieve here.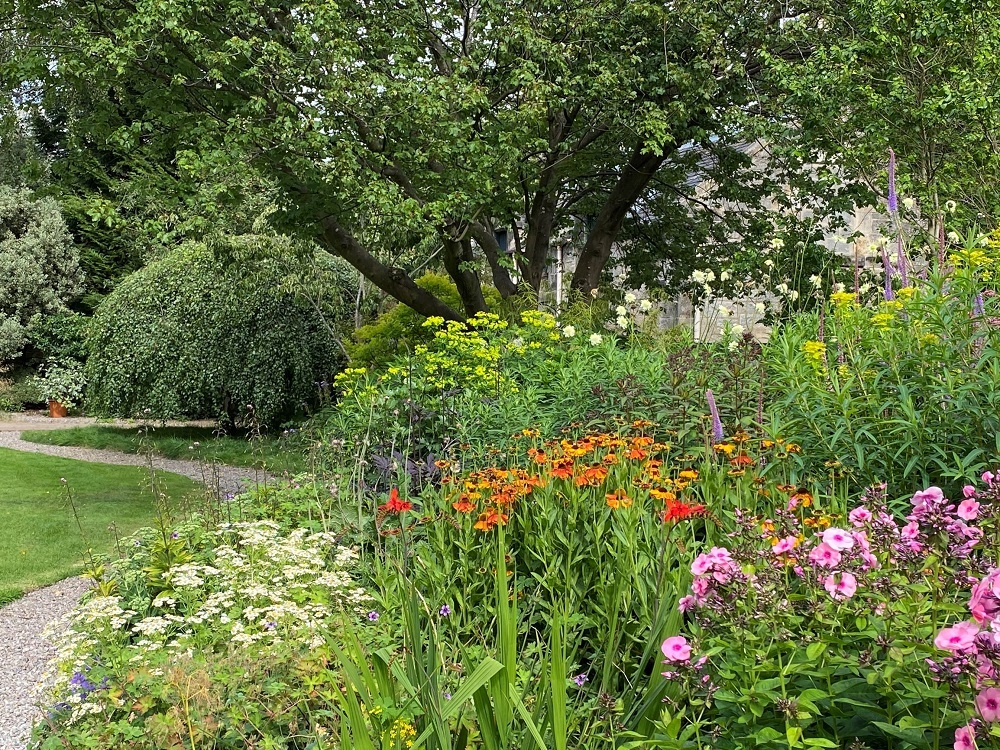 The flowers are hard to spot on this Cotinus 'Golden Spirit' which grows against the yard wall. It forms a good shape without any help, and although rather late to come into leaf, it is one of my favourite shrubs. The key fact is that most of the time it is seen with the light going through the leaves which gives them a luminous beauty. The same can be said of the red Cotinuses which, planted in the right place, have leaves which are almost transparent and, with even a minimum suggestion of sunshine, acquire this luminous quality.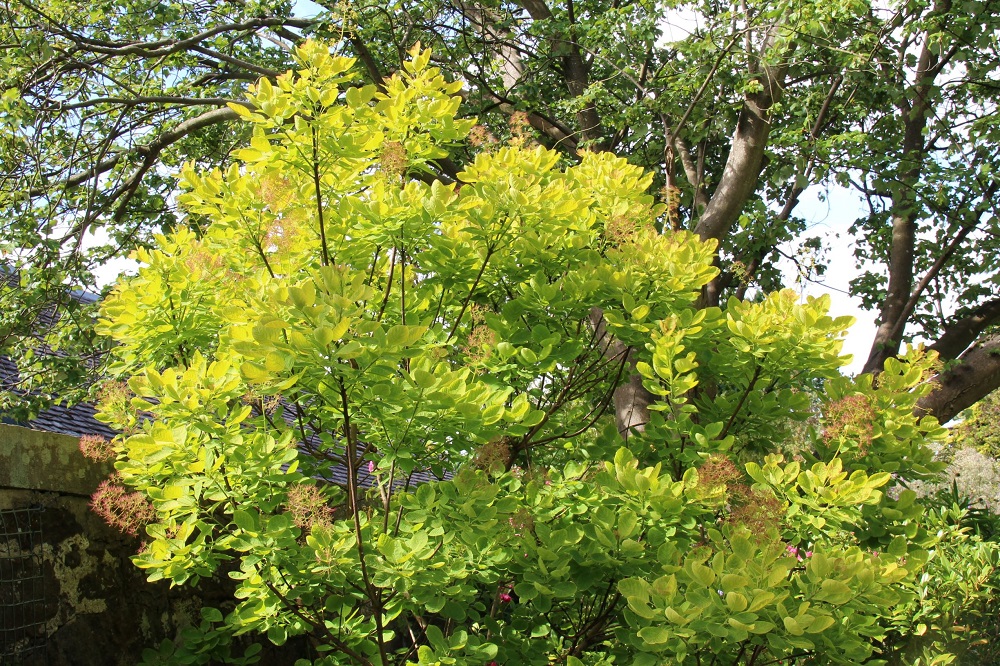 We are going ahead with our autumn garden opening by appointment. During September and October if you would like to visit the garden just email me on annabuxtonb@aol.com. There won't be tea or coffee available but you are welcome to bring your own.  There will probably be some plants for sale. As planned, this will be in aid of the Caley's teaching greenhouse at Saughton Park. Details are on the Scotland's Gardens Scheme website.
Anna Buxton, 27th July 2020
All photos taken recently at Redcroft.