Tales from the garden – June at Redcroft
Anna has sent us the latest update from her lovely Edinburgh garden, Redcroft.   If you are looking for inspiration for your own garden, it is full of planting ideas that could be used in many gardens.
##############################################################
It seems like ages ago now, but many thanks to all who came to our garden opening on 15th and 16th May. Support from members of the Caley was much appreciated. We had an amazing turnout, 700 visitors over the two days. Maybe we hit a moment when people were pleased to do something sociable, and maybe also we benefited from social media (with no help from me). We were lucky with the weather as, apart from a short drenching on Saturday morning, it was fine and quite sunny.  We were also lucky with timing for the garden as the tulips, always a bit hit and miss, were perfect, the lawn looked good after a long period when it hadn't grown, and several rhododendrons were out.  We had a very good plant sale and if some people missed teas, it was certainly easier to organise without. We raised a wonderful total of £6,282 and handed over a handsome sum to Fresh Start, our charity.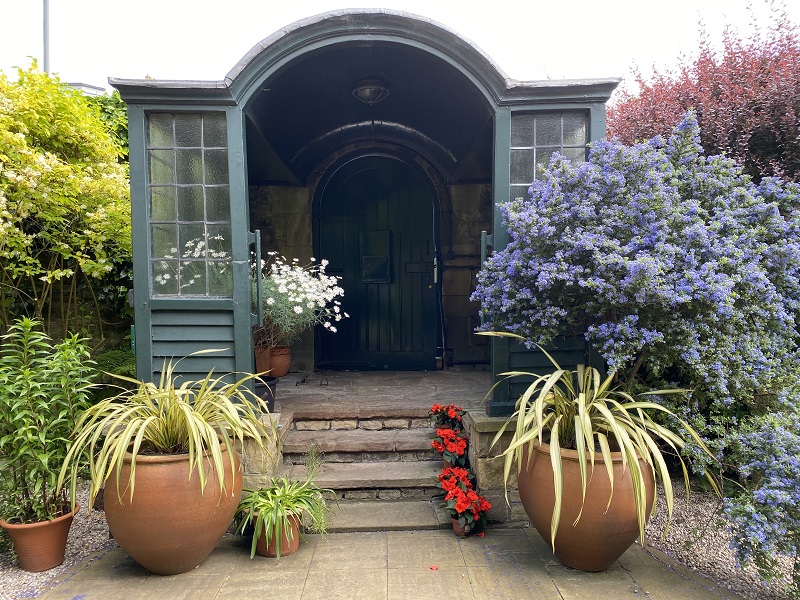 The garden has moved on since then.  This photo of the porch shows the scene that greets you when you leave the house. On the left a golden Philadelphus which, when the conditions are right, scents this whole area, and in the porch a standard daisy now several years old which always flowers beautifully in early summer. On the right Ceanothus 'Puget Blue' which was almost untouched by the frost, has cleverly wrapped itself round the side of the porch and has been flowering for nearly a month. It is quite a good colour combination with the tall red-leaved Berberis in the background.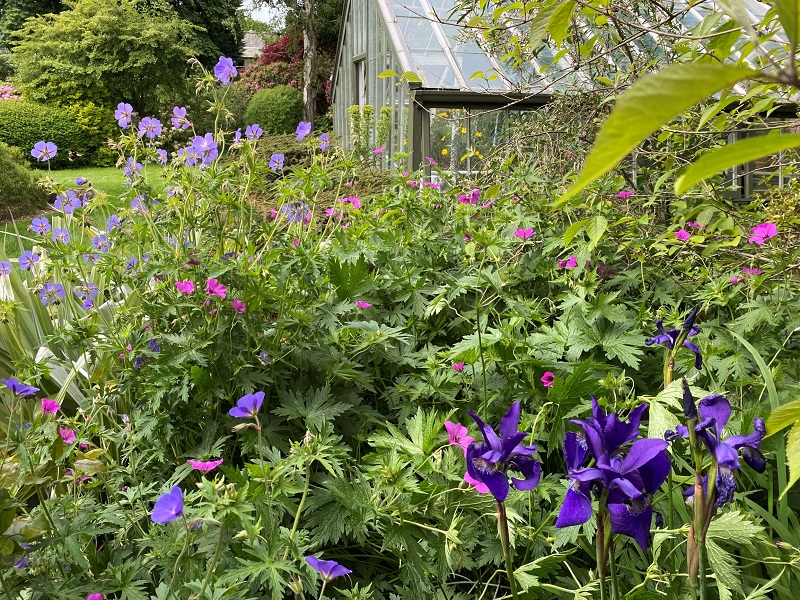 In this colourful scene, taken from the back of the flower bed, the two geraniums, the pink one 'Patricia' and the blue one possibly 'Rozanne', combine with the deeper blue of beautiful Iris siberica. This is one of several clumps of blue siberica irises in this part of the garden which sadly flower for only a short period.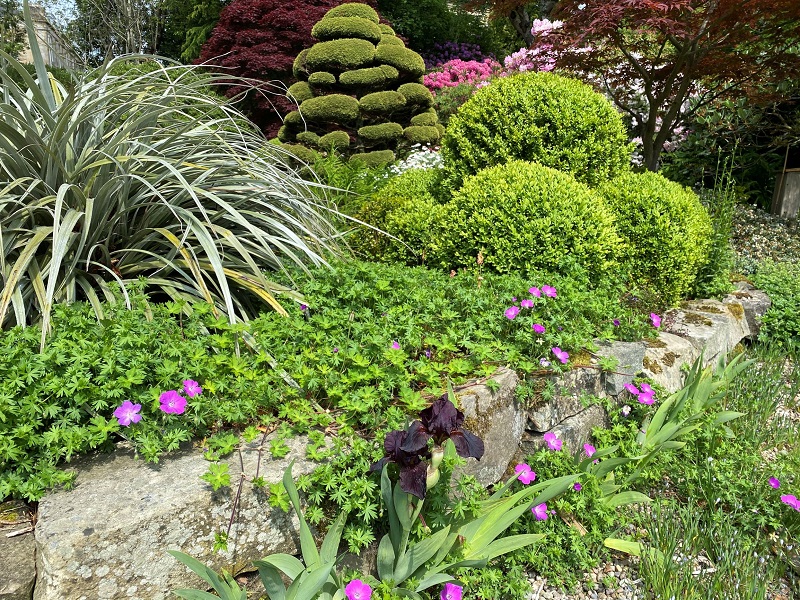 Iris 'Langport Wren' is in the centre of the front of the rockery, seen here photographed a couple of weeks ago. Sadly this was the only one of this iris to flower this year but it has a very good position, facing south in full sun so I am hopeful that it will do better next year.  On the left Astelia nervosa which looks good all year round, and weaving its way through everything, and welcome to do so, is magenta Geranium sanguineum. In the background is the cloud-pruned conifer which I think is Chamaecyparis pisifera 'Boulevard', but not everyone agrees.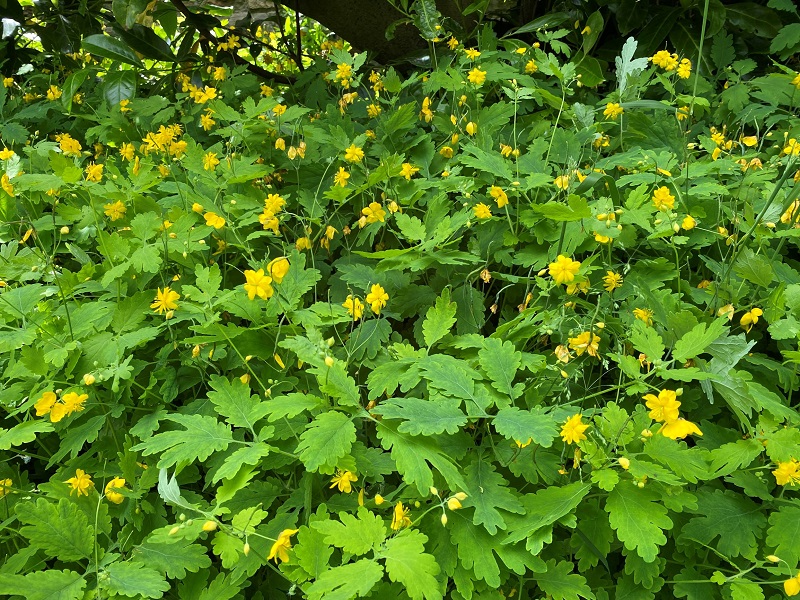 Is this a weed or a wild flower? It is greater celandine or Chelidonium majus which according to Roger Philips in Wild Flowers of Britain, is rare in Scotland. It is in the poppy family and perhaps more closely related to meconopsis than celandines. Last year it fell victim to the mower and I thought it had disappeared, only to find that the mowing had served to spread it into this convenient strip under the laurels. The yellow juice of the stem can apparently cure warts in eight days, but beware, parts of it are poisonous.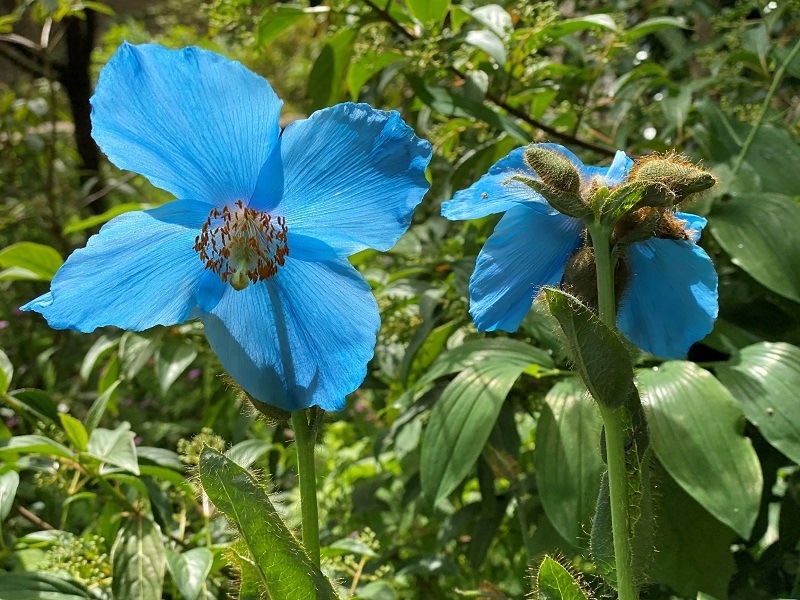 A true Meconopsis, as this robusta 'Lingholm', is highly photogenic and much used in publicity, but I couldn't resist including this one, even though it is a rare event for a meconopsis to flower in this rather dry garden.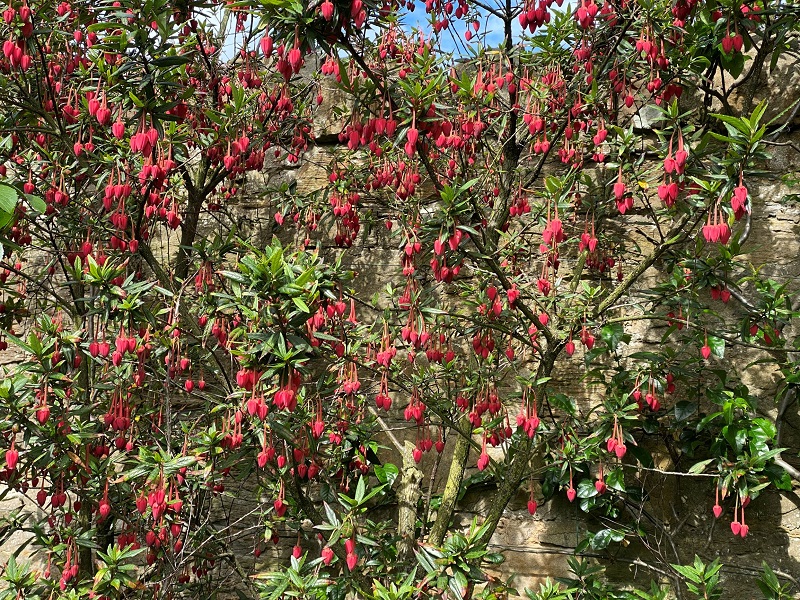 This year Crinodendron hookerianum has produced a very large crop of its strange red lantern flowers.  It grows against the road wall and never seems entirely happy with this dry spot. I hope it isn't struggling as it now looks as though it could do with a few more of its dark green leathery leaves which are rather sombre at the best of times.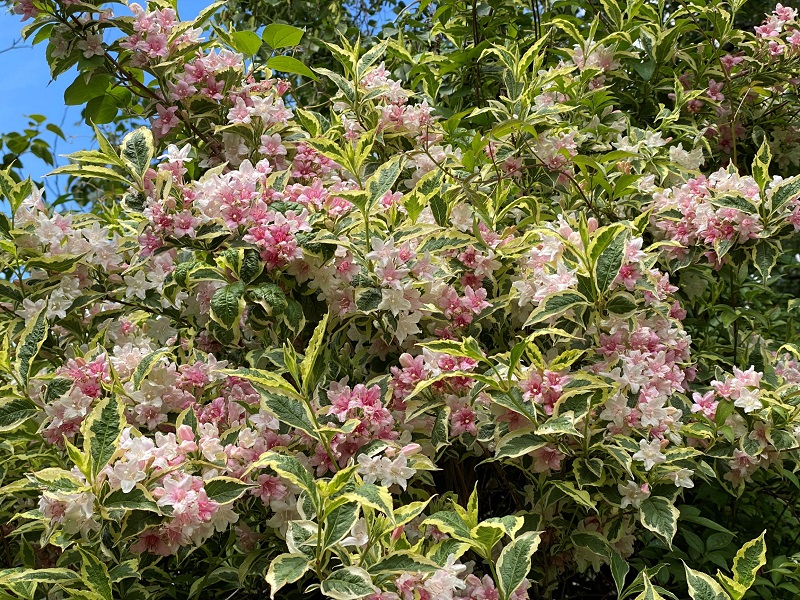 It is easy to miss the pretty flowers on this Weigela 'Florida Variegata'. Maybe people don't plant Weigelas much now, but they are useful, tough shrubs which come in a variety of colours and grow quite tall but can be pruned to fit the space you allocate them.
Anna Buxton
21 June 2021