Tales from the Garden – May 2019
Opening your garden is rather a nerve-racking business and I feel as though my head is on the chopping block. With a few days to go, what I see most of are plants which are already over – daffodils, rhododendrons, cherry blossom, fading bluebells, alpine clematises looking a bit jaded  – and weeds which seem to germinate from one walk round the garden to the next.  The new leaves have revealed quite a lot of dead wood too.  Making the garden look smart is all about clearing up dead leaves, tidying up, sharpening up the edges and the plants have to speak for themselves and I try not to put in too many fillers.
I have been promised lots of baking so we should have a good tea. I am very grateful to Caley members Caroline Pearson, Vicki Reid-Thomas and Heike Campbell, all three key players in the much lamented Botanics Plant Sale, for organising the plant sale and providing a good selection of interesting plants.
The cold spell is helpful as far as the tulips are concerned.  The many pots have performed quite well this year and most of them are still in reasonable condition.  The same applies to the multi coloured wallflowers, both wallflowers and tulips are in the yard where we have tea.  It is a very grey space and the idea is that they provide some bright colour there.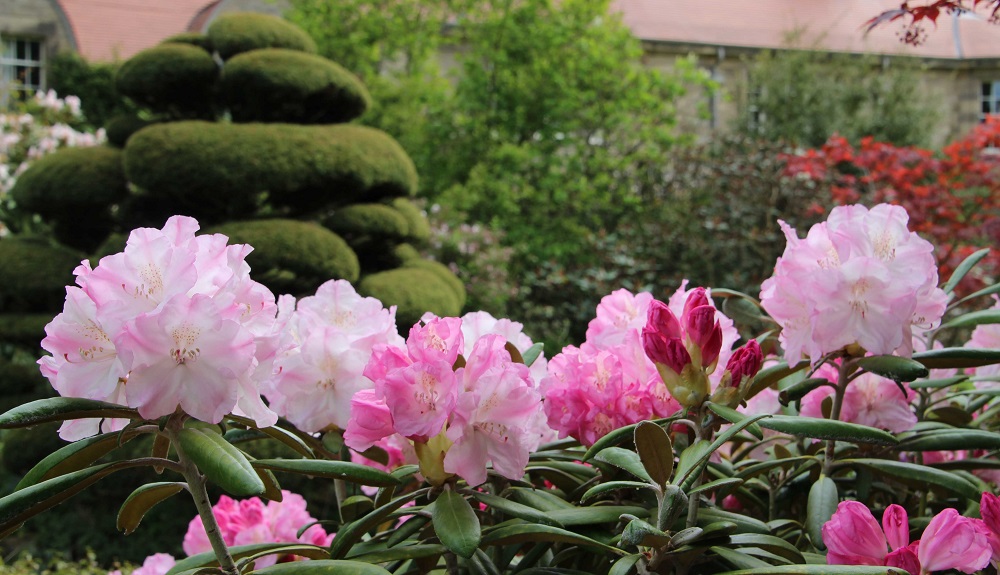 The most dramatic colour at the moment comes from this rhododendron, 'Ken Janeck', a yakushimanum hybrid which I bought at Glendoick in 2008. It took several years to make a show like this, and at first I thought it was blousy and obvious but now I like it more and more.  The freshly trimmed, cloud pruned conifer on the rockery is in the background.  Also very colourful is the azalea seen against the self-seeded honesty featured as the title image of this piece.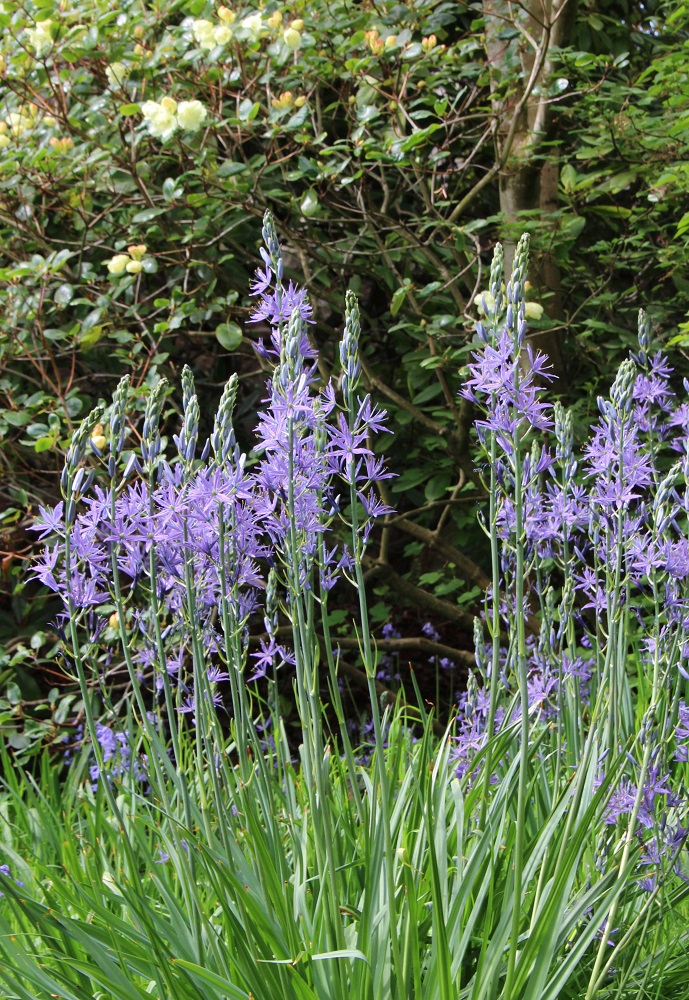 This is Camassia leichtlinii and is easy to grow, increases well and seems to like growing through grass, as it is here.  The blue is matched by bluebells nearby and contrasted with the pale yellow of Rhododendron wardii.  Wardii is not exactly a free flowerer in this garden, but it is a subtle colour.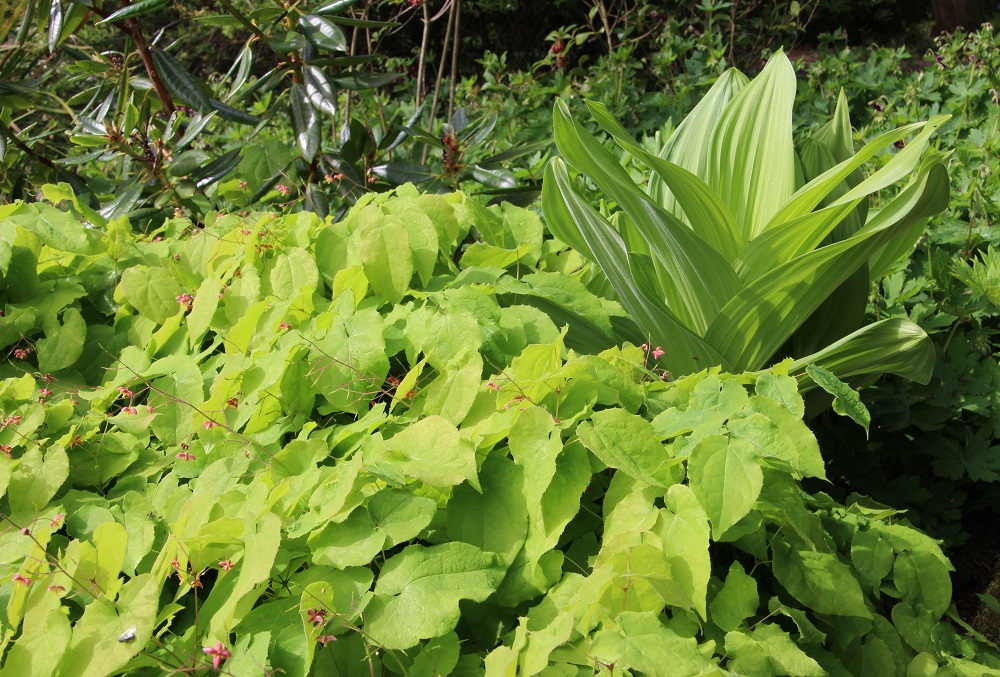 The green of early Spring is a precious asset to the garden and it is rather sad when it loses its lustre. This combination of Veratrum viride and Epimedium alpinum, taken like all these photos on May 2nd, is briefly eye catching.  I am always disappointed with Veratrums when they get over this phase of lovely pleated leaves and extend upwards with an ugly flower.
I am pleased with the new area we planted in the autumn after getting rid of three huge conifers. The shrubs are mostly doing fine and the grass seed, sown last October, is now almost a wild flower meadow.  We used a whole heap of our compost to create the area for planting and in that compost there must have been a plentiful supply of different wild flowers (or weeds) including some opium poppies, purple I hope.
Anna
If you would like to find out more about Anna's garden,  you can visit it in person. Her garden is open this Sunday, 12th May from 2-5pm, entrance £5, children can enter for free and are very welcome. Proceeds will be shared by the Caley Greenhouse at Saughton fund as well as Scotland's Garden supported charities. Further information from scotlandsgardens.org.
You will find Anna at Redcroft, 23 Murrayfield Road, Edinburgh EH12 6EP.