Tales from the Garden – Redcroft in August
Here is the latest blog post from Anna about her lovely Edinburgh garden, Redcroft. Read to the end to find out details of how you can visit the garden this Autumn.  Do go along to see the garden and help support The Caley.
---
Redcroft in August
When I look at our Edinburgh garden through the window in front of my desk I see nothing but shades of green, in contrast to the very colourful show at Margaret and David Teale's St Boswells garden visited by Caley members at the weekend. August is not the best time for our very mature shrub orientated garden.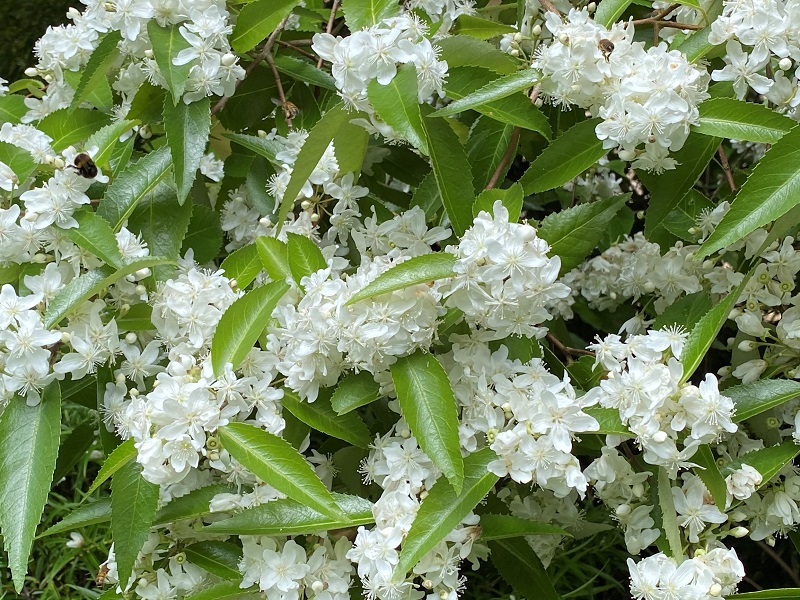 However, two flowering trees are spectacular at this time, Hoheria sexstylosa and Eucryphia 'Nymansay', both with masses of white flowers, both very popular with bees. The Hoheria, from New Zealand, is taller than the house, with many stems which are always hidden by its evergreen olive coloured leaves. It has been cut back by the frost a few times but seems to recover well. I bought it from a nursery in Suffolk, The Place for Plants, and travelled back with it as hand luggage on a small plane from Norwich Airport.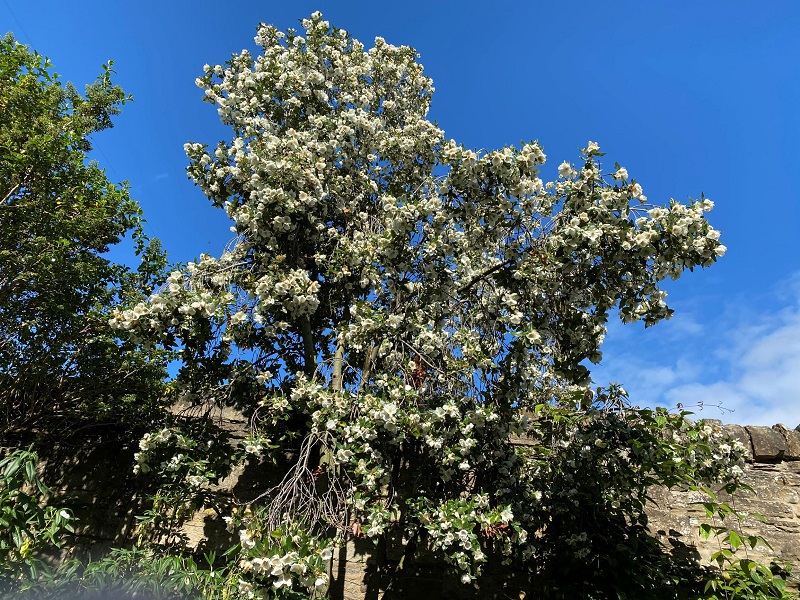 The Eucryphia is tall too, and has larger flowers which are visible from the road. I hope people notice it. It is rather ungainly with a few very long thin side branches but I can't see how to prune it tactfully to improve the shape.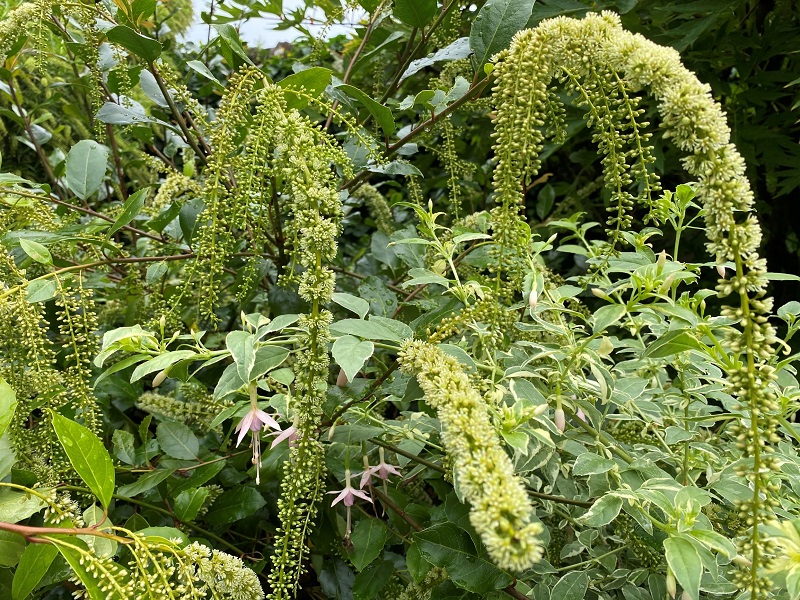 This shrub, with long green catkins which appear at this time of year, is Itea ilicifolia. It has been moved several times but is now doing well alongside this variegated Fuchsia 'Sharpitor'. The Itea makes quite a dense mound and I seem always to be trimming it, but it provides good filling in the middle of this very deep bed.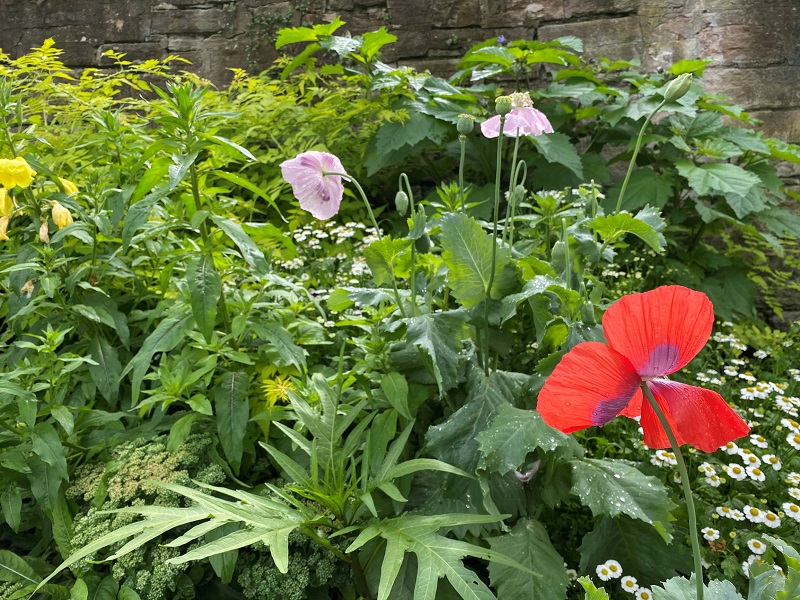 The compost heap, where spare plants often get dumped, always yields some interesting surprises and it is fun seeing what emerges day by day.  Here the opium poppies – although there are not many of them – attract attention. At the back on the left is the golden leaf of Rubus cockburnianus, which is very prickly and invasive, and beside it Nicandra physalodes which comes up somewhere every year, and sometimes I relocate the seedlings. On the left is the yellow evening primrose which seeds throughout the garden, and in the middle is feverfew and a young Solanum laciniatum which will have blue flowers and poisonous orange berries; it grows vigorously in the greenhouse.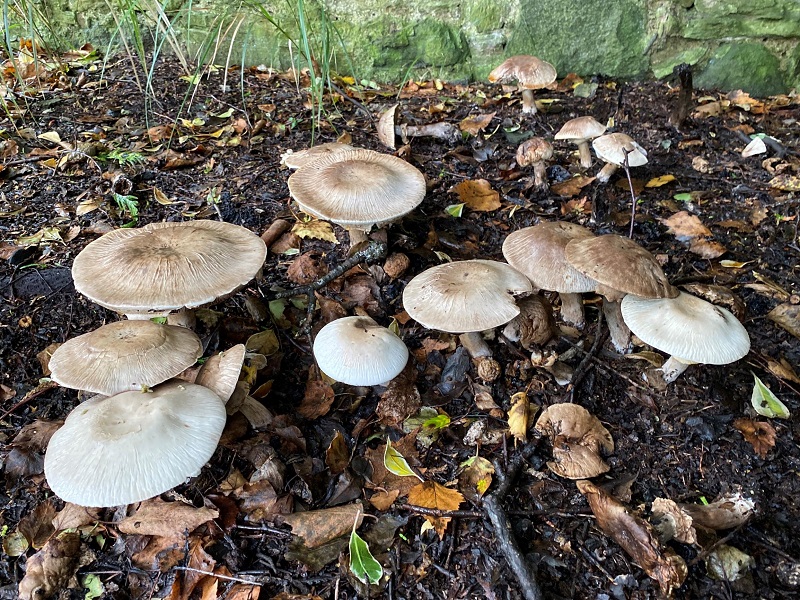 It must be another good year for fungi and they come up in surprising places. These are hidden amongst a conifer and a Rhamnus and I have never seen them there before.  I think they are a kind of Agaricus which is the same family as the edible field mushroom, but we haven't tried eating them.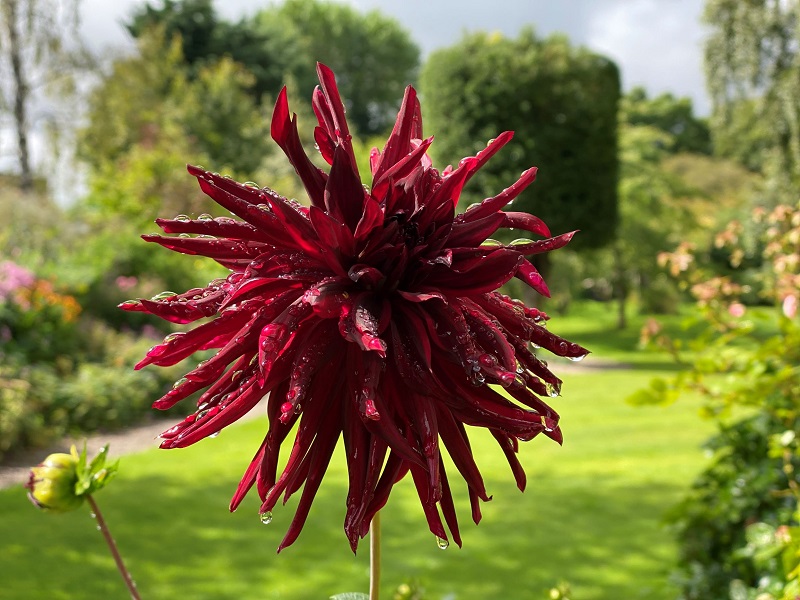 We do have some flowers, among them several dahlias including this one, which I think is 'Chat Noir' originally from Sarah Raven. It is quite tall and needs to be well staked but it is very floriferous.  There is much more to come in the next few weeks – the herbaceous border will have an autumn flowering, the hydrangeas are looking good, the autumn crocuses are just coming through, and the nerines won't be long;  the apples are maturing, the berries are brightening up, and soon the leaves will be turning.
From 1st September to 31st October the garden is open by arrangement with proceeds to the Caley's greenhouse at Saughton.  Do come and support the Caley. All details are on the Scotland's Garden Scheme website. The cost is £4, children and dogs are welcome, and we might have a self-service tea place, or do bring your own and have a picnic. We will also have some plants for sale.  Just email me on annabuxtonb@aol.com to let me know you are coming.  The address is Redcroft, 23 Murrayfield Road, Edinburgh EH12 6EP.
Anna Buxton