Tales from the Garden – Redcroft in early March
To counteract the dull, rather cold day we are having today, Anna has sent us some lovely images of her beautiful Edinburgh garden, Redcroft.  We are happy to see that Anna has her open garden already planned.  You can find all the details on the Scotlands Garden Scheme website. It is good to have something to look forward to. We have everything crossed, hoping it can go ahead.
#######################################################
We have had a gruelling winter as far as the garden is concerned. Our second fall of snow on the 8th and 9th February provided beautiful fluffy, light snow about 5 inches deep and our lowest temperature was -8.2 degrees on the night of 10th February.  I can't remember it ever having been as cold in this relatively sheltered Edinburgh garden. So far our worst casualty is Teucrium fruticans which was growing against the house clipped into a tight ball. It looks almost dead, and although other shrubs have suffered damage, so far none look moribund.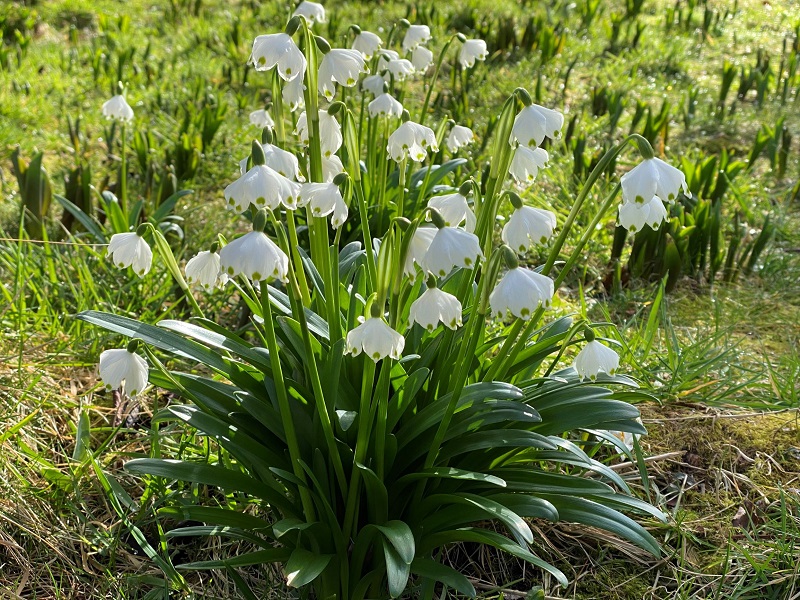 At present the purple crocuses liven up the whole garden when the sun shines and these winter snowflakes, Leucojum vernum, which circle some of the trees in the orchard, can be clearly seen from the house. I like the way they are so uniform and form such neat clumps, and they are easy to divide and very long lasting.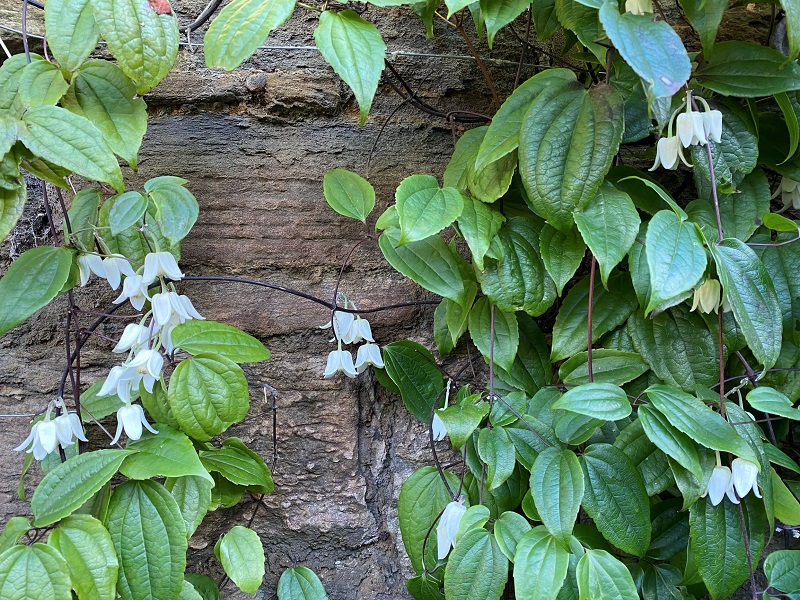 This the first year that this Clematis clarkeana 'Winter Beauty' has flowered.  It has survived being covered in snow and none of these pretty white bells have shown any sign of weather distress in spite of the snow and the frost. It is a profuse grower, rather reminiscent of C. armandii, and drapes itself very effectively without any help over whatever it can find.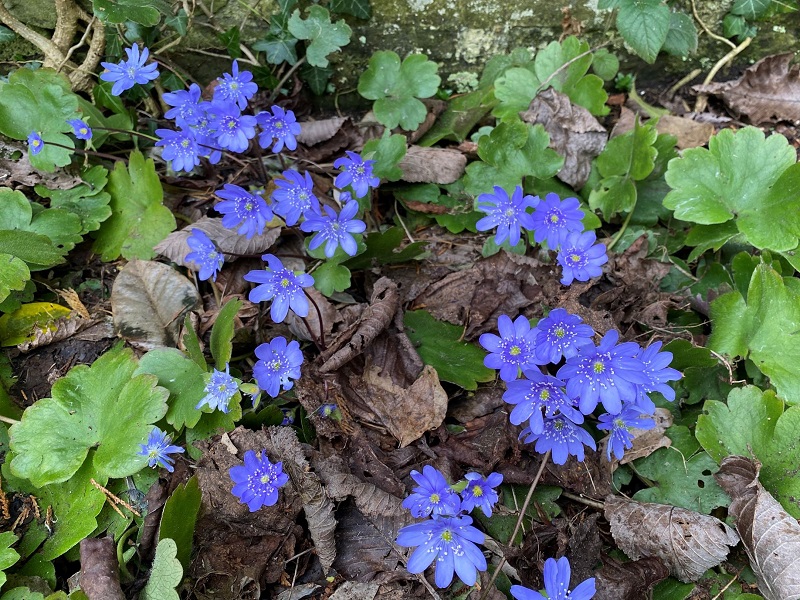 We have this Hepatica transsilvanica in several different places as it is a useful edging plant. It flowers almost as well in the shade as it does in the sun and benefits from being moved or divided.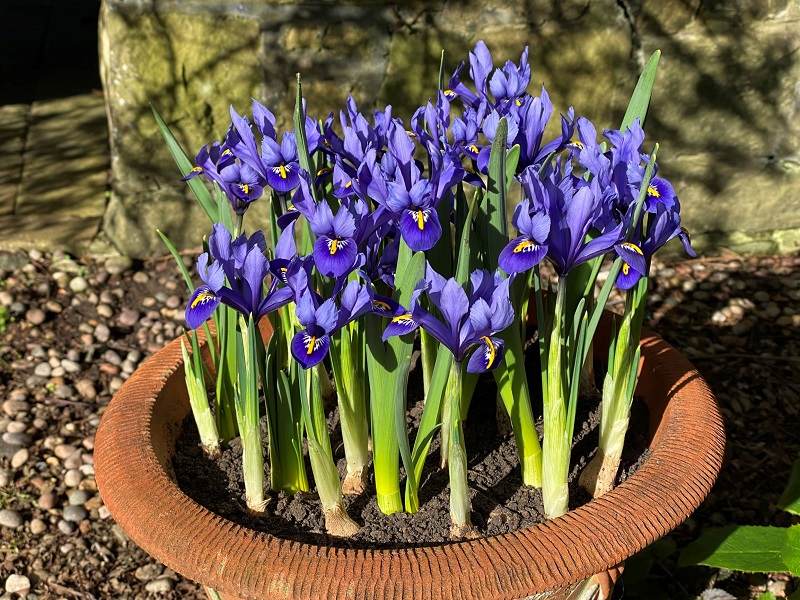 These little irises, Iris reticulata 'Harmony', don't seem to perform well here planted in the garden, but they do make a good display in pots.  I learnt a useful tip from reading Dan Pearson's blog the other day – that they look better when planted well spaced out so that you can see them individually. Here they look rather congested and I hope I remember this next year when I am ordering my bulbs. There are several other small, early irises, but I always return to Harmony for its beautiful colours and very reliable performance.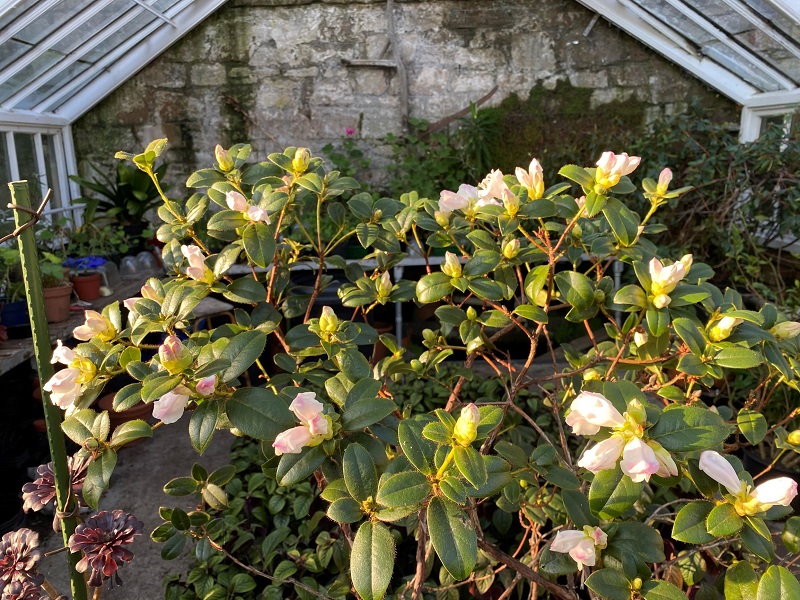 In the greenhouse this lovely early rhododendron is looking promising. It is 'Cilpinense' I think. It was left over from one of the plant sales here five years ago and looked rather poor without a label. It has done well and is in the greenhouse because it flowers dangerously early and would most likely be frosted outside. I will probably put it in the porch but sadly it has no scent.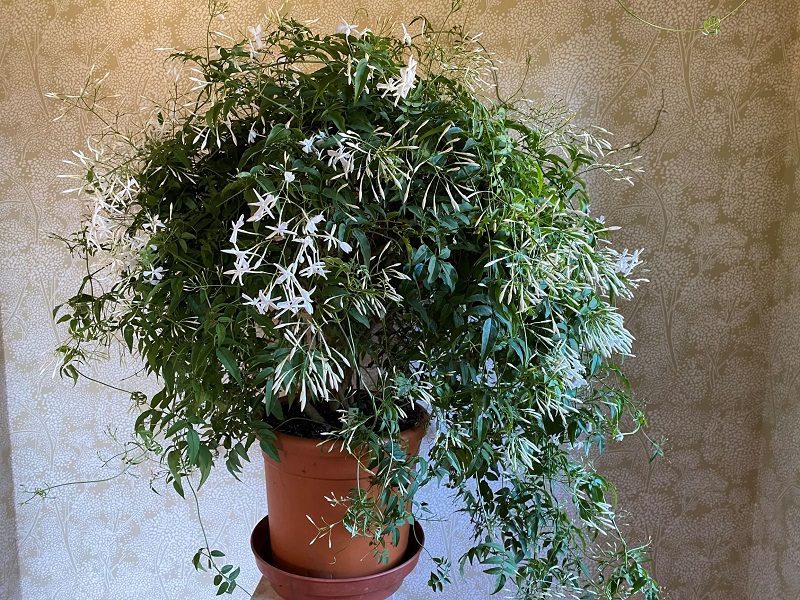 Scent is the great charm of this jasmine, placed as it is here at the entrance to the house. It started as a small plant from the supermarket and according to the label I have had it since 1990. It is flowering better than ever this year. This is probably because a year ago it was repotted into a generous pot and the roots were ruthlessly pruned as well as some of the upper growth.  The other one I have is not doing as well and I have cut out a lot of dead from it, so there must be a moral there. Repotting them is not an easy job though.
Things are looking up. The vaccination programme is going well and we have had a few sunny days and are optimistic that the garden opening will go ahead as planned. It is scheduled for Saturday 15th and Sunday 16th May, 2 – 5pm. We should have a very good plant sale as preparations are already well under way and we hope we will be able to have tea as usual. This year we are supporting Fresh Start, an Edinburgh based charity helping people who have been homeless get established in their new home.  Do please come along and support us.
Anna Buxton, Edinburgh, 2nd March 2021.
All photos taken recently at Redcroft.