Hooray – the Allotment Team are back!
Back to the allotment and it is very cold, but we have plenty to do to keep us moving and warm. We are working to the latest Covid-19 guidelines and maintaining our distance at all times.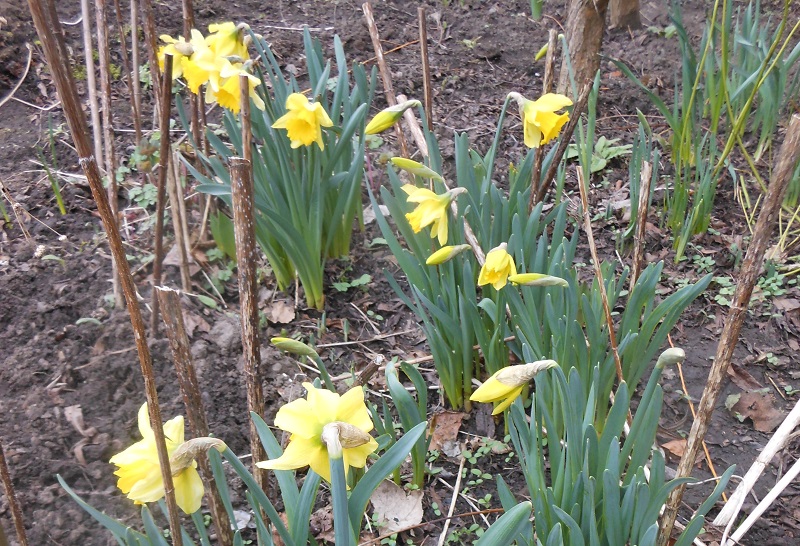 Pruning continued with the willows and we decided to cut the trunks back to around 1.20m for easier pruning in the future. And of course, this is the time of the year for a bonfire to burn the prunings. The ash is high in potash and a useful addition to the fruit and we also like it for the warmth on these cold days.
It is time to prepare for the first plantings. The sprouts are over and the next crop on the bed will be potatoes. The bed was weeded and given a top dressing of manure, then covered with plastic to warm up the soil and allow an earlier planting of the early varieties. The strawberry plants were covered with fleece to help bring them on too. More raspberry canes (Glen Ample) were bought and the green manure on the bed dug in and compost added. The new posts for the jostaberry (a cross between blackcurrant and gooseberry) are now in place, wired up and the plant tied into position. The next step is to start and take down the windbreak at that point.
Jobs for next week
Finish willow pruning
Prepare onion bed – weed and add compost
Give the asparagus kale, spring cabbage, kale and broccoli a feed.
Manure round the rhubarb
Jostaberry end posts need supports
Plant out the raspberries