Tales from the garden – May update
If you have enjoyed reading Anna's blog posts over the last few months, you now have the opportunity to go and see her garden for yourself. Her garden is open on Saturday 15th and Sunday 16th May from 11am to 5pm.  The address is: Redcroft, 23 Murrayfield Road, Edinburgh EH12 6EP. Admission £5, proceeds to Fresh Start (Edinburgh) and SGS charties,  children free and very welcome, dogs are welcome on leads. You can get further information from the Scotlands Garden Scheme website.
~~~~~~~~~~~~~~~~~~~~~~~~~~~~~~~~~~~~~~~~~~~~~~~~~~~~~~~~~~~~~~~~~~~~~~~~~~~~~~~~
I am sending a few photos to tempt you to come to our garden opening on Saturday 15th and Sunday 16th May, from 11am to 5pm both days. Plants are arriving daily for what we have described as a bumper plant sale. I hope it lives up to its name and won't be sold out on the first morning.
The lovely greens of early Spring have been refreshed by last week's heavy rain. Some of the flowering shrubs, including rhododendrons, are rather late coming out because it has been cold. But the advantage of that is that the tulips will probably be about right for the open days and, as of now, the rather shaggy look of the orchard, with its masses of autumn crocus leaves and various spent daffodils is redeemed by the persistence of 'Pipit', one of my favourite daffodils, and reliably late.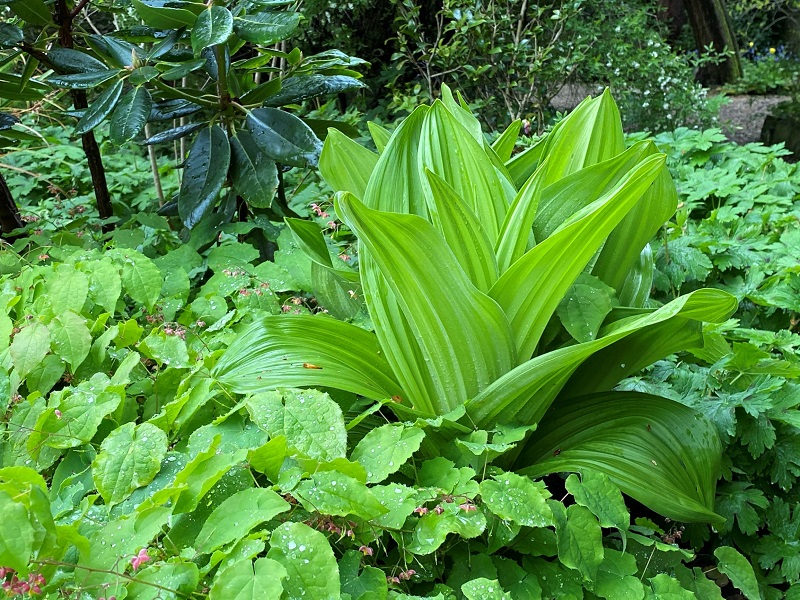 This Veratrum viride outclasses our hostas with its fine display of emerging pleated leaves. It grows in close proximity to this Epidmedium which has the freshest of leaves at this time of year.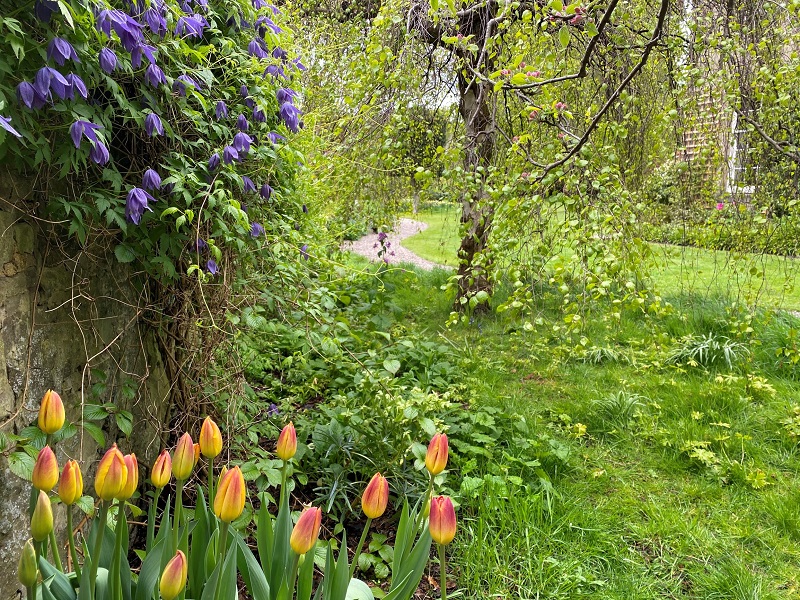 We have three Clematis alpina along this wall and every year each puts on a charming display. This one is 'Pamela Jackman'. I haven't grown this tulip, 'Ridgedale', which is heavily recommended by Sarah Raven, before and it looks unlike the catalogue photo. I like its subtle colour though and so far it has done well. In the long grass are the aconites gradually dying back.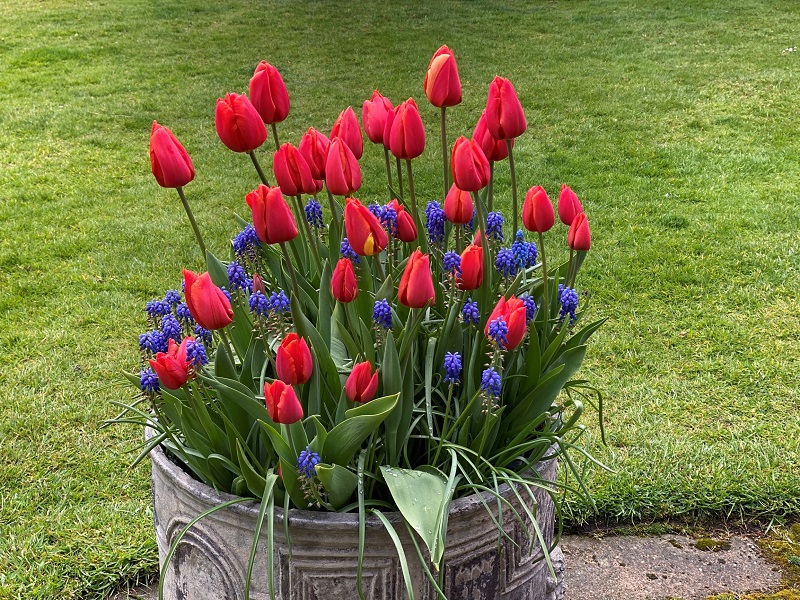 I am not completely happy with this combination of tulips and muscari. The muscari have done their job but enough colour remains to provide a contrast to the very bright tulip. This is another Sarah Raven one, 'Cassini', a substitute for 'Amazone' which I like much more. For this prime site on our patio I would prefer more even growth.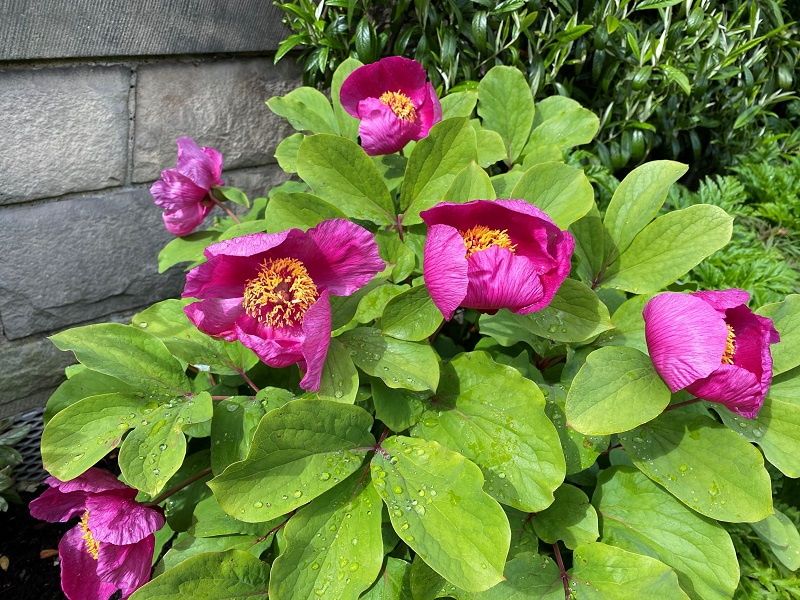 This is one of several, mostly species, peonies taking centre stage on this south facing bed where the nerines flower later on. The bed is a bit dry for them so although this unnamed peony flowers well, I have to be ready with the hose and make sure to stake it at the right moment.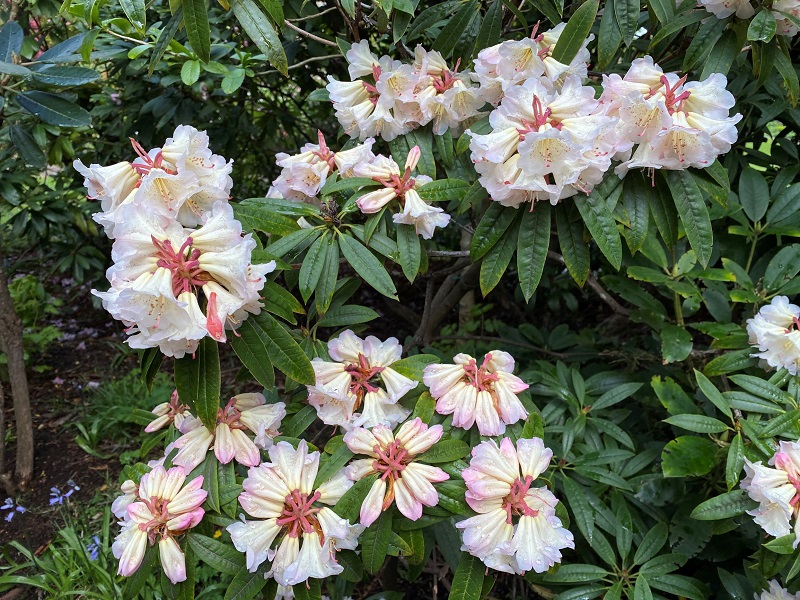 More muted in colour is this Rhododendron mengtszense, which I bought in 2006 from the Friends' Auction we used to have at RBGE.  It has been most unexciting until now and has been consigned to the back path but this year has produced this unusually good display.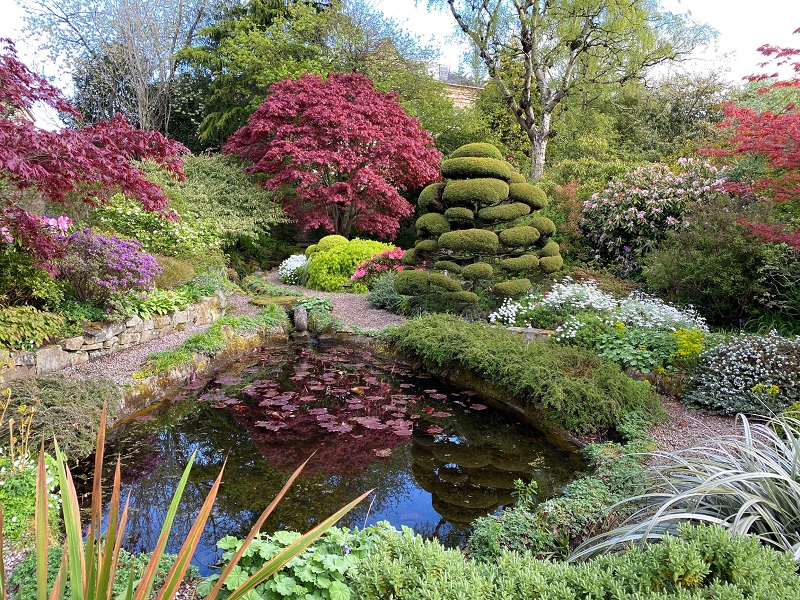 From a distance the rockery looks neat and tidy with the cloud pruning recently trimmed,  but this obscures the work that still needs to be done on weeding and disguising the bluebells where they shouldn't be – they don't seem to understand that they are welcome in some places but not in others.  There are plenty of other conundrums which need to be solved too – how to display our new drone photo and our new full plant list – among them. Hope to see you at the weekend.
Anna Buxton – 10th May 2021
All photos taken recently at Redcroft