Broad Beans for Christmas – we hope!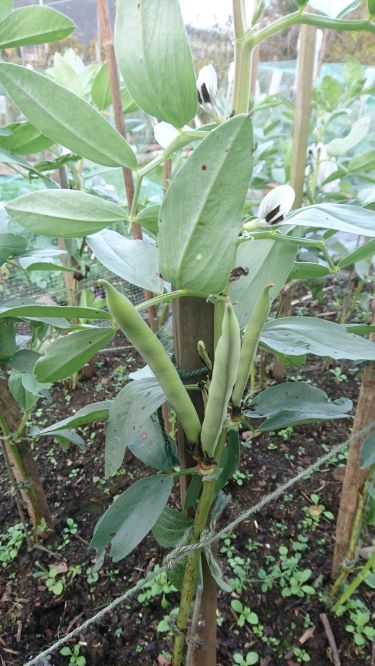 And we have broad bean pods! The plants were bought in were planted in the middle of September, already showing some flowers. They were an experiment, in the hope of having broad beans for Christmas, so it was a pleasure to see them fruiting even though the beans inside are still very small. They were given a feed of fish, blood and bone to encourage them on.
There was a delivery of wood chip this week so some of the paths had a much needed top-up, and the clearing out of the beds round the edges of the plot continued with a removal of the green alkanet and most of the asters.
One of the soft fruit – the Tayberry – has never managed to produce much fruit. It has been in for several years now but would really prefer a warmer, more sheltered site (which isn't this plot). The space could be used more productively and productivity is what an allotment is all about, so it has been taken out. The bed will be dug over, a good layer of compost added, and it will be used for vegetables next year.
This year we had an elephant hawkmoth caterpillar on the plot. The eggs of the hawkmoth can be laid in leaf litter so we shall not disturb the area under the hazels and hope we see more of the caterpillars next year.
Jobs for next week
Just keep going but leave the hazels unweeded
Keep picking the kale, chard and sprouts