Apples , Apples Everywhere
A few days of warm sunny weather (16°C) and a pleasure to be working outside. All the apples were picked since so many are now falling as windfalls which makes them no good for keeping. Our customary crow though is still feasting on the damaged ones left on the ground. The 24th – 31st October is the Caley celebration of apples via a virtual Apple Week and Pam came to photograph ours for including in the display – watch the Caley website and Facebook page for more information.
With so much wood chip on the paths we often see interesting fungi growing from it at this time of year and this season we had a green/blue one identified as Stropharia aeruginosa or 'Verdigris Roundhead' – if correct, they may be hallucinogenic!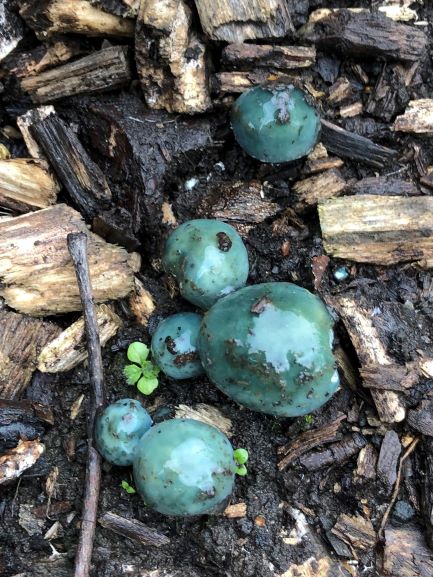 The weeding and thinning out of the perennial flowers such as Inula which grow round the edges of the plot continues as ever, as does the hoeing to keep the weeds under control.
Jobs for next week