Storm Hector visits the Allotment!
A day spent dealing with the effects of the overnight gale.(Wednesday night through to Thursday morning).  Whilst  the gale was still continuing first thing in the morning we still found time to get the grass and edges cut whilst we were on the allotment.
The netting was down and torn, and much of the veg was pretty windswept (see the potatoes in the picture above) and some of the veg plants on the allotment were uprooted. Branches on the currants and gooseberries were broken off, but the good news was that the 'enviromesh' cover around the plum tree was still, amazingly, in place.
The cabbages were probably the worst affected by the gale. Many of them had not put down much in the way of roots because of the lack of rain and some were showing evidence of cabbage root fly. Those that could be saved were replanted more deeply, staked and very well watered.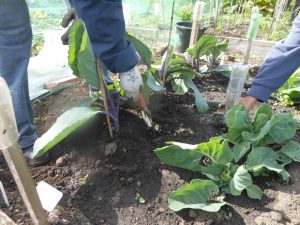 Netting was replaced, not an easy job with the wind blowing so hard. (The lack of water is not a common problem so something we may need to think about!)
The support for the next row of peas was put in and all the peas were surrounded by netting to protect the young plants from the rabbits/pigeons.
Unfortunately none of the promised rain appeared and once we managed to get the hose fitted to the tap…., so everything was given a good watering but the ground is very dry. On the plus side, there is not much in the way of weeds.
After all that we deserved the first picking of strawberries which were mostly eaten before any thought of taking a photograph!
Jobs for next week
Watering
Try yet again with another sowing of carrots
Sow runner beans where no sign of germination
Check the existing netting
Put up netting over currants/ gooseberries/ Tayberries etc