Strange find on the Allotment
We finally managed to tie in all the new growth on the soft fruit. The raspberry 'Glen Dee' is a great one for suckering so some of the new shoots were transplanted to the wired row and the remaining ones cleared and given away.
The stalks of the sweet corn were dug up and will be chopped up next week for the compost heap.
And we had a delivery of manure courtesy of a friendly pony!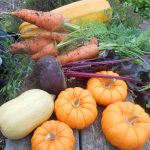 Still picking the autumn raspberries and redcurrants and plenty of veg – carrots and beetroot and there are the stored onions, potatoes, squashes and apples.
Last week we found a beautiful turquoise fungus, since named as Stropharia caerulea, commonly known as the blue roundhead. It grows on organic or mulched soil, in gardens or waste ground in late Summer/Autumn. Described as widespread and very common, with a round or flattened cap and white wooly scales on the stem. The colour comes from psilocybin (psilocin) which is a hallucinogen. It went into the brown bin without testing that! Unfortunately, the camera was not working so no picture and it had dried up this week.
Jobs for next week
Additional wires on the raspberries
Weeding
Tie down the tall branches on the plum
Tidy the sheds