Tales from the Garden – Autumn at Redcroft
Anna has sent us her latest update on her lovely Edinburgh garden – Redcroft.  It shows that there is still a lot of interest in the garden at this time of year, even as the days become shorter and colder.
AUTUMN AT REDCROFT
Autumn is a good time in this garden, golden leaves are scattered across the grass and the flower beds. And when the morning sun shines on the remaining autumn leaves of the large horse chestnut it suffuses the place with golden light. This is the view that we see from the house. I am a bit worried about the tree as you see so many horse chestnuts looking very poor. There are a number of pests attacking them – a fungus which causes leaf blotch, a leaf mining moth and a bleeding canker, and all take their toll.  We treasure this huge tree and dread the day it doesn't look healthy.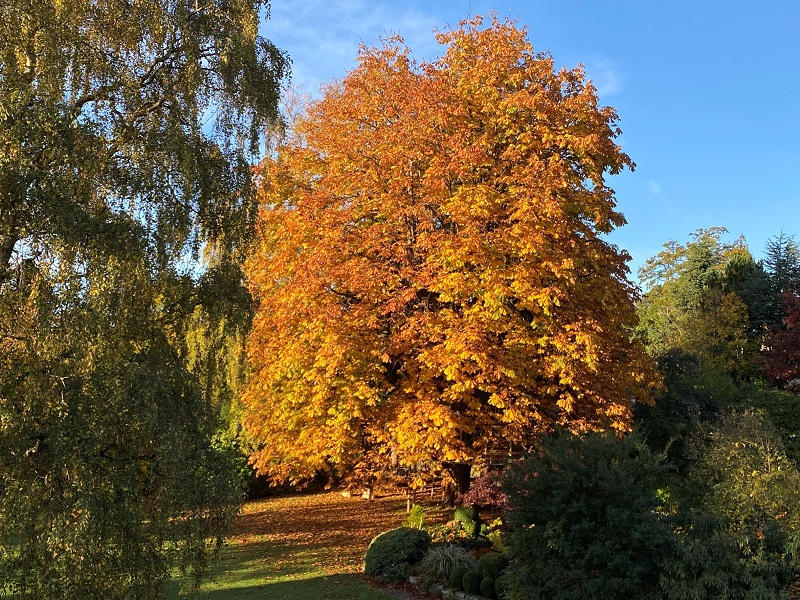 Apples also contribute to the autumn picture.  This apple tree, Norfolk Royal, produces a good crop of delicious shiny red apples every year. It also has a nice way of arching itself over the gate into the yard as seen here with Maisie posing in the middle. The hydrangeas in the photo have lasted surprisingly well in their pots and are still looking good, but the ones in the garden have been miserable.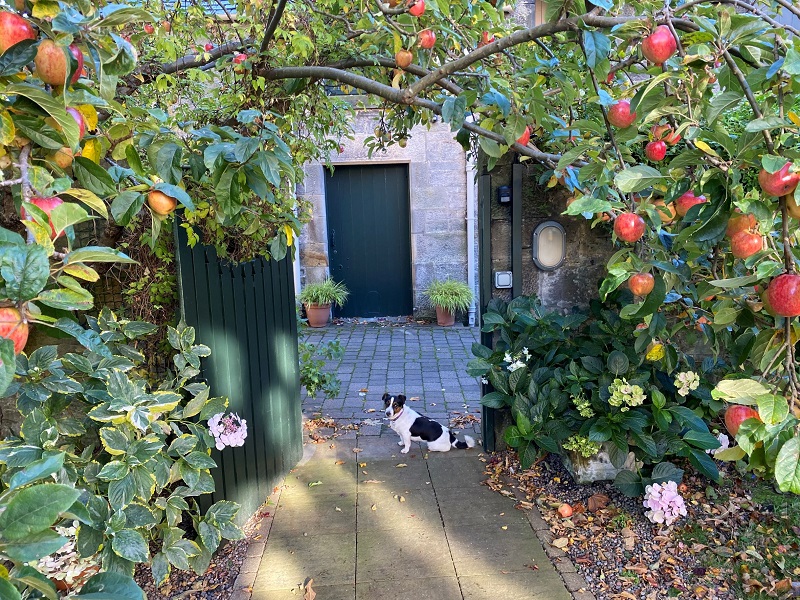 The purple Aster in the herbaceous border (photographed a couple of weeks ago) has spread itself more than usual, perhaps because other plants have done less well, and the orange of Helenium 'Sahin's Early Flowerer' was still doing just enough to provide a colour contrast.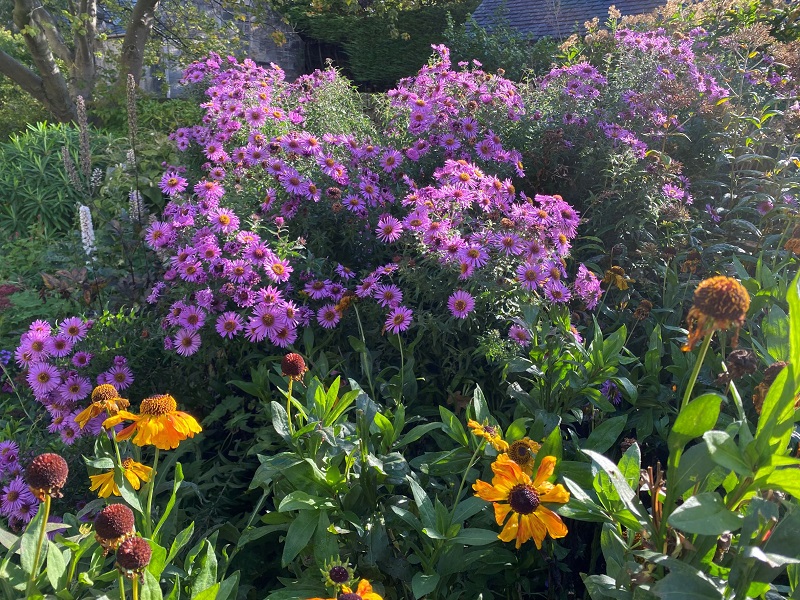 Nerines are a big feature of the garden at this time and are reliable performers unaffected by drought, wind or rain. We put Dahlias in the bed behind them. At the end of last year I binned the miscellaneous ones I have had for several years which were all different in height and looked very ragged, and bought 6 of these Gypsy Night.  They have done well, are continuing to flower now, and I like the colour combination, but I still haven't mastered the art of staking them successfully.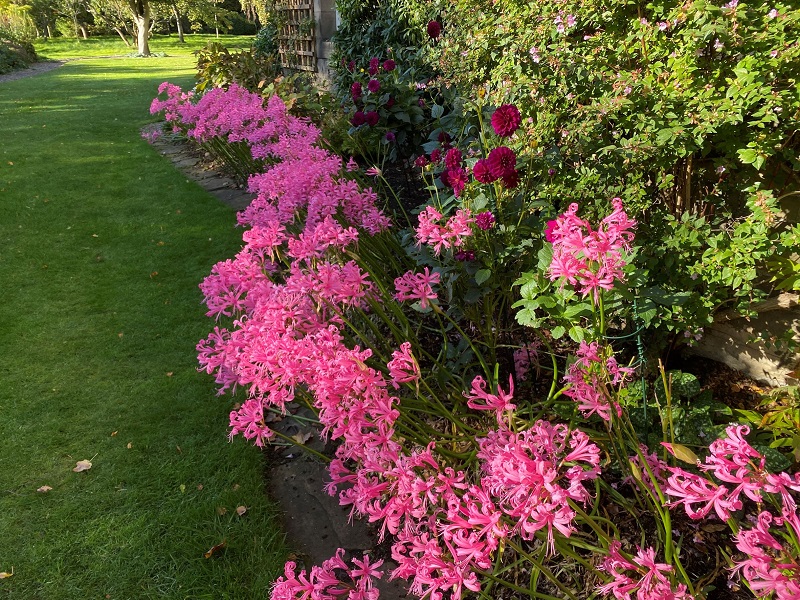 Also very long lasting has been this Euphorbia ceratocarpa, a recent Sarah Raven purchase. Sarah writes very convincing sales pitches and this is what she said about this euphorbia: "It is an absolute favourite of mine. It's a contender for the longest flowering plant I know – you can even pick it through the winter".  Here it is still contributing a splash of colour to the garden and I like its rather spindly growth and the way it occupies the space.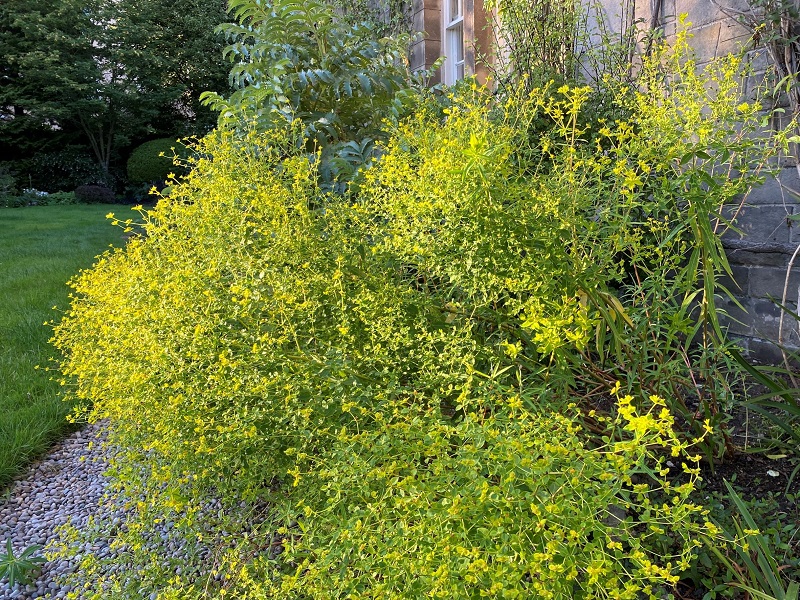 Liriope muscari is now also contributing a splash of colour. For most of the year it does not pack much of a punch and looks a bit dark and dreary. Also it is rather a labour to clear it of dead leaves. But it is useful as a front of border plant as here, or for ground cover. It tolerates shade, and in autumn produces these "spikes of thickly clustered, bell-shaped, violet flowers" (as described by the RHS Dictionary). By the way Liriope was a nymph and this plant named after her, surprisingly, is a member of the Liliaceae family.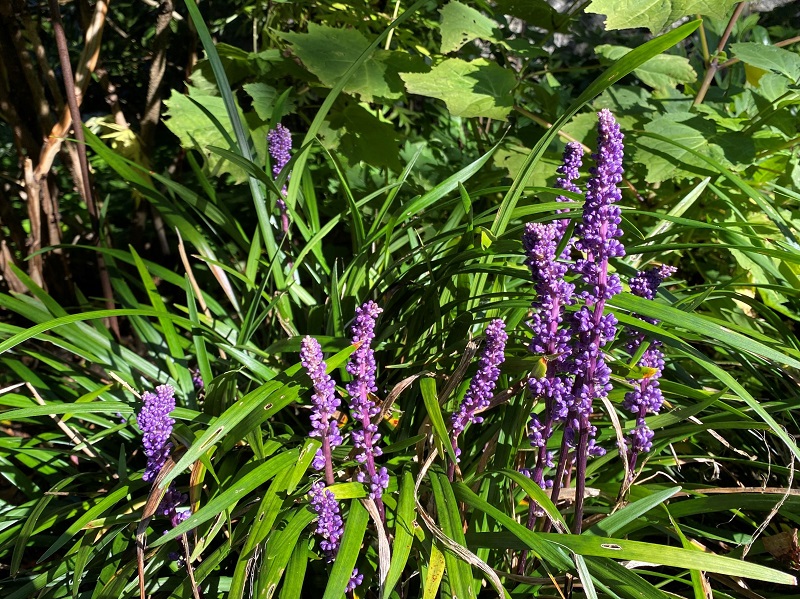 Quite a few of our pots are still doing well – Begonia Glowing Embers, the pink daisies and the yellow Jamaica Primrose and the fuchsias, of which we have a quite a few planted in the garden, are still flowering enthusiastically.  By chance I had some small plants of this Fuchsia 'Versicolor' hanging around and put them quite squashed together in a large flower pot.  It has reminded me of what a good plant it is later in the year, but it does get off to a slow start.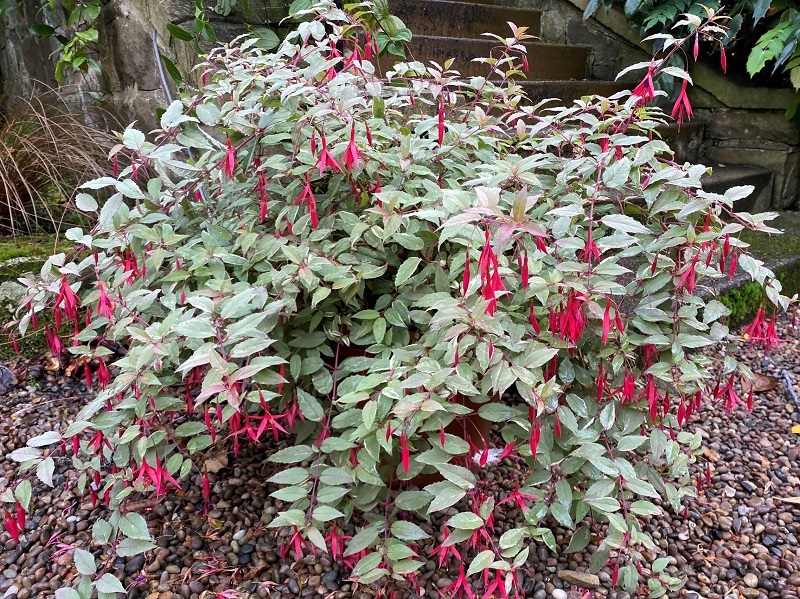 We have been filling the greenhouse with any plants which are susceptible to frost and planting the tulips which are I hope going to flower when we have the garden open in May.  The stars of winter, among them the mahonias, the winter jasmine, the sarcococca and the hellebores are all full of promise. But before we enjoy them there will be a big job to be done to clear the leaves.
Anna Buxton, Edinburgh 31st October 2022
All photos taken recently at Redcroft