Tales from the garden – Redcroft in Early Spring
Unfortunately,  we won't be able to visit Anna's beautiful garden as planned, as Scotland's Garden Scheme have decided it best not to open its gardens for the time being.  Fortunately for us,  Anna sends us a regular blog update about her garden, so we can still get a taste of what is happening there. So, read on – I am sure you will be inspired.  If you decide to buy something new for your garden, why not help support our small independent nurseries and buy from them. Most do a mail order service, making it very easy.
Redcroft in Early Spring
Amidst all the bad news, we gardeners and plant lovers are lucky enough to have the Spring and the amazing changes that take place at this time of year to cheer us up.  The confinement we have to endure may be a happier affair if we have plants to tend to.  My greenhouse has had an unusual amount of attention and I have looked at the garden with a critical eye, and some time to spare, and found many places which are ripe for improvement.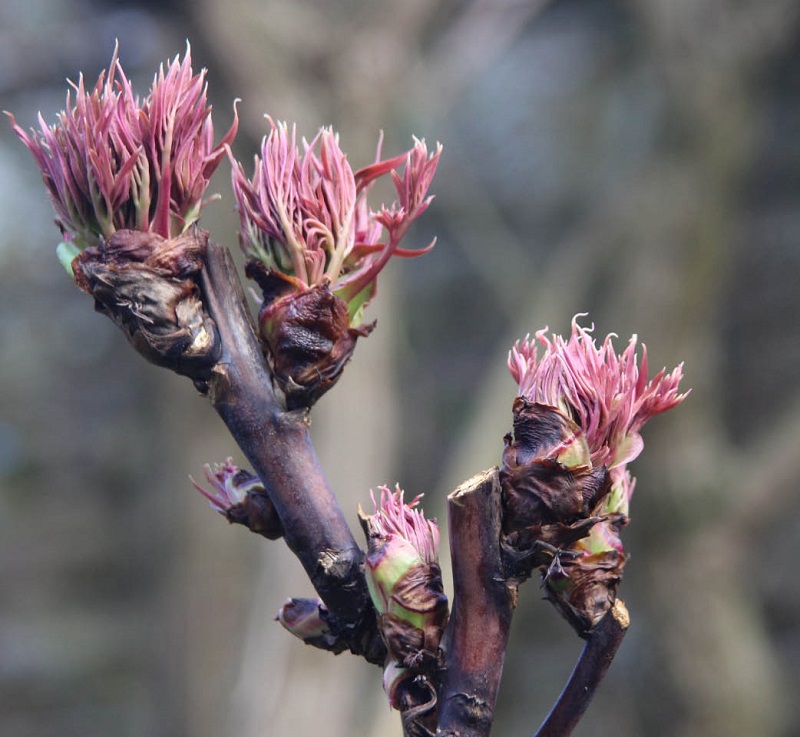 With a few lovely days last week here in Edinburgh, many plants are springing to life.  This shot of Paeonia delavayi, taken on 19th March, captures a moment in the opening of its leaves.  These tree peonies always seem to have some dead buds on them at this time of year, but it doesn't seem to matter, and both leaves and blood red flowers are beautiful.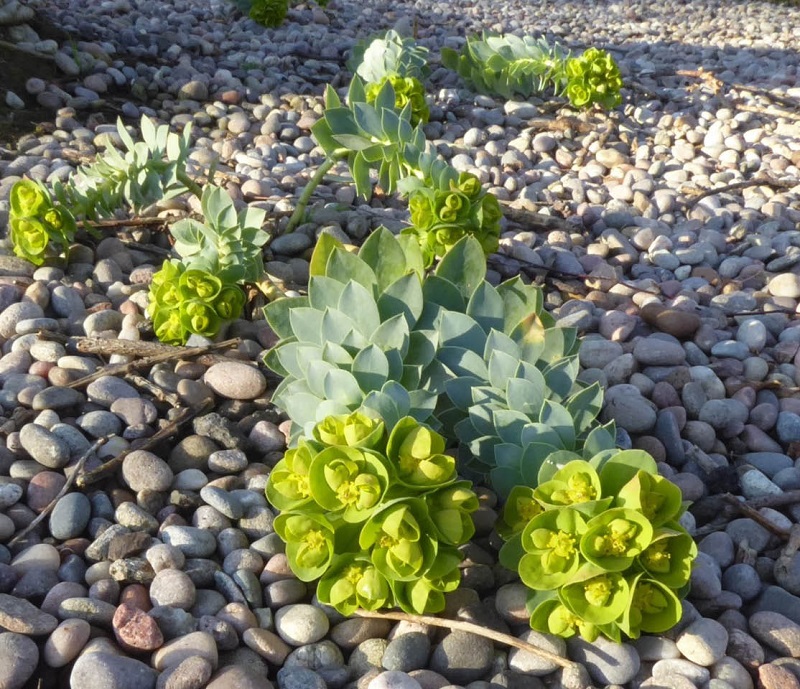 I first noticed Euphorbia myrsinitis in a well planted gravel garden at Gullane.  Luckily, Gavin at Macplants could provide enough to make a circle round the trunk of our large holly tree. If the circle hasn't quite knitted together yet, they seem to be happy. They have stiff almost succulent leaves and I like the way they grow, snaking outwards, and then they have these long-lasting zinging green flowers.  Graham Stuart Thomas describes it as a strange plant and surprisingly gives 1570 as the year of introduction into this country from South Europe, and as he says this is a "must" for the border front and for sunny banks, dry walls etc.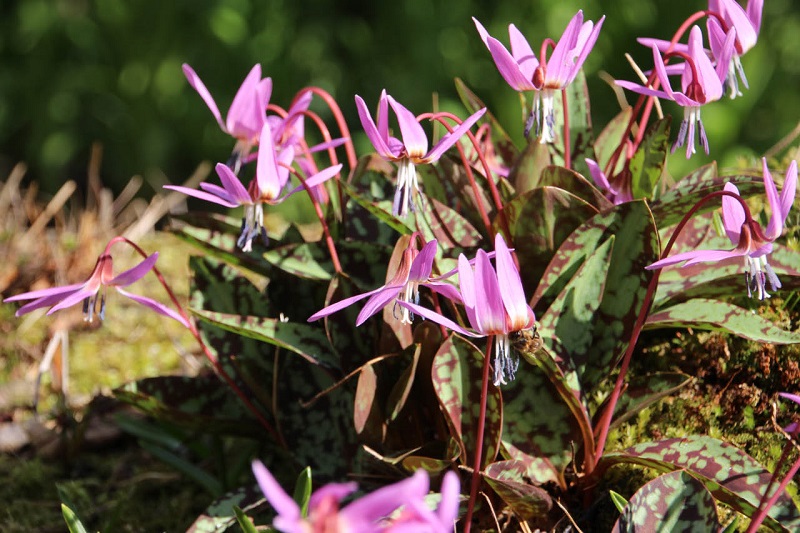 Erythronium dens-canis is one of the earliest small plants to flower after the crocuses and snowdrops.  It was growing here when we moved here over 30 years ago, and over the years it has seeded in many different places forming quite substantial clumps like this one.   All Erythroniums do well here and a bit later we have the yellow 'Pagoda' and cream 'White Beauty'.  Last year I invested in three expensive bulbs of E. revolutum 'Johnsonii' which I have kept my eye on through the winter in the greenhouse and it is also flowering now.  I am hoping this is the one which covers the woods so beautifully at Wemyss Castle.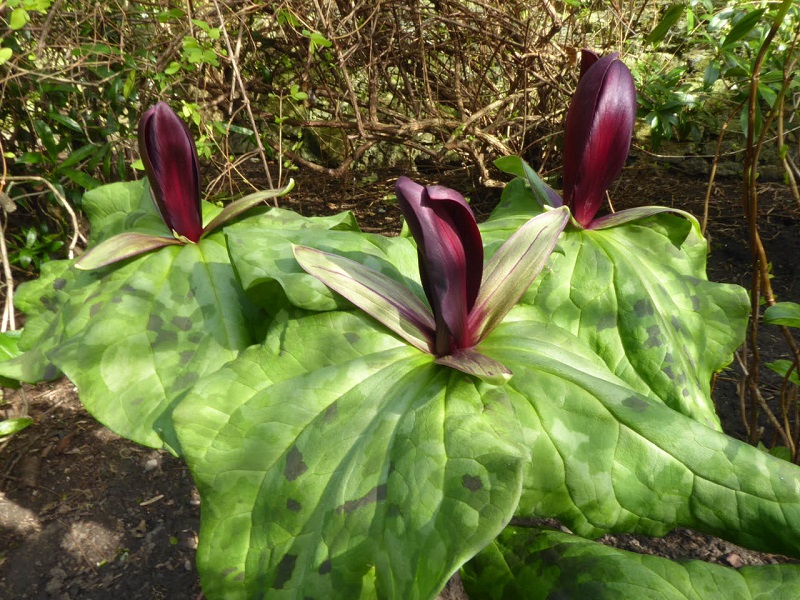 I think this is Trillium sessile but I long ago lost the label and it seems to be almost a giant form of it.  It was a present from my nephew, a replacement for one he killed, and for a long time it was more or less hidden by Sarcococca.  We have recently moved it so that it can have its own space and it seems not to have blinked an eye at such treatment.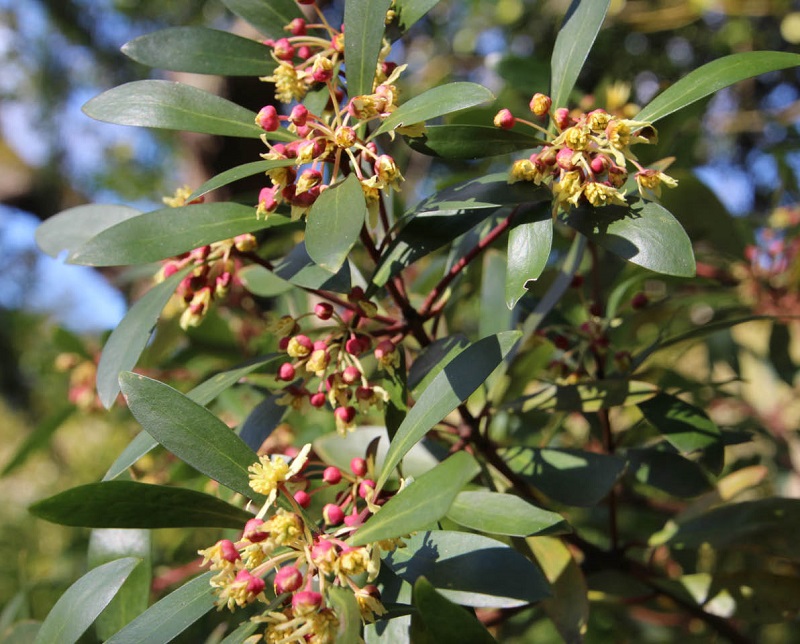 The main shrubs in flower now are the currant, both red and white, and the odd early rhododendron. The flowers of this Drimys lanceolata are usually rather discreet, but this year they seem to be in greater profusion than usual. Only the female plant has flowers and they are a bonus. It is an excellent shrub for shady places, has dark leaves and stems and grows quite slowly maintaining a neat shape.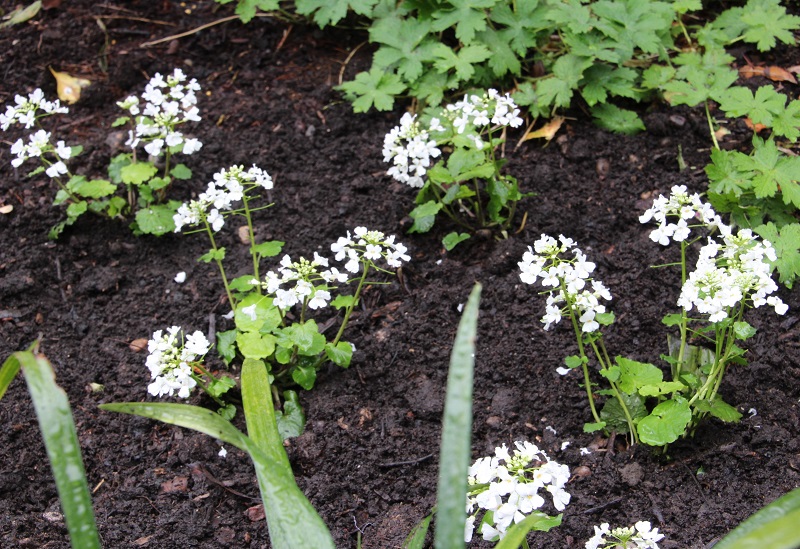 I have just made a new purchase which I am very pleased with. It is Pachyphragma macrophyllum, (heard of it? I hadn't, not to be confused with Pachysandra) a low growing, clump forming plant useful for ground cover.  Having seen it in a friend's Edinburgh New Town garden I hunted it down on the internet and ordered 5 from the Beth Chatto nursery.  They arrived quickly in full flower and here they are, planted 25th March.
It is very sad that Scotland's Gardens Scheme has cancelled all garden openings, but I am hopeful that the ban will be lifted by the autumn when we have the garden open by appointment.
Anna Buxton  – 26th March 2020
All photos taken recently at Redcroft.