Tales from the Garden – The Colours of Autumn: Stalwart flowers, berries and fungi
After a few days of dreary rain and high winds (luckily we avoided Storm Babet) we have had a couple of lovely sunny days when the whole garden looks golden.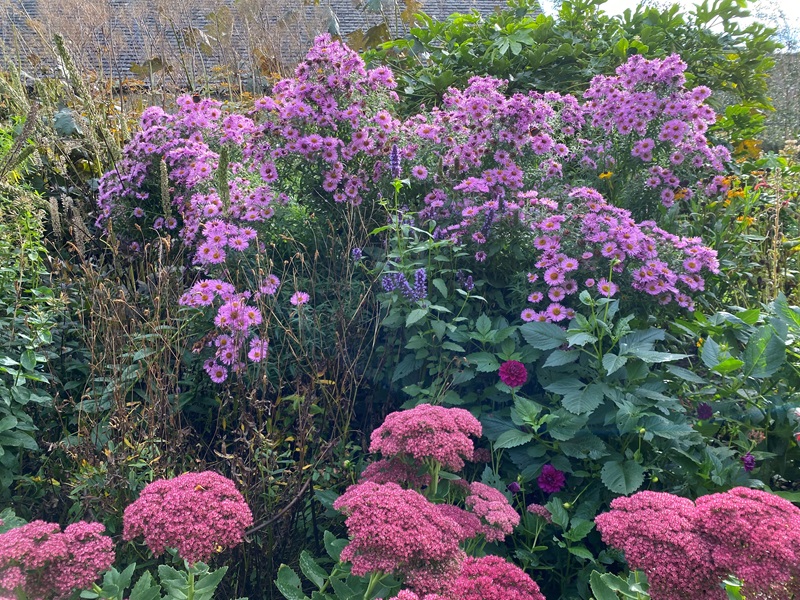 Last autumn's reorganisation of the herbaceous border has paid dividends and it hasn't looked so good for a long time.  This photo of our old purple aster and a very ordinary Sedum spectabile (now Hylotelephium) was taken on 10th October. You can also see blue Agastache and Dahlia 'Gypsy Night' and a red admiral butterfly if you look hard.  We have had an unusual number of red admirals this autumn.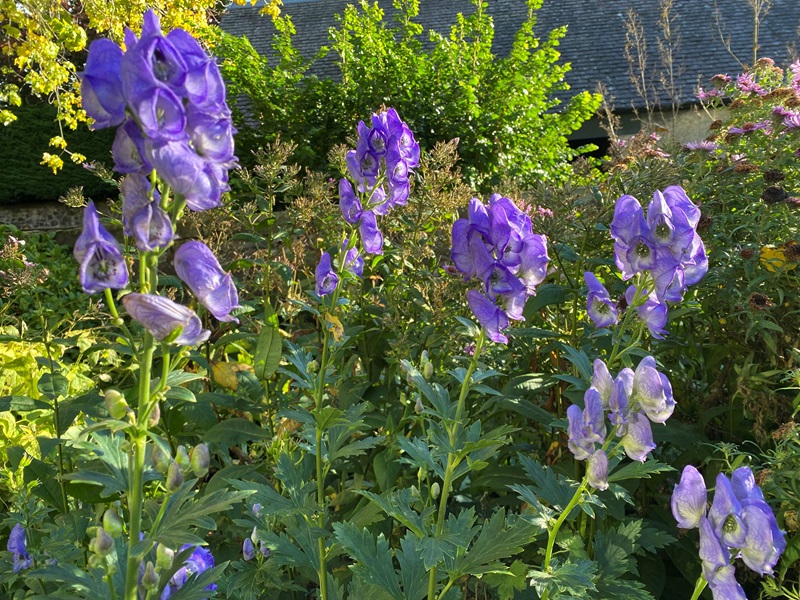 Also in the herbaceous border is this Aconitum carmichaelii which comes into flower very late and is still not quite fully out.  It was scattered in several places and I am hopeful this clump will fill out now we have got all the pieces in one place.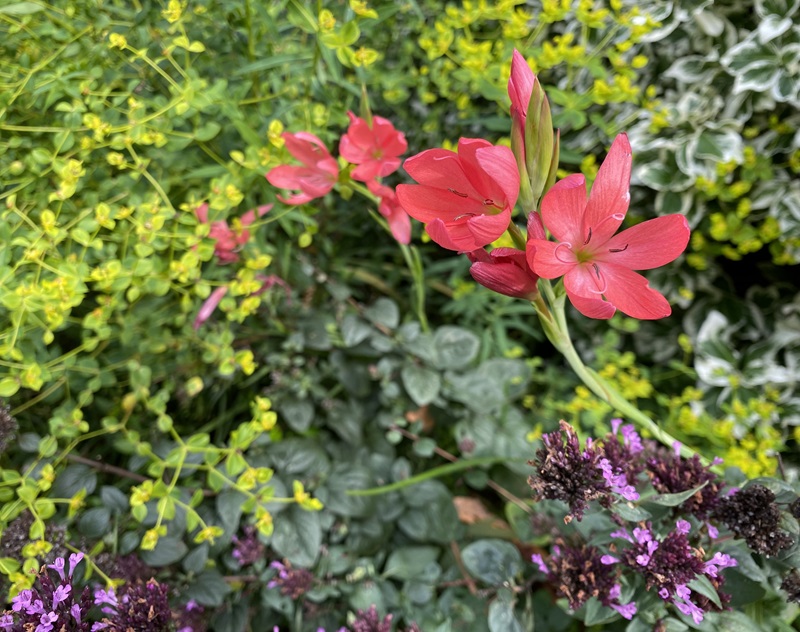 Another blast of colour is coming from this Schizostylis coccinea (or Hesperantha) which doesn't really have the space it needs. Its companion is Oregano 'Herrenhausen', very long lasting but almost over now.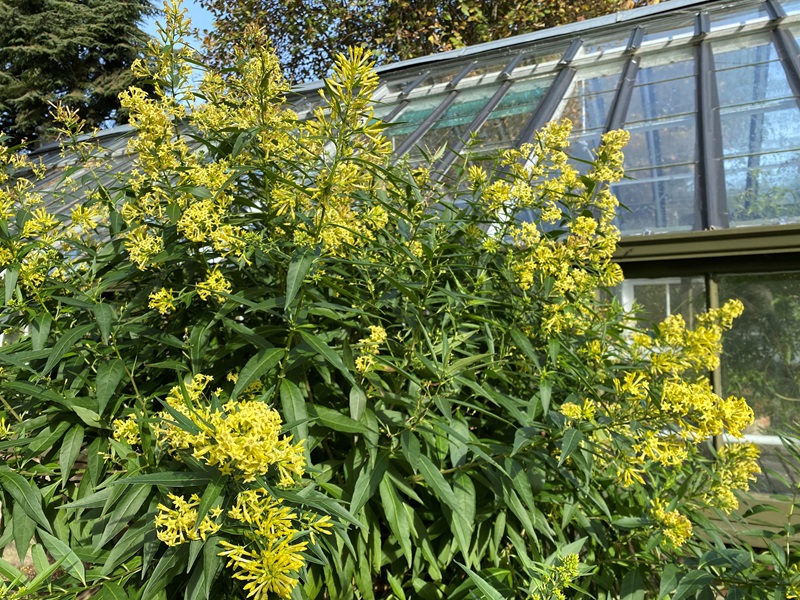 Cestrum parqui seemed to have been wiped out by the vicious frosts of last winter. Miraculously it came gradually back to life and now is in full flower, later than normal.  It is growing here in the old frames which were heated once upon a time. Also risen from the ashes is our greenhouse (in the background here) which was in a bad way with many broken panes and silver tape flapping in the wind. It has had a major restoration and is now almost water proof and looking smart.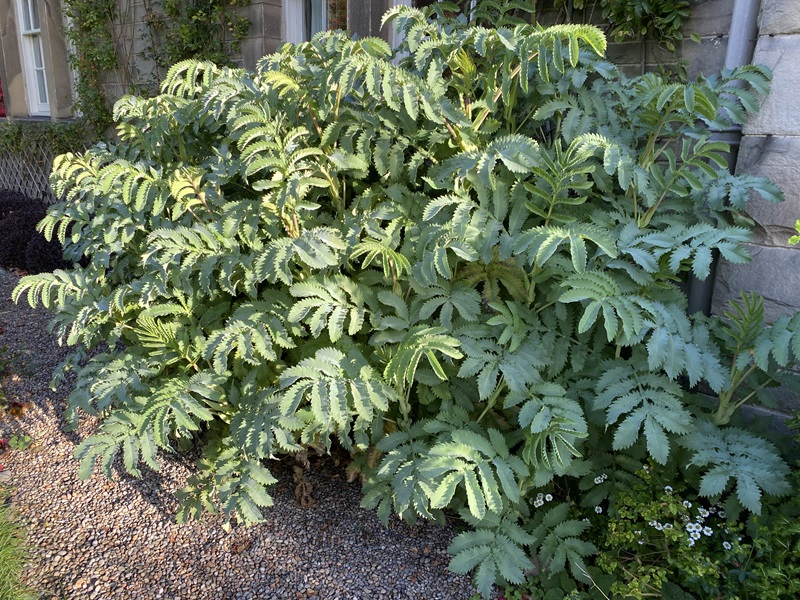 Melianthus major was also heavily hit by the frosts and it too has made a remarkable recovery and is looking almost at its best now.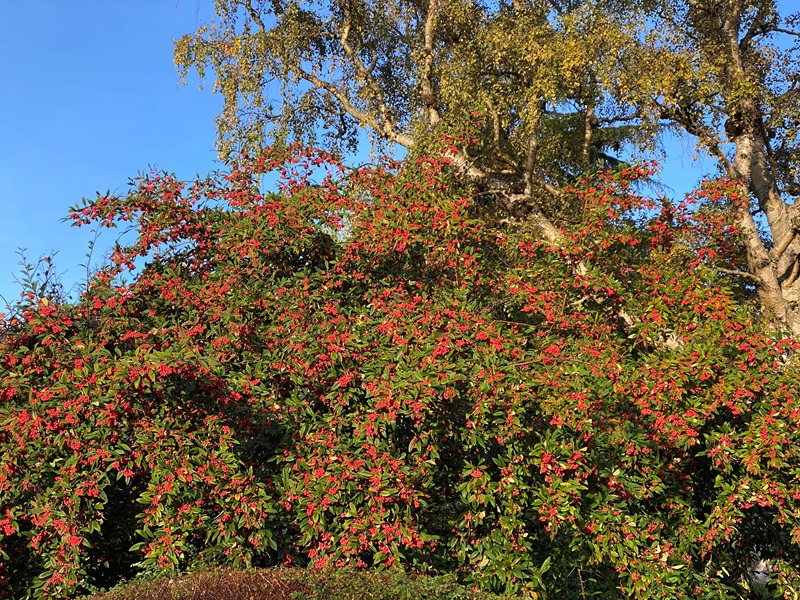 It seems to be a good year for berries as even the holly tree is covered in them.  You see Cotoneaster cornubia quite often around Edinburgh and invariably at this time of year it is laden with berries. This one we have pruned only very little, in contrast to our other one on the rockery, which we have tried to keep well shaped by trimming off all the upward growth.  It looked very good for several years but the pruning was taking so long that we stopped doing it. Nature has now got the upper hand but now the growth is very disorderly, with quite a lot of dead branches in it and it looks terrible We are going to  take it out.  Perhaps this is in line with French philosopher Saint-Just's dictum, so beautifully inscribed on huge stones at Little Sparta, "The present order is the disorder of the future".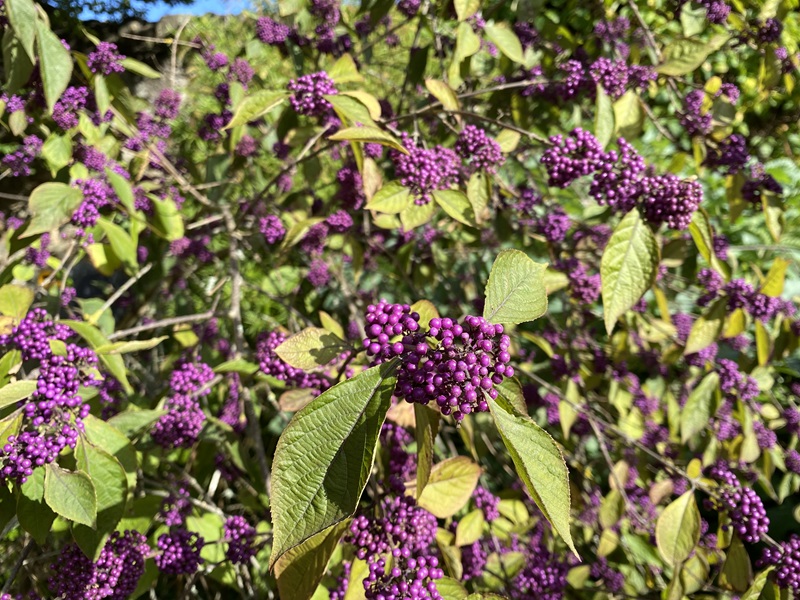 People often can't give a name to the purple berries of Callicarpa photographed here, so perhaps it should be more widely grown. Not spectacular at other times of the year but certainly a talking point in autumn.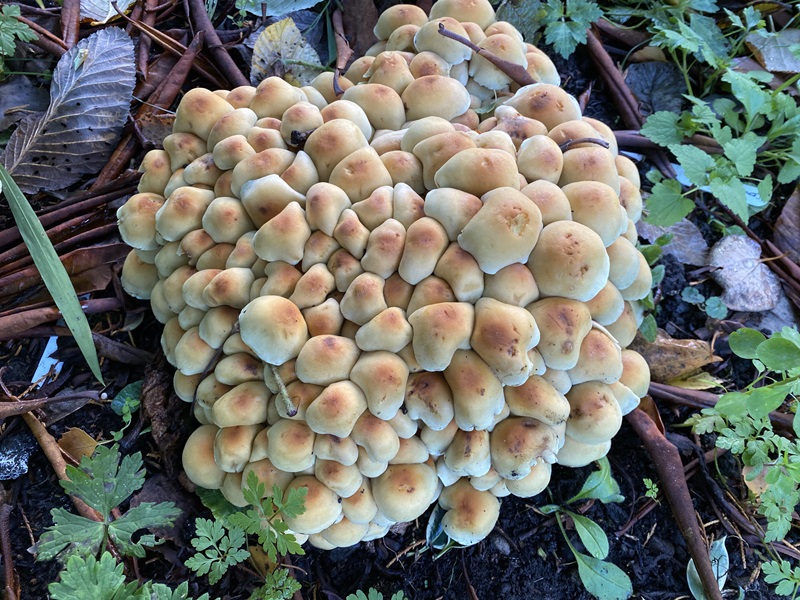 My plant recognition app and an internet search agree that this strange clump of fungi is from the Hymenogastraceae family (can we remember that one?).  The fungus has spread over a large area of wild grass near where we took out some conifers a few years ago. I am not sure if it is good or bad. We are pleased to have an increasing colony of the beautiful red fly agaric on the lawn, not that we have seen any signs of its hallucinogenic effects.
All photos taken recently at Redcroft.
Anna Buxton 23rd October 2023