Another day, another bonfire!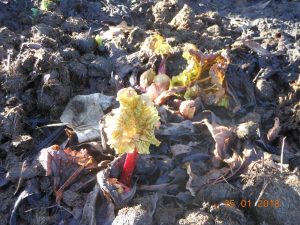 Another week and the pleasure of another bonfire! The new raspberry canes were planted. The variety is 'Glen Ample'. Raspberries are hungry plants, so the planting holes had plenty of compost added.
A 'splint' was put on the broken fence post and as the hole was dug, it was clear to see that the post had been sitting in water and that was the reason it had rotted. The Caley plot seems to sit on a spring line since you can find water all over the plot if you dig down deep enough.
One of the green plastic compost bins was emptied. The compost had become quite compacted, so it was forked through to aerate it and put back to finish rotting down. The other two bins will also benefit from being done.
The hazels were pruned back and the ground beneath given a weeding. The hazel prunings will be used to weave into the windbreaks.
The strawberry plants are showing signs of growth so the job of cutting away the old dead leaves was started.
Jobs for next week
Replace the former dead hedge with wire fence and start weaving in the prunings.
Prepare the ground for the damson.
Empty the other two compost bins, fork over and replace.
Finish tidying up the strawberries.