Make a Miniature Garden (or a fairy garden……… or a dinosaur landscape………….)
A fun, quick project to do with kids (or by yourself) in the garden is to make a miniature garden in an old broken pot.  I have had this particular broken pot for many years, and it has had various interpretations of mini garden in it.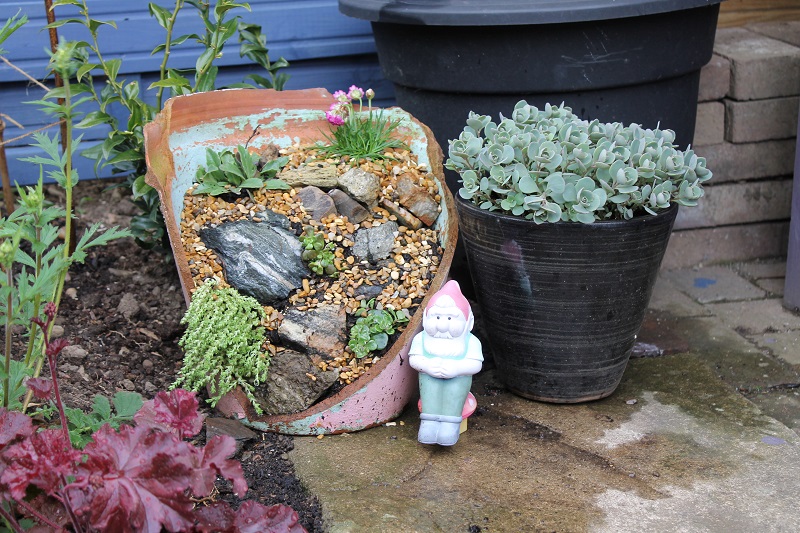 When my daughter was young, we would make fairy gardens with the addition of fairy accessories and even made a mini dinosaur landscape using small ferns.  If you are working with children, let them use their imagination and raid the toy box for small items that can be used in their garden. I have top-dressed my mini garden with gravel, but you could use any number of things such as shells or glass beads. You can even get small, glow-in-the-dark stones that would look great in a fairy garden. The small plastic gnome in my picture has been kicking around my garden for a long time.  It belonged to my daughter and I don't have the heart to throw it out.
If you are lucky like me, your small fairy will grow up to be a geologist with an interest in palaeontology so you will have access to an interesting array of rocks and fossils for your miniature garden.  A word of warning though – geologists are a bit touchy about their rock collections, so get permission before you use any.  I was gifted these rock samples by my daughter as they weren't good enough for her collection!
I usually use alpine plants for my mini gardens as their small leaf size suits the scale of the garden.  They will outgrow the space in a year or two though, so you will have to redo your mini garden every couple of years, depending on how quickly the plants grow.
In a pot as badly broken as this, drainage isn't really a problem, but you can incorporate some gravel along with your compost to assist with drainage.  Alpine plants don't like sitting in a puddle!  Because of the large break, I try to build up layers or tiers within the pot to give enough planting space.  This is where the rocks come in handy – you can make planting pockets behind the rocks with enough space to plant in, and they help to ensure the compost doesn't simply run out.
When you are happy with your plant arrangement (you can see the Arabis in my mini garden changed position because it didn't look right where it was originally), top the compost with gravel.  This has two uses – it helps keep the compost in place and keep moisture away from the neck of your plant.
Once your plants get to0 big for your mini garden, you can simply move them to another growing area or, if you don't have room for them, pot them up and give them to friends. They will love you for it.
Plants used: Armeria maritima, Arabis caucasica 'Little Treasure', Sedum (various).