Tales from the Garden – In Full Flow (May 2020)
Some tulips are now a memory, like Tulipa 'Amazone', seen here in combination with Muscari 'Big Smile' on 2nd May, planted in matching pots on our patio.  I haven't grown Amazone before, but Sarah Raven described it as 'robust whatever the weather' and also perennial, so I thought I would give it a go. I have been very impressed with it; it was very uniform, and lasted well, just hanging on in there for 10th May, the day that the garden would have been open.
Still flowering now in a shady spot is this lily flowered tulip, 'Mariette'. In contrast to the upright habit of Amazone, its stems grow first in sinuous curves with the flowers heading downwards and gradually unwind to be tall and elegant. They are rather uneven but it doesn't matter in this place which is beside the path so that you see it in close up.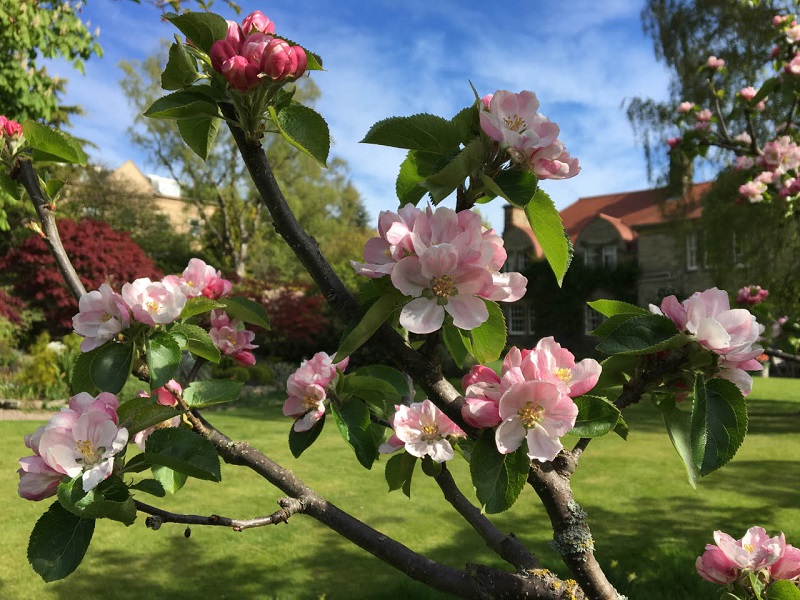 The apple blossom has been excellent this year but I hope there have been enough bees and that the recent frost didn't do too much damage.  This is a Bramley, taken a couple of weeks ago.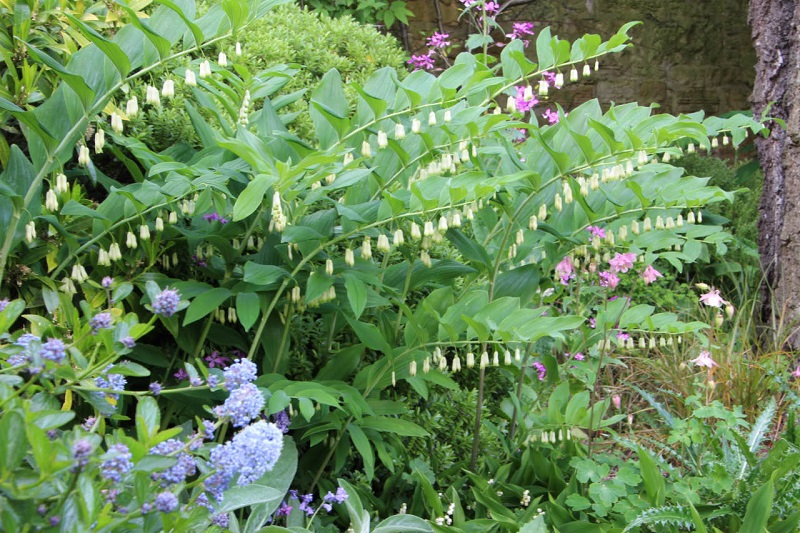 Solomon's Seal (Polygonatum multiflorum) is a British native of woods and scrub although I don't remember seeing it growing wild. The rhizomes were used to heal bruises.  It spreads enthusiastically in a number of places here, and this clump has gradually stretched towards the light, wandering from the flower bed to cover part of the gravel.  After the flowering the leaves are sometimes stripped by voracious sawflies so I cut them back but it doesn't seem to make any difference to the following year's growth.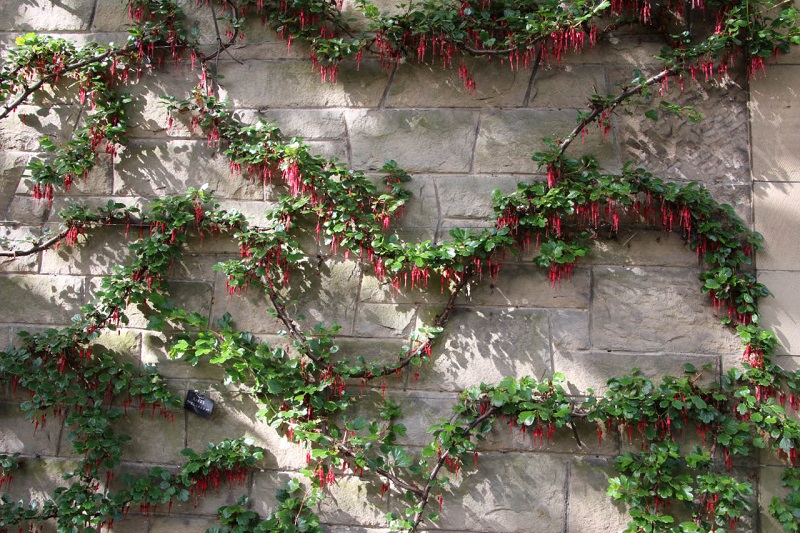 This garden is surrounded by tall walls so over the years we have acquired quite a collection of wall plants. People rarely recognise Ribes speciosum which covers a large area of this shady wall, often thinking it must be a fuchsia. In fact it is a relation of currants and gooseberries and like gooseberries it has fierce prickles and shiny bright leaves.  We trim a lot of the new growth so that the curved branches remain quite sparse, creating their own pattern, and the dangling flowers are seen against the wall.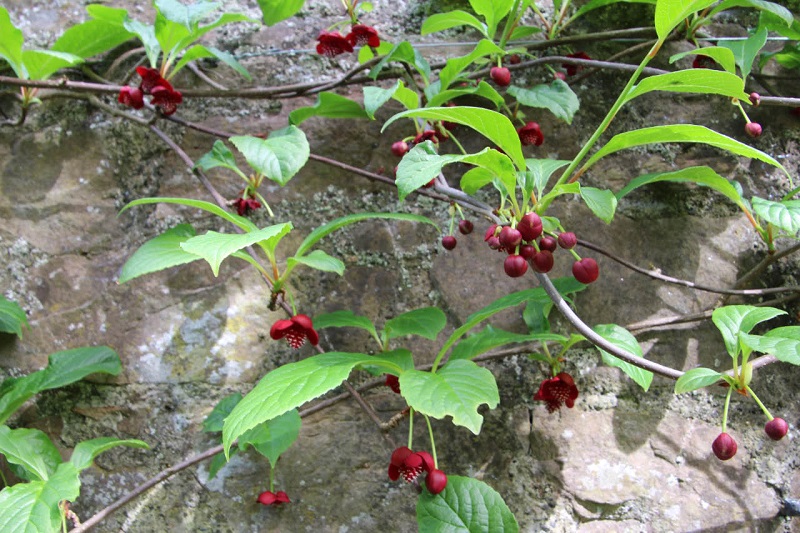 I first saw Schisandra rubiflora many years ago at Frenich, which was a wonderful garden on Loch Tummel. This too puts on a lot of new growth, but in this corner it has free rein and climbs over  the hydrangeas as well as displaying its cherry like flowers with the help of wall wires as here.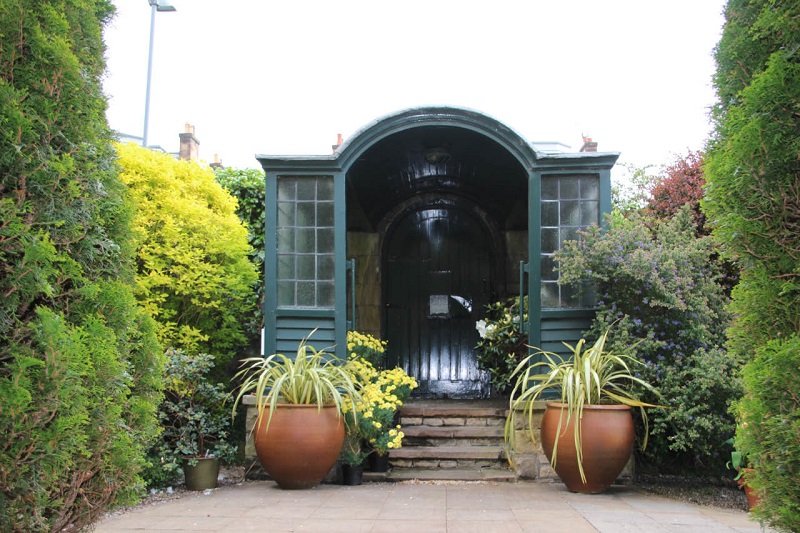 The porch is a great feature of this house and useful for plants that need a little shelter. I try to keep a good display there.  The yellow flowers are Argyranthemums, overwintered in the greenhouse so conveniently early to come into flower.  On the right is a Rhododendron frangrantissimum, not at all elegant in shape but beautifully scented. I would like people who enter to enjoy the perfume.
Anna Buxton 
18th May 2020
Note from Editor:  Anna opens her beautiful garden every year under Scotland's Garden Scheme and this year had decided to use the occasion to raise funds for The Caley's Glasshouse Fund.  Unfortunately she was unable to open her garden due to the Covid-19 restrictions but she has produced a video to let folk see how her garden looked on the day it should have been open.  Click here to view the video – scotlandsgardens.org/redcroft-virtual-garden-tour/  Not as good as being there in person but a very enjoyable watch.  Fingers crossed we will be able to visit in the autumn next year.