Tales from the Garden – Beautiful June
We have had many photos of members' peonies on the Caley website recently, but I couldn't resist adding this beautiful white Duchesse de Nemours. I can't remember it ever having so many flowers and they have continued to refresh themselves for many weeks. It is beautifully scented too.
Astrantia never seems to last long, but it is very decorative when in flower like this and seeds itself successfully. Foxgloves too seed around the whole garden and have settled here gracefully against the very old double cherry between the house and the road.
Herbaceous plants are not yet in full flow, but one or two shrubs are keeping the show going in the lull after the vivid colours of Spring have faded.  This blue Hebe, for which I haven't got a name, flowers profusely over a long period and is gently scented too. It is rather large and doesn't like being cut back into old wood, but it is in a good place here near to the entrance from the road.
We don't grow many roses, but I have been trying to persuade this Rosa moysei 'Geranium' to do better.  Perhaps its place, right against the west wall, doesn't suit it well, for it has been a poor grower and never produces many of these lovely flowers. The hips are wonderful too, but I think the pigeons must be partial to them, for they suddenly disappear just when they are beginning to look good.
Far more successful is this interesting shrub, described in 2016 as a new introduction by Bluebell Nursery which used to attend the Gardening Scotland Show. It is Sinocalycanthus raulstonii 'Hartlage Wine' and came from the Raulston Arboretum in North Carolina.  I wonder if we couldn't just call it Calycanthus, or Allspice, which is more familiar. The flowers appear over a long period and are very vivid, fading attractively to a paler shade. It is quite vigorous and fills one of the few south-facing spots in the garden.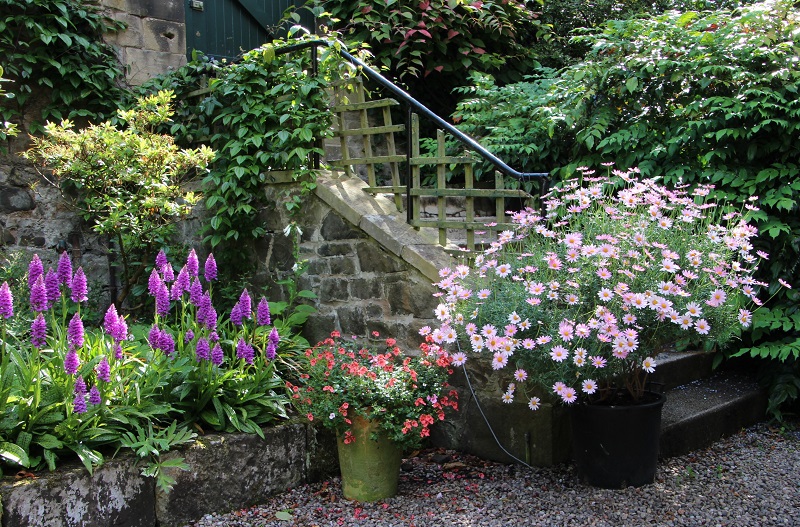 This scene, at the bottom of the steps leading to the top gate, is something of a homage to the greenhouse as both the pot of Diascias and the pink Argyranthemums were overwintered in the frost free greenhouse and so are much more advanced than others planted this year. The purple Dactylorhiza majalis are at their best, but do the three colours set each other off or not? I am not quite sure.
We may have been unable to have our garden opening but we do have one regular visitor in the form of this fox which we see most days and she always sets the dogs barking.
It has been a great year for bees and perhaps for frogs too. These, the old and the young, are resident of the greenhouse along with several others, and make an occasional appearance when the oxalis they like to live amongst is watered.
All photos taken recently at Redcroft.
Anna Buxton