Tales from the Garden – Colourful June at Redcroft
The garden opening in the middle of May seems like ancient history now. We were very lucky to have a beautiful day on the Saturday and a reasonable one on the Sunday. We had about 600 people over the two days and have handed over £4,000 to the food bank run by St Salvador's Church at Saughton.
The cold spring was both helpful and unhelpful for the garden opening. The tulips in pots in the yard lasted unusually well – orange Hermitage was my favourite, with Dolls Minuet a close second, and several dark purple ones were very good too. We plant them 15 or 20 to a pot, never mixed, but some underplanted with irises or muscari and this year miraculously they avoided the depredations of squirrels, mice and slugs.  And the three window boxes in the yard were filled to the brim with the small daffodil, Stint, which looked as good as new for the occasion.  The garden itself has moved on since then with the beautiful recent sunshine we have had. It is now more colourful with the tall, old Rhododendrons all in full flower, as well as lilac, the first rose, Maigold, foxgloves, Geranium sanguineum and others photographed below.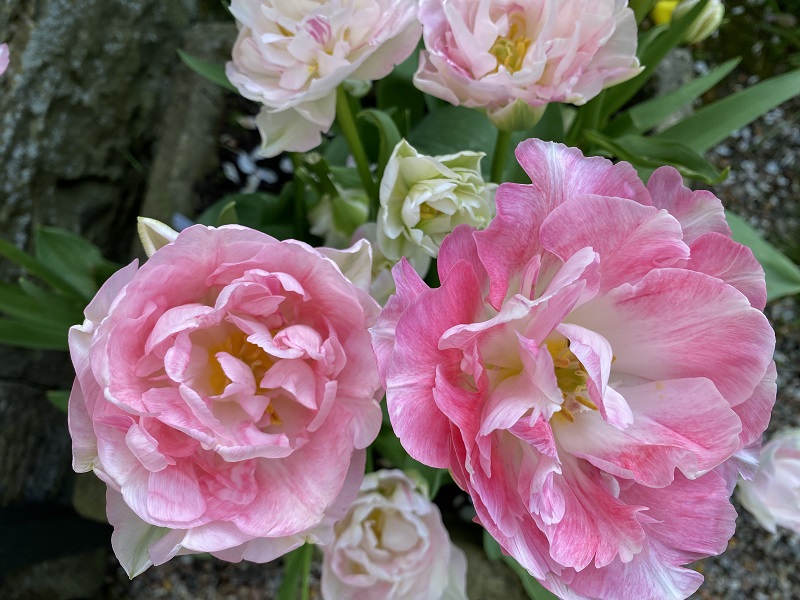 Pink Angelique, perhaps the most photogenic of tulips, was not performing at its best for the open days, probably because it had been in the shade, but since then we have enjoyed its lovely display.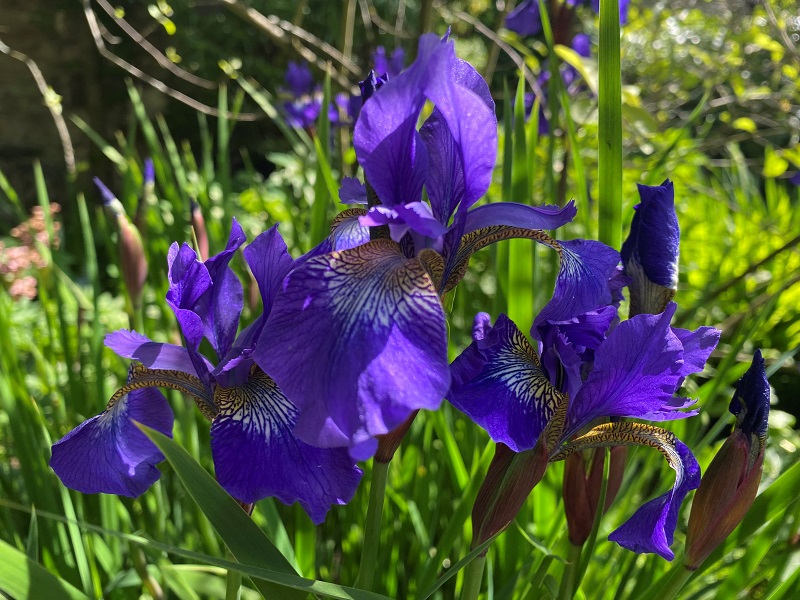 This clump of Iris sibirica only looks good for a short time and that was after the garden opening, but when in full flower as here on 27th May it makes a good picture.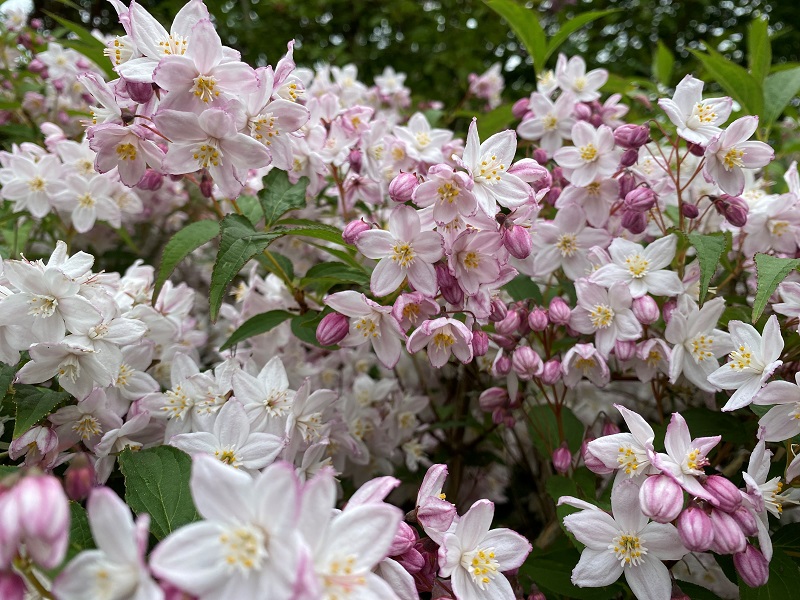 Deutzia 'Mont Rose' seen here, is one of several Deutzias which were here when we arrived in 1986.  It is at its best at this early stage when you can see the combination of dark and light pink in the petals. It doesn't make a handsome bush though and the suggested pruning is to trim the stems that have flowered, but this is never quite enough. It is perhaps best as here in a congested shrubbery.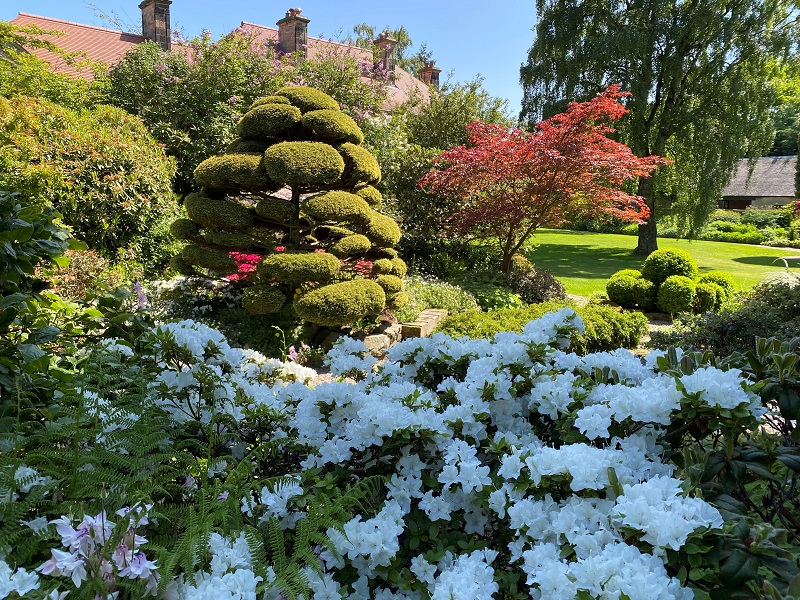 This white Azalea is one of the Glendoick introductions, Panda.  It grows well on the rockery even though it is rather dry. We have two of them and they have both spread themselves over a wide area. They perform reliably each year, last well, even when cut in a vase, and seem untouched by the destructive frosts we have had this winter. In the distance, our cloud pruned conifer smartened up for the visitors.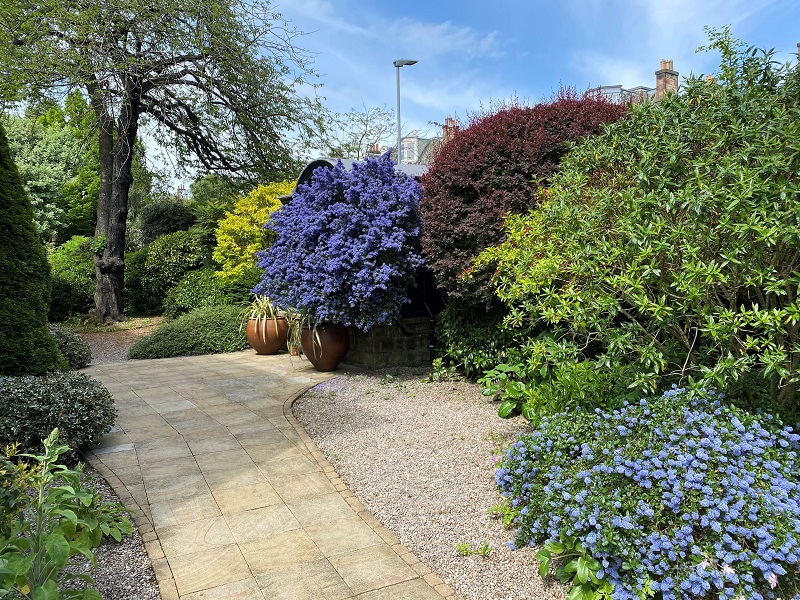 Surprisingly, also undamaged by the winter, are these two Ceonothus which form part of a group of tall shrubs which surround the entrance. They are the bright green of Philadelphus coronarius 'Aurea', Ceonothus 'Pugets Blue', dark red Berberis thunbergii atropurpurea, a hebe and the prostate Ceonothus.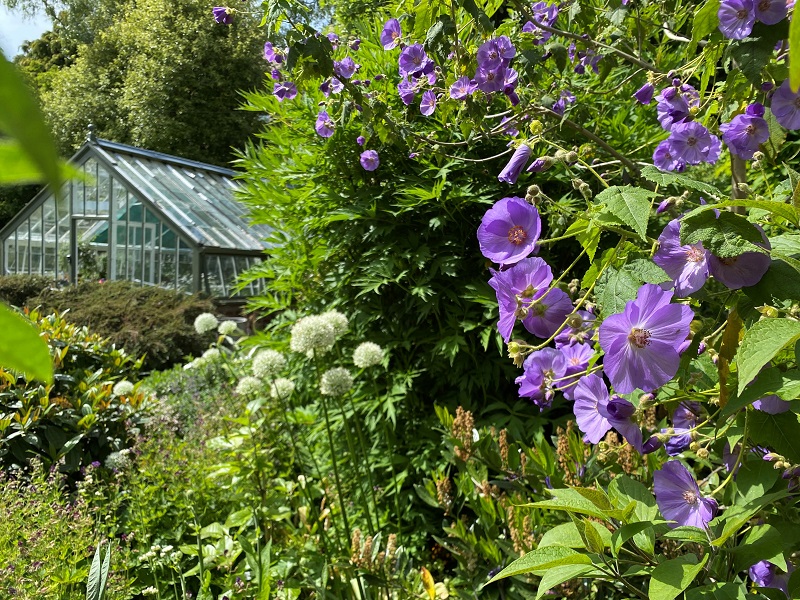 The tree Abutilon, can have blue or white flowers and this beautiful blue one ('Suntense') recently replaced a white one which died. It grows quickly and flowers profusely if given a good sunny spot as here, facing west against the road wall. In the background Allium 'Mount Everest' and the greenhouse.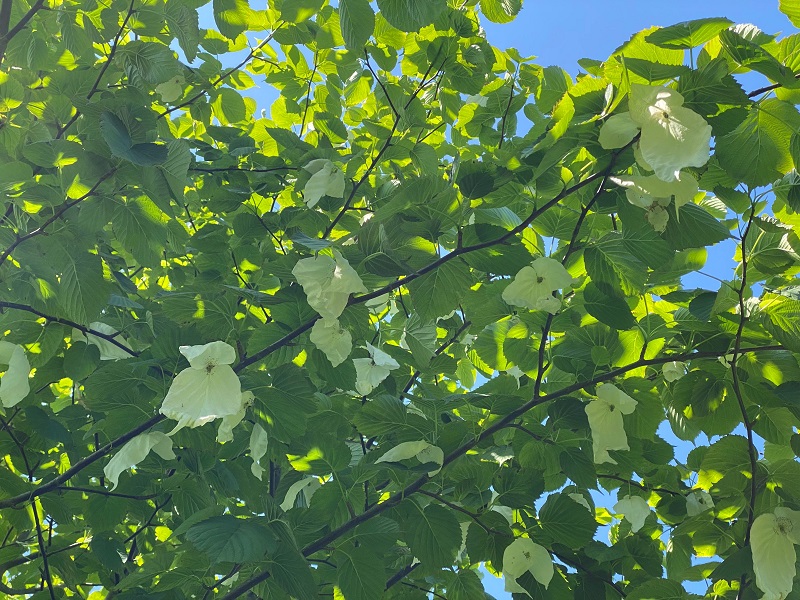 Davidia involucrata, usually known as the pocket handkerchief tree, was planted in 2008 and so far, it has been an attractively shaped tree with brilliant autumn colour. For a few years it has had one or two of these strange white asymmetrical bracts so we knew what to expect, but this year is the first year its pocket handkerchiefs have really made an impression.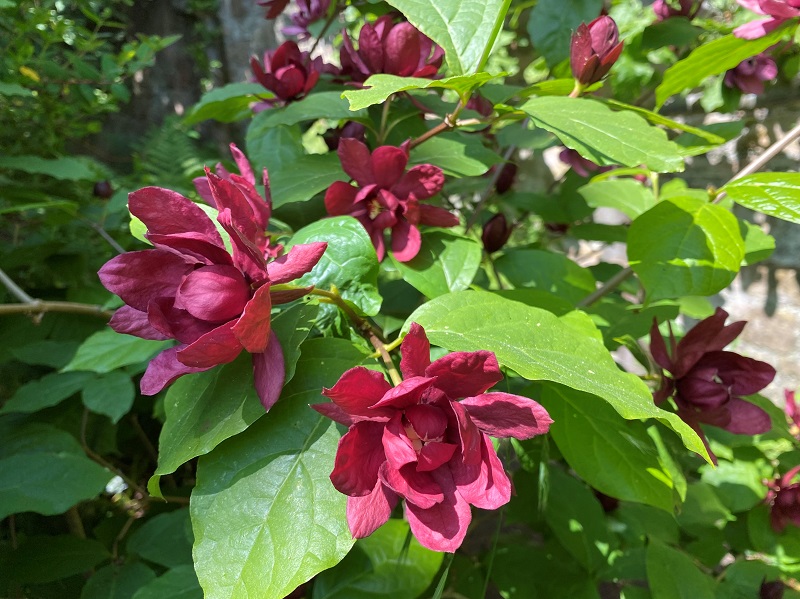 Calycanthus x raulstonii 'Hartlage Wine' (known as allspice) seen in this photo, is a recent cross between American and Chinese parents, and was launched at Chelsea 2010. It has a disorderly way of growing, throwing out long spindly branches going in all directions, so last year we cut it back to the available space not knowing what the consequences would be here. Happily, it has flowered even better than before and looks considerably neater as well.
Anna Buxton – 5th June 2023
All pictures taken recently at Redcroft