Tales from the Garden – Spring in full flow at Redcroft
Many thanks to Anna for sending us the latest update on her garden, Redcroft.  How do things compare in your own garden – are things further on or behind? Don't forget that you can see Anna's garden in person on the 14th and 15th of May.  Details in link to the Scotland Garden Scheme website at the bottom of the page.
Spring in full flow at Redcroft.
The Spring has not been very kind to early flowerers. All over Edinburgh there are what were wonderful Camellias and Magnolias badly hit by the frosts of three weeks ago.  Since then it has been cool which is helpful for us here, hoping that our many pots of tulips will be in full flower for the garden opening on 14th and 15th May, and that some of the daffodils will still be making a yellow statement in the orchard. Now it is warming up, the weeds are letting rip and a sneaking worry is creeping in about what will be over.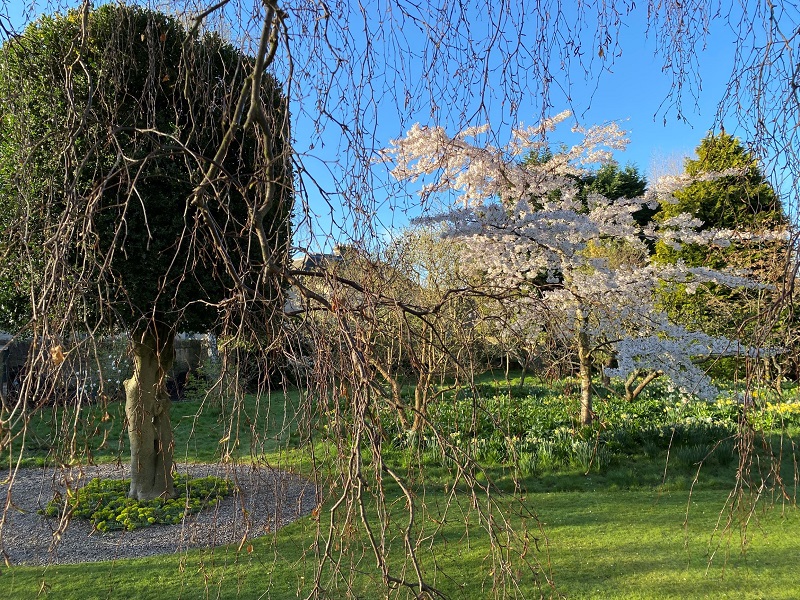 This view across the orchard through the birch twigs was taken on 8th April. The white flowered cherry, Prunus yedoensis, has held on to its petals for many weeks now, far outlasting pale pink Prunus 'Accolade' nearby. The holly still looks neat thanks to its winter trim and the Euphorbia myrsinites underneath it is now in full flower, encircling the bare trunk of the holly and spreading in a surprisingly orderly fashion.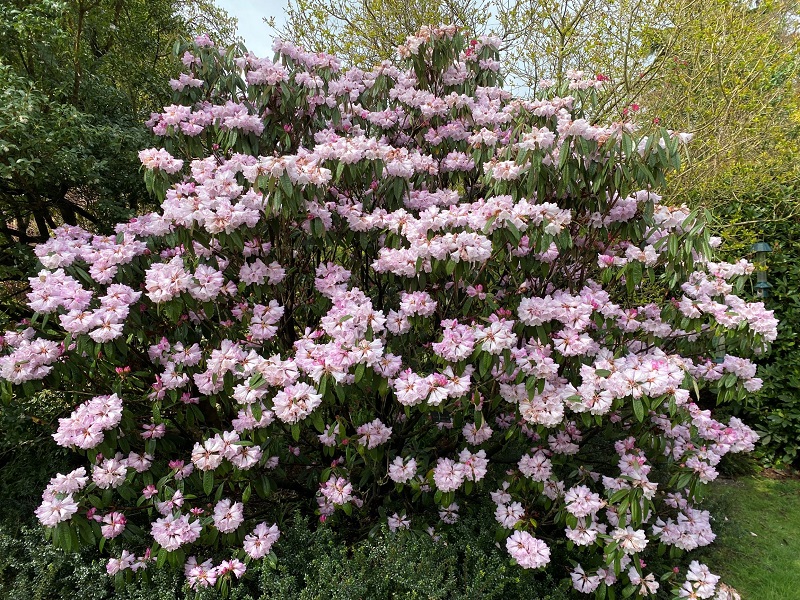 This is the view from the kitchen sink. Rhododendron floribundum which I bought for £20 at the 1999 Botanics auction has been a consistently good performer. Its original home was Sichuan province in China where there were large stands of it mixed with acers and walnuts growing at a height of around 2,000 metres.   Here the flower buds start deep magenta and gradually fade to almost white as the flowers age.  It seems to like this eastern aspect for it evaded the frost and was unaffected by recent rain.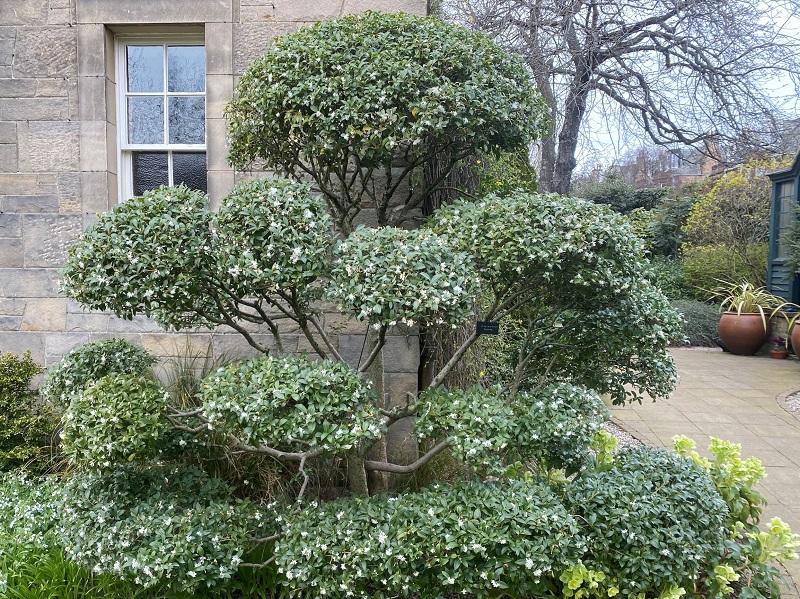 On the south east corner of the house Osmanthus delavayi has been a long term resident. In recent years it has been subjected to quite drastic pruning to create this cloud effect. Some years it doesn't flower very well – perhaps pruned too long after flowering – but this year it did, although the scent is a bit elusive and doesn't waft around like that of Skimmia 'Kew Green' which is also flowering now. A large group of Helleborus argutifolius has self- seeded underneath the Osmanthus and still doing well are the clumps of the white Pulmonaria on the left.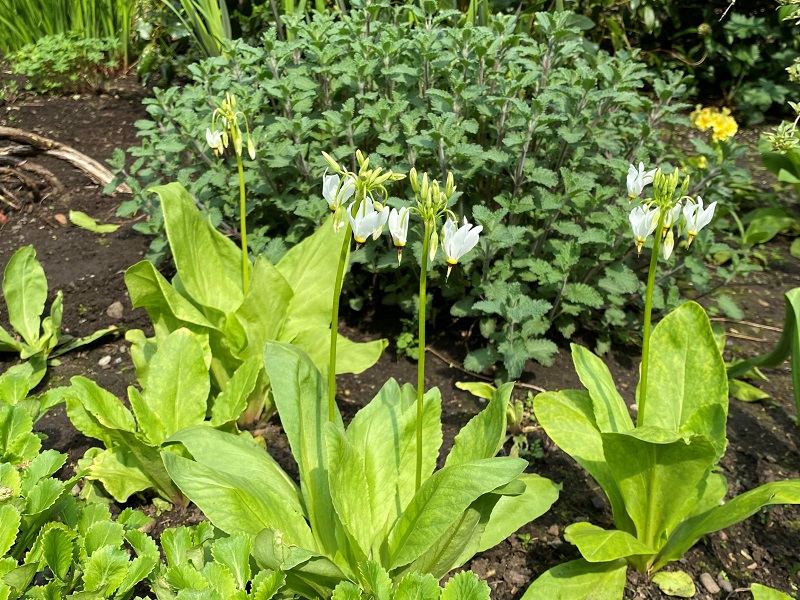 I was very pleased to see these Dodecatheon meadia album, photographed a couple of days ago. I planted them last year and had forgotten about them as they disappear after flowering.  Dodecatheon is a member of the primula family, and apparently its common name is shooting star, as after it has been fertilised the flowers turn skywards.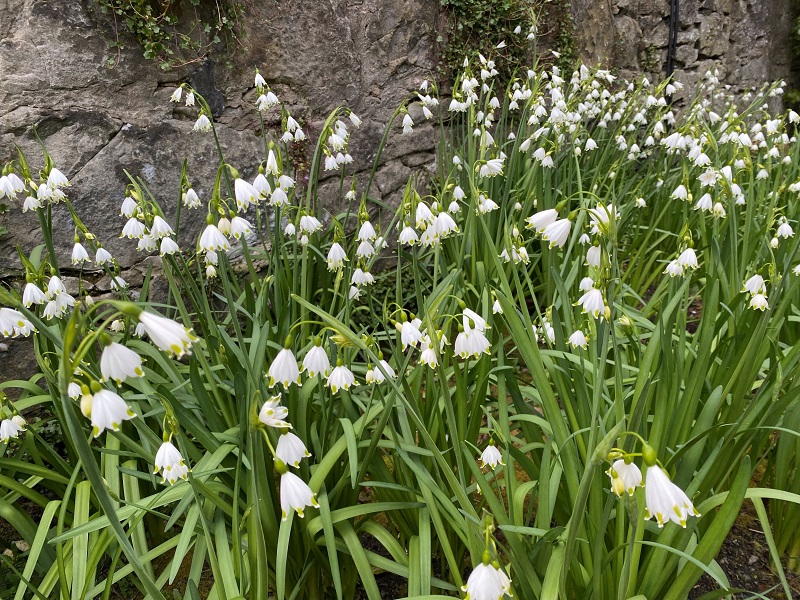 In the yard these summer snowflakes, Leucojum aestivum 'Gravetye Giant', grow in disorderly profusion. They are underplanted with hostas and the first year they were planted the two plants synchronised their appearance providing a good match of green and cream, but this happy combination has never been repeated, and later in the year the hostas, after a brief good show, fall victim to slugs and snails.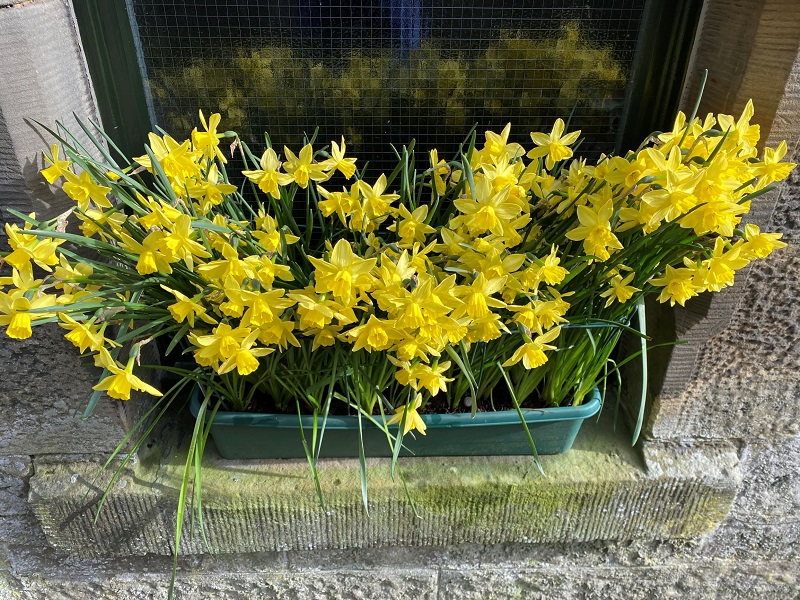 There are so many lovely small daffodils and one of the best for pots and window boxes, as seen here, is 'Stint'.  The 30 bulbs planted in this window box are almost too many as each bulb seems to come up with several flowering shoots and each stem often has two or even three flowers on it. It is a vibrant colour and lasts remarkable well too, still in full flower for this photo taken a couple of days ago.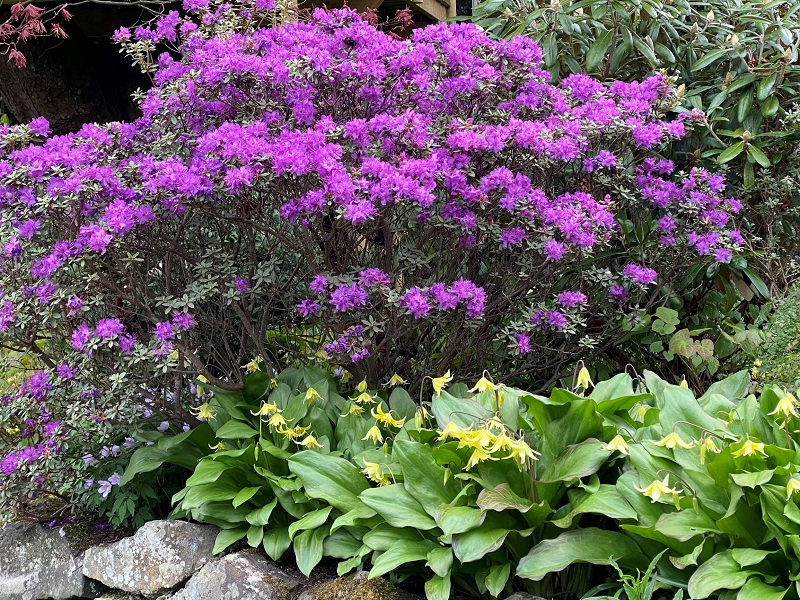 A colourful scene on the rockery is provided by this purple and yellow combination.  The Rhododendron is 'Blue Silver' and the yellow is Erythronium 'Pagoda'. Pagoda is a brilliant Erythronium which grows very well here in several places and each clump seems to improve every year.
I hope to see many Caley members at the garden opening on Saturday and Sunday May 14th and 15th, 2 -5pm.  All information on the Scotland's Gardens Scheme website.
Anna Buxton 18th April 2022
All images taken recently at Redcroft.