George's bulb blog …. January 2020
Well the seasons race has started. My own bulbs at home are out of the plunge and I have to say that they are well advanced. It will now be up to me and the weather to get them at the correct stage for the Caley Show.
This year I have grown some of my Daffodil Show bulbs in larger pots than normal but the hyacinths are in the regulation 2 litre pots.
Six years ago the same range of bulbs were not as advanced.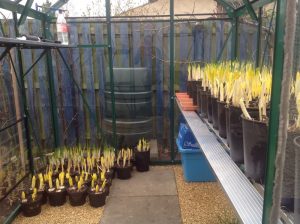 2020 will be a challenging season – but it is never easy.