Harvest Time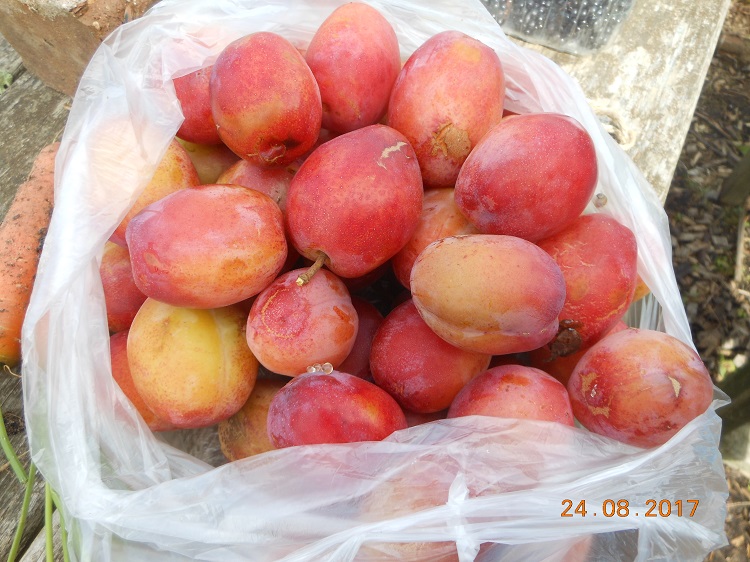 Another warm and sunny day and still work to do on the plot. Whilst not as much to do as earlier in the season, work now involves clearing the ground, pruning and harvesting.
Following the Open Day on Sunday, when George Anderson took a most appreciative group through how to do summer pruning of fruit, we finished the job.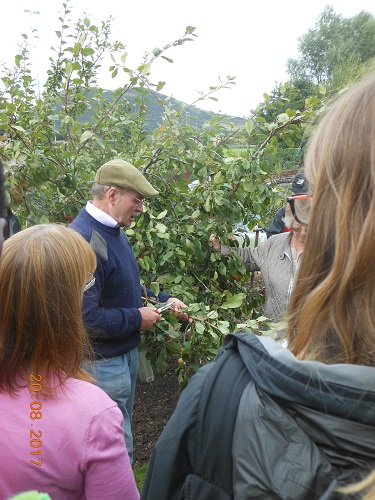 We once again thinned the apples. This will be the final time they are thinned this year. The trees are all on dwarfing rootstock, so it is not good to exhaust the plant by allowing it to carry too much fruit. That can lead to biennial bearing (heavy crop one year followed by little or no fruit the following year) as the tree needs a year to build up its energy again.
The old raspberry canes were cut out and sadly we decided to take out one of the new raspberry varieties, 'Glen Ample', which has only been in for 18 months. It had rust and poor growth so no point in keeping it. Glen Ample is one of the best varieties but these for some reason were not good plants.
The other new variety, 'Glen Dee', is a bit of thug, taking over the plot and path, so obviously a very healthy and strong grower. Unwanted new canes were pulled out to leave a nucleus of 5/6 strong growing ones on each plant.
The loganberry and tayberry have finished fruiting so the old canes were removed and the new ones are now tied into the wires.
The buckwheat, grown as a green manure, was cut down and added to the compost bins and the ground lightly forked over.
There is now only one courgette plant left, the others all succumbing to mildew.
There was a good picking of fruit today especially the Victoria plums which were ripe and ready and mouth-wateringly sweet and juicy. The brambles are doing very well this year too. There were also courgettes, cabbages, carrots, beetroot, French beans as well as onions and potatoes.
Jobs for next week
Sow green manure where the peas & beans were
Dig up the next two rows of potatoes
Harvesting