Planting Out on the Allotment.
A dull cold day with rain coming in but we managed to get the first plantings of the season done.
The broad beans were sown at the beginning of February – variety 'The Sutton'– and have been hardened off outside for two weeks now. Trenches were dug for the beans and a good layer of dung spread along the bottom. The trenches were filled in and the beans planted out in rows. The weather was due to turn cold again at the weekend, so they were covered in fleece to give a bit of protection.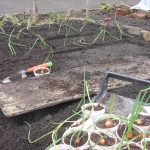 The onion sets were planted in pots several weeks ago and have been outside for some time, and they too were given a protective covering, this time of enviromesh to keep the rabbits from stripping the fresh young growth. The ground was prepared in the same way as the broad beans.
Some weeding was done, and the two tubs used for growing daikon were moved to their new bed.
The last of the leeks were dug up along with the last cabbage and still there is kale and flower sprouts coming on.
Jobs for next week
Digging the potato beds.
Forking over the other beds.
Fleece over the strawberries.
Fleece over the plum tree.