It is nearly show time!
Following the rather nasty winds of the weekend the sun is now shining and George says the cheery weather girl is forecasting sunshine and light breezes for the week running up to the Caley Show.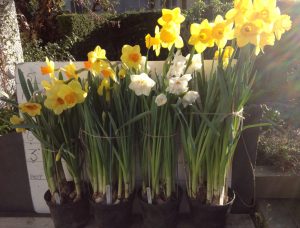 The pots of Caley Daffodils are all well into flowering now and later in the week George will dress them up with some moss. (Reading Left -Right they are Perdredda, Dalmeny, Bere Ferber and Euryalas.)
It is important at this stage to keep the pots well watered and to turn them frequently so that you get an even distribution of flowers around the pots.
The Caley workshop pots of Tulips and Hyacinths have been a disaster for George this year.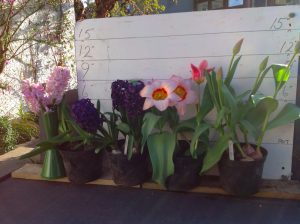 The pots of Tulip Greigs Happy and Ancilla are at opposite ends of the spectrum.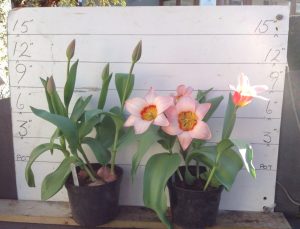 The pot of Ancilla is beyond redemption and no amount of cool, shade or coaxing will bring it back to anything decent. It is a not heading to the show!  The pot of Greigs Happy meanwhile looks OK and if it is given a little sunshine to bring colour to its cheeks it might just make it to the show.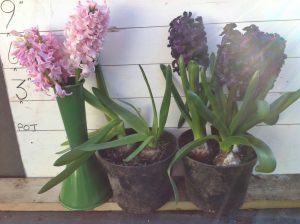 George will leave it in the sunshine for half a day and then return it to the shade.
Meanwhile the pots of Hyacinths are a game of two halves. A pot of Daffodils blew over and smashed the last two flowers on George's China Pink Hyacinth. He has kept them in the hope that they might make the show as cut flowers!
The pot of Hyacinth Kronos is looking OK, well flowered and well able to stand up without any staking. It will go to the show.
The two pots of Scamp Challenge daffs are well into flower now one belongs to Gil and the other is George's. The question is which one is best.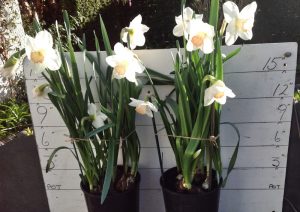 The flowers are a bit delicate and will need to be protected from too much sunshine and strong winds as the petals look as if they will bruise easily.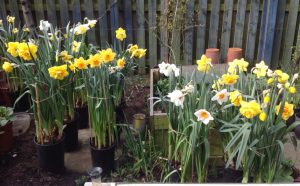 Keep all your pots well watered, watch out for gusty winds, keep any full flowering pots in the shade and make sure that all pots are clean and tidy ready for the showbench.
Good luck
See you at the show.