Winter Maintenance
A long job today was digging out one of the apple trees, 'Charles Ross', and moving it to another spot. It takes time to carefully dig down and tease out the roots. The tree has not grown very well, and one reason for this could be lack of space for the roots since there was another apple tree, the plum and the gage in that row. The gage has already been taken out so that leaves plenty of room now for the roots and branches of the new damson.
Before digging out the tree, the new planting hole was prepared – a good deep and wide hole with compost and manure added. Once the apple was out the ground it was immediately transferred to its new home, the soil added round about, heeled in and given a good water, and finally staked.
There was no wind today so a good day to do the winter wash on the fruit trees and bushes. The spray gets into all the crooks of the branches where pests and eggs may be overwintering and is a good hygiene measure.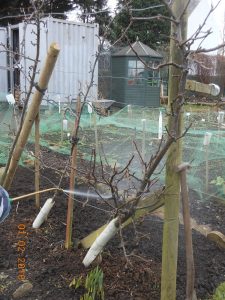 Another of the compost bins was emptied, the contents forked over to remove any compaction and returned to the bin, so we now only have one more to do.
The remainder of the strawberry plants were cleared of their old leaves.
Jobs for next week
Plant the damson.
Replace the former dead hedge with a wire fence and start weaving in the prunings (see last week's blog).
Check all the plants are labelled for the Sunday pruning workshop.
Dig up artichokes for the workshop participants.