Poor showing on the allotment.
The buds on the newly planted cherry are filling out so time to net it against the bullfinches who would strip in in no time. We haven't seen any but don't want to take the chance.
The buds on the Victoria plum are still tightly closed and no point in giving it a fleece cover just yet to help protect the blossom from the cold.
Another bed was double dug, and manure and leaf mould added. Weeding was done and some more willow weaving done on the windbreaks. The couch grass and green alkanet was cleared out of the comfrey bed. And a start was made on building the last of the raised beds.
Generally, at this time of year the plot is a wonderful sight with all the daffodils in bloom – but not this year. There are only a few dwarf daffs and tulips in flower. Even the rhubarb is keeping its head down, though strangely the late fruiting variety is growing on quite well.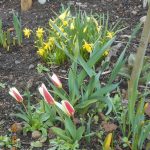 We should be getting pickings of the purple sprouting broccoli by now, but the sprouts are hardly showing.
Jobs for next week
Keep on with the forking/digging of the beds.
Continue work on the new raised bed.